This post may contains affiliate links for your convenience. If you make a purchase after clicking a link we may earn a small commission but it won't cost you a penny more! Read our full disclosure policy here.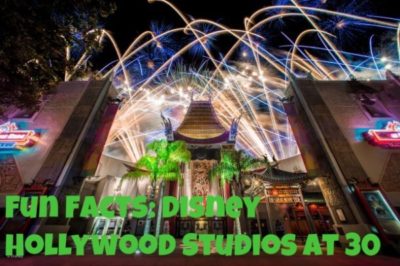 Disney Hollywood Studios has always been a favorite of ours. The park opened on May 1, 1990 and is the first Disney park that opened after the birth of our son. Thus, we got to explore it all together as a family and it remains a sentimental favorite. Here are some of our favorite fun facts about the park.
Constant Renovations: None of the attractions available when the park opened are still available.
Toy Story Land is here and Galaxy's Edge is coming, but on May 1, 1989 there were five attractions available:
The Great Movie Ride: a dark ride at the Chinese theater that paid homage to classic films. The Great Movie ride closed on August 13, 2017 to be replaced by Mickey & Minnie's Runaway Railway.
Back Stage Studio Tour: originally a two hour tour featuring a movie this attraction was eventually scaled back and then closed on September 20, 2014. Part of this became Toy Story Land.
The Magic of Disney Animation Tour: This was a walkthrough of a working animation studio and featured a 9 minute film. The tour closed July 12, 2015.
The Monster Sound Show: A stage show hosted by Sony this combined film and an interactive stage show. Closed on June 30, 1997 the spot is now occupied by Star Wars: Path of the Jedi.
Superstar Television: a live production of classic TV shows with the park guests as staff. Closed on September 26, 1998. The Hyperion theater now hosts the Frozen Sing Along Celebration.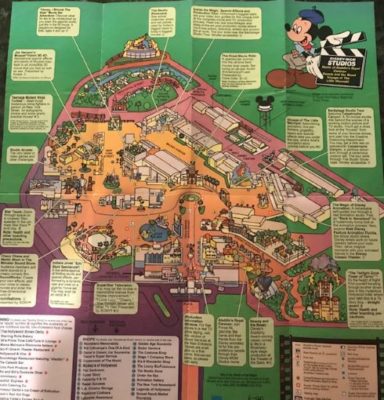 Hollywood Studios was opened by a Hollywood star that was never in a Disney Film
Bob Hope hosted the opening of both the Magic Kingdom/Disney World in 1971 and the Studios in 1989. Hope, who was in dozens of films, never appeared in a Disney production. He was, however, well known for his MGM films and fit into the original Disney MGM Studios theme. Hope was a friend of Walt Disney and both hosted him on his show as well as presented him with an Oscar.
Hollywood Studios was designed as a working Studio and a chance to see Disney at work
When opened in 1989, Disney MGM Studios was a working production studio that the public was invited to view. The Magic of Disney Animation walked you through the animation process featuring windows overlooking the work areas. Both "Ernest Saves Christmas" and "Newsies" were filmed at the Studios. Ironically, it was PIXAR which pioneered digital cartoons that changed the nature of animated films and killed the tour.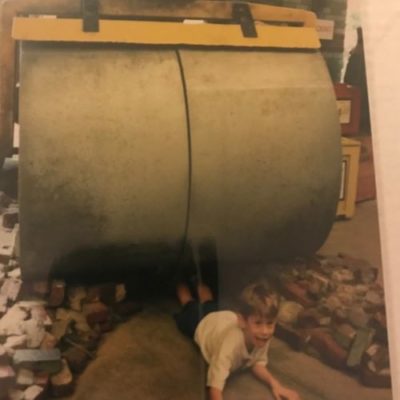 Uncle Walt cried at a Disney Hollywood Studios attraction
Not that Uncle Walt.  For those of us of a certain age there were two "Uncle Walts"; Disney and Cronkite. Walter Cronkite handles the news on Monday through Friday while Walt Disney hosted the Wonderful World of Disney on Sunday.  In Disney MGM Studios Walter Cronkite hosted the "Back to Neverland" film along with Robin Williams.  The film was played in the Magic of Disney Animation Tour.  In addition, an interview with Cronkite was played on 'In house' Disney hotel channel for property guests. During the interview Cronkite describes what it was like working with the manic, comic genius Robin Williams.  Cronkite laughs so hard in the interview that he wept tears of joy.
Disney Hollywood Studios was a Bargain
Covering 135 acres Disney MGM Studios took three years to build and cost $500 Million. On the other hand Galaxy Edge alone is estimated to cost $1 Billion.  Also, the initial ticket price was $29 per adult ($23 for 3-9 year olds). Now, ticket prices are 'slightly' more costly.
In Disney Hollywood Studios ears are for more than listening
By the entrance to the Studios is the Crossroads of the World Gift shop. High atop there is a globe with Mickey on top. His right ear is made of copper and acts as a lightening rod. Over in Toy Story Mania Mr. Potato Head greats those in line. Not only does he tell jokes but for the lucky few he will remove his ear.
Quick Hits:
The Earful Tower wore a size 342 3/4 set of ears.
The Studio's Brown Derby version outlasted the original Hollywood restaurant.
The combined natural elevation of 125 feet plus the 199ft of the Tower of Terror makes the top point of the Twilight Zone Tower of Terror taller than Britton Hill (at 345 ft. above sea level the tallest natural point of Florida).
The Twilight Zone Tower of Terror is painted the same color as Morocco so it will blend in when seen from Epcot.
One of the more impressive Dad jokes is in the Muppet Theater waiting area where you can find a net full of jello hanging (if you are an original mouseketeer fan say out loud "a net full of jello").
The original concept was that the park would be a pavilion in Epcot but there were too many good ideas for one pavilion.
One Last Note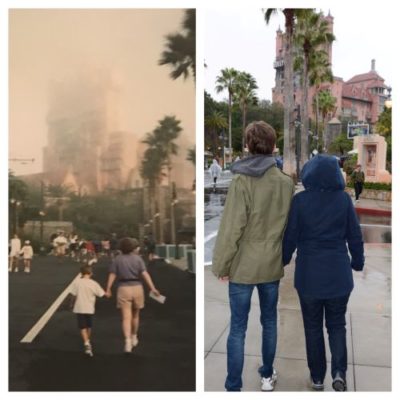 Disney Hollywood Studios has one of our favorite Disney photo traditions.  Whenever the three of us are in Walt Disney World as a family a picture is snapped of Pat and Stu walking toward the Tower of Terror.  The pictures are a wonderful reminder of how time passes but Disney's magic remains the same.
What are some of your favorite memories of Disney's Hollywood Studios? Share them with us in the comments or on Facebook or Twitter! 
Did you like this article? Make sure to share it with your friends! Check below for easy ways to share!
Want to visit the Walt Disney World Resort? Contact The Magic for Less Travel for more information and a free, no-obligation quote.

Incoming search terms:
hollywood studios fun facts for kids
https://www themouseforless com/blog_world/fun-facts-disney-hollywood-studios/
https://www themouseforless com/blog_world/fun-facts-disney-hollywood-studios/#:~:text=Disney Hollywood Studios was a build and cost $500 Million
https://www themouseforless com/blog_world/fun-facts-disney-hollywood-studios/#:~:text=https://www themouseforless com build and cost $500 Million