This post may contains affiliate links for your convenience. If you make a purchase after clicking a link we may earn a small commission but it won't cost you a penny more! Read our full disclosure policy here.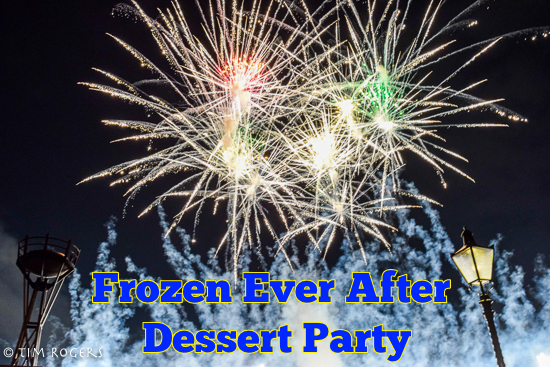 As we began planning a big family trip for this summer, one of the ideas that came up as a present for my parents was the Frozen Ever After Dessert Party. For a variety of reasons, Illuminations holds a special place for us, and especially for a trip over the summer, getting reserved seating for it plus another hard to get FastPass seemed like a good idea.
As is the case with many of the dessert party type events, the availability for them does not always get released at 180 days, or at any specific schedule ahead of time. Because of this I ended up checking sporadically if the package had been released for our time. At one day 3-4 months ahead of time it looked like they just decided to release a ton of dates all at once, and one of them was ours. I booked it right then, and while I can't prove this, I think booking as soon as it was available made a definite difference in our seating (more on that later).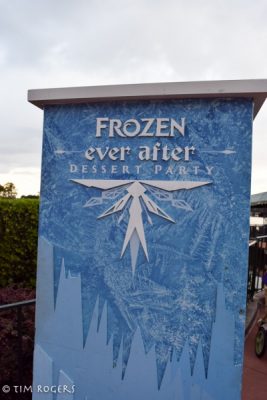 For the party itself, starting a few hours before Illuminations began, we were able to check in at an entrance between the start of the World Showcase and the Mexico Pavilion. While the actual setup for the party stretched pretty far towards the center of the lagoon, this was the only entrance and exit of the area.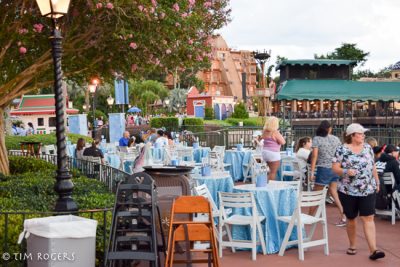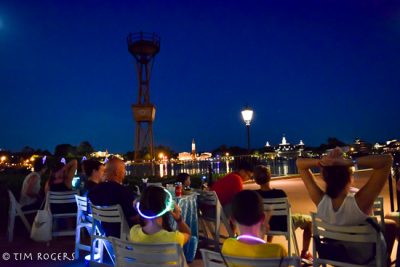 As we checked in, we were given a wristband and a pair of 3D-style snow vision goggles (these glasses make beams of light looks like snowflakes. Some of our group who wore them for the fireworks said it was pretty intense).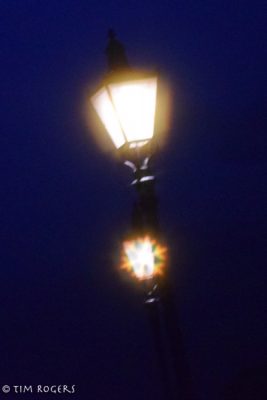 From there a Cast Member took us to our reserved table and gave us a tour of the various food and beverage stations. I mentioned before that I think reserving early made a difference, and our tables are why – our group of 7 had two tables next to each other right on the edge of the party, which means we we very close to the center of the lagoon with a direct view of the globe.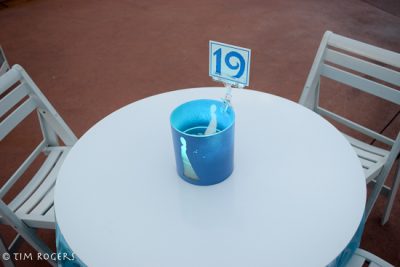 But before we get to the show, we should talk about the desserts. There were a variety of stations that have some Frozen tie-ins. There was the savory section including the "Duke of Weselton's Cheese Fondue—served with country bread cubes, broccoli, and grilled flatbread" and "Grand Pabbie's Mystical Winter Spiced Snack Mix."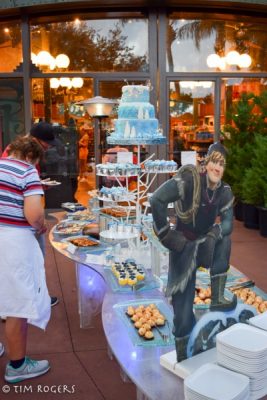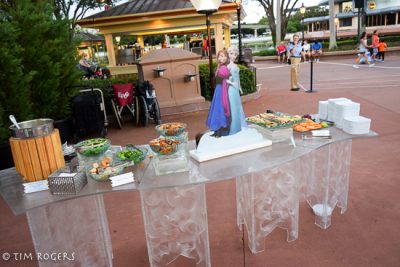 There were multiple dessert stations, including multiple cookies and small sweets, "Olaf's Warm Double Chocolate S'mores Pudding Cake" and "Anna's Warm Cottage Pudding with Salted Caramel Glaze" and a personal favorite of my niece and nephew, the Freeze Fried Salted Caramel Popcorn.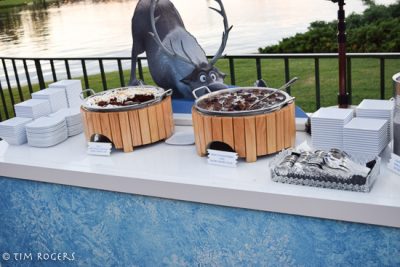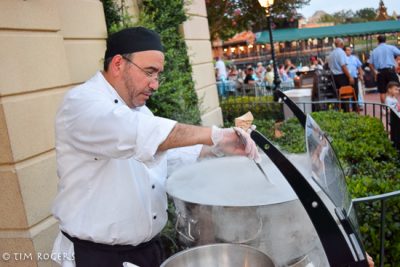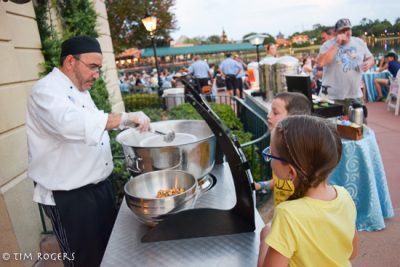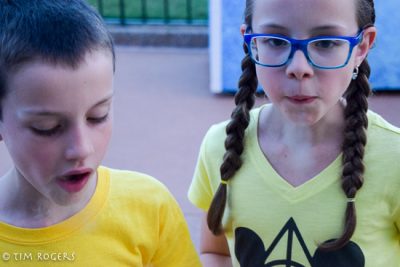 There was also a great range of beverages, from basic sodas to beer and wine and several specialty drinks. These included Sangria, Pina Colada, and a Summertime Celebration Margarita.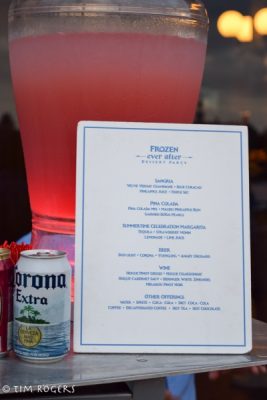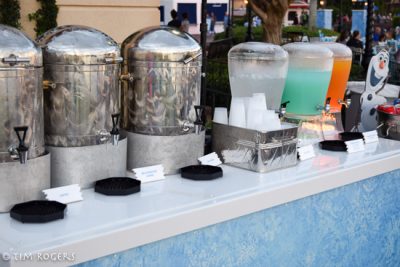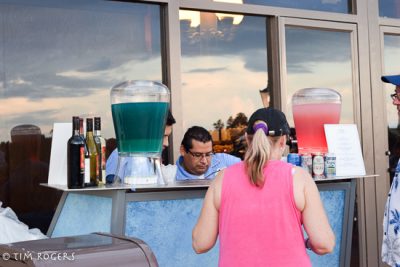 Overall we all enjoyed the range of selections here, and especially being able to try them. A few observations from me:
-The Pina Colada was very pineapply
-The Chocolate S'mores Pudding Cake and Cottage Pudding were both delicious, but incredibly rich so eating as much as you think you want to (like I did) might end up being way too much on the sugar front
-My nephew likes macaroons. Which were great.
-I look very stylish in the special glasses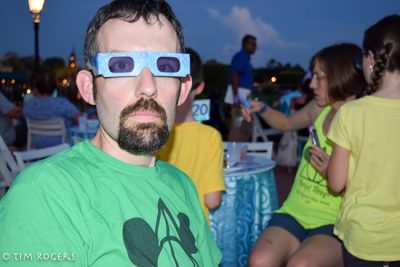 During the Frozen Ever After Dessert Party, the food was available the whole time leading up to the start of Illuminations, but the bar stayed open through the end of the show. In fact, we were able to get a drink right near the end of the show and bring it on the walk over to the ride.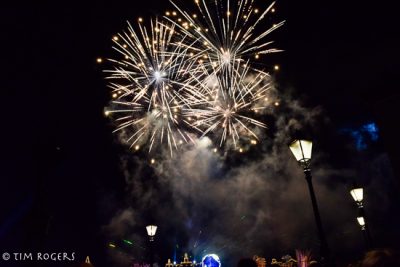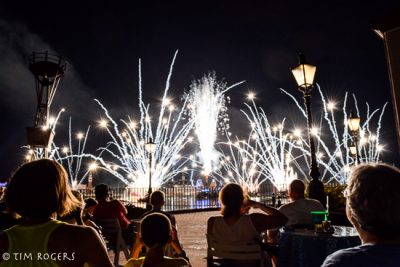 As an experience, this was fantastic. I've seen Illuminations many times, and this was far and away better than any of them. Simply having a place to sit with a good view without having to fight for it makes the whole thing almost worth it on its own, when you add on all of the food and drinks and then immediate access to the most popular ride in Epcot, it pushes the Frozen Ever After Dessert Party over the top.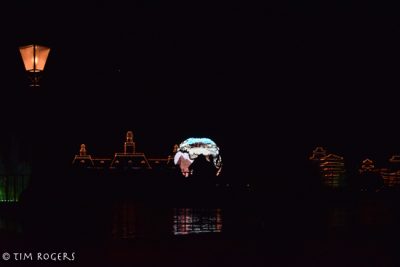 With the changes coming to nighttime shows at Epcot over the next few years, the status of this particular party is uncertain. However, I would be beyond shocked if there was not some version of this for both Epcot Forever and the new permanent show coming after that. For any of those, whether it be the last few months of Illuminations, the limited transition run, or the new show around Disney World's 50th, I could see these being both harder to get and more of a value because of the interest in those shows.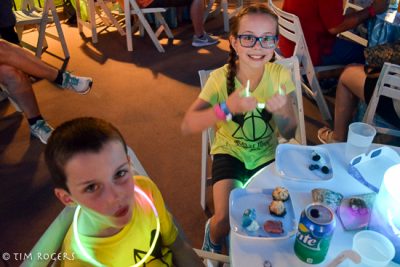 For all of the experiences I have had at Walt Disney World, the Frozen Ever After Dessert Party was one was one of the nicest and most valuable for me. If you have the opportunity, I definitely recommend it.
Have you experience the Frozen Ever After Dessert Party? What were your thoughts? Share your experience in the comments, or on Facebook or Twitter!
Did you like this article? Make sure to share it with your friends! Check below for easy ways to share!
Want to visit Walt Disney World? Contact The Magic for Less Travel for more information and a free, no-obligation quote.

Incoming search terms:
frozen ever after dessert party
frozen ever after dessert party 2019