This post may contains affiliate links for your convenience. If you make a purchase after clicking a link we may earn a small commission but it won't cost you a penny more! Read our full disclosure policy here.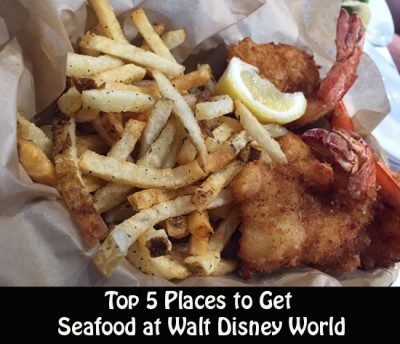 When I think of Florida, I think of good seafood. Due to its proximity to the ocean, seafood is easy to come by in that region. Good seafood is one of my favorite things to choose when dining; traditionally if there's a good looking seafood item on the menu, chances are, I'm ordering it. (This is especially true when traveling on the Disney Cruise Line, but that's an entirely different beast.)
Of course, there are a number of different seafood options for everyone's budget across the Walt Disney World property. So today, I thought we'd take a look at the Top 5 places to get seafood at Walt Disney World, in no particular order.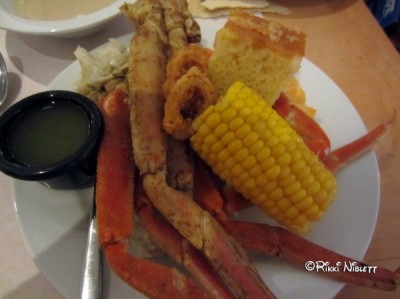 Cape May Cafe: While breakfast is filled with traditional options, such as Mickey Waffles, eggs, and bacon, it's dinner where the restaurant truly shines. You see, at dinner, Cape May Cafe found at Disney's Beach Club Resort offers up a delicious clam bake each night! Dinner here is served buffet-style, which means it's also a dining free-for-all for me. I load up on the delectable seafood dishes. Options include crab legs (yeah…that's right, crab legs), peel and eat shrimp, seafood chowder, steamed clams, salmon, and steamed mussels. It's a seafood lover's dream!
Coral Reef: If you're looking to dine while enjoying watching fish and other sea life swim around you, then Coral Reef is your go-to! The restaurant is found at Epcot in The Seas with Nemo and Friends Pavilion. Items include mahi-mahi, seafood scampi, rainbow trout, and shrimp and grits. What's great about Coral Reef is that there are also quite a few dishes that are not seafood, so if someone in your party can't stand to dine on the fishes, they have options too.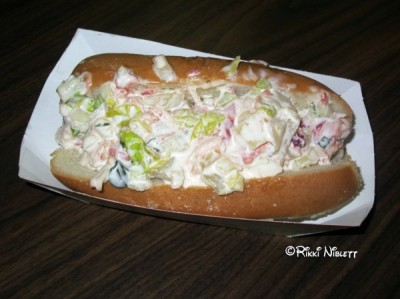 Columbia Harbor House: This restaurant is a fan favorite. It offers great and unique choices, while being a counter service location in the Magic Kingdom. This restaurant is found in Liberty Square, right across from The Haunted Mansion. Items include things like a lobster roll, a tuna sandwich, a fried shrimp platter, battered fish, and salmon. See! I told you there is a lot of great seafood variety!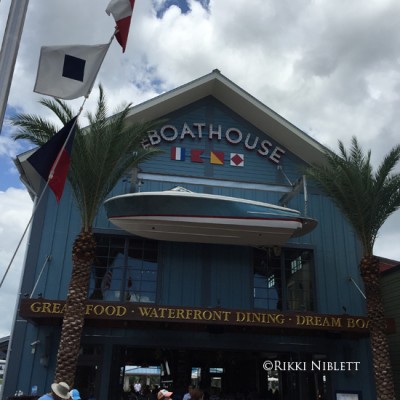 The BOATHOUSE: The BOATHOUSE is one of the newest restaurants on Walt Disney World property. This restaurant opened in The Landing section of Disney Springs within the past year and it has already made a name for itself. The BOATHOUSE features a raw bar with oysters and shrimp options, mahi-mahi tacos, broiled swordfish, ceder planked salmon, jumbo lump crab cakes, lobster mac and cheese, and tuna poke. Oh and for those with more expensive tastes, you can order Anastasia Gold Caviar, if you so choose. The BOATHOUSE has an extensive menu with a ton of great options. Chances are, you will find something you like, whether it's seafood or not. The hardest part about dining here? It's deciding what exactly you're going to order because it all looks so good!
Yorkshire County Fish Shop: This window location found at Epcot's United Kingdom Pavilion ALWAYS has a long line and for good reason! Their fish is incredible. While their menu isn't extremely varied, what they do, they do right and people know it. Guests get traditional British fish and chips here. Add a pint and you have a good meal in front of you!
Honorable Mention – Flying Fish Cafe: Now, this one would have actually made the list, but it is currently under refurbishment. Flying Fish is know for offering incredible seafood dishes. Matter of fact, it's potato-wrapped red snapper is famous among Disney fans. They also offer calamari, grilled sea scallops, yellowfin tuna filet, mussels, and crab cakes. Flying Fish is a signature restaurant is expected to reopen in the fall.
So, which is your favorite seafood stop? Share with us in the comments your thoughts!