This post may contains affiliate links for your convenience. If you make a purchase after clicking a link we may earn a small commission but it won't cost you a penny more! Read our full disclosure policy here.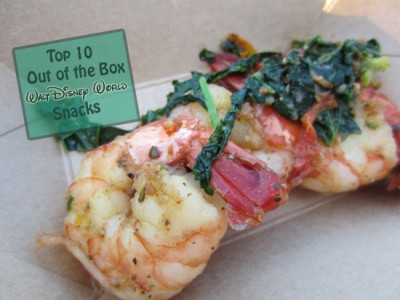 When visiting Walt Disney World, you typically plan to snack on something sweet, right?  There's a ton of cupcakes, danishes, tarts, sticky buns, etc. to choose from. And if you're on the Disney Dining Plan, you not only get a snack credit, but you also get dessert with your counter service, as well as table service meals. (Unless you are using those at breakfast.)  So that's a lot of sweets for one day. (I know, you're on vacation…it's allowed to indulge!)  Though if you aren't in the mood for something sweet, you may consider getting something like a Mickey Pretzel or a box of popcorn, or even a bottled beverage or coffee.
But what if you're in the mood for something a little more unique.  What if you want a snack that isn't the same old, same old?  What if you're looking for a snack that maybe doubles and a meal?  There can't be snack options that would satisfy a more substantial craving, right?
Well guess what? I bring good news! There are some really great snack options that are absolutely outside of the typical box. Today, I'm here to bring you my Top 10 Out of the Box Snack options!  (And since Free Dining is rapidly approaching, for those of you on the Disney Dining Plan, I made sure that all of these things can be purchased using a snack credit, but please keep in mind that items are always subject to change on the dining plan under the snack credit category.)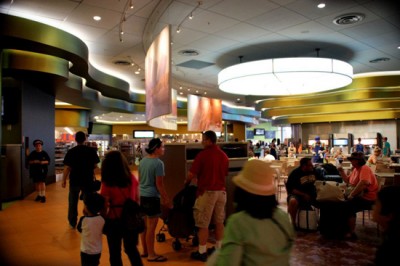 Naan with Dipping Sauce (Landscape of Flavors): Available only at dinner, Disney's Art of Animation's food court, this is most certainly a unique offering. Many people head to Sanaa at Kidani Village for their naan cravings, but it would appear that if you just want a little bite, Art of Animation has you covered! Also offered here is the Cheesy Pesto Bread, which is sliced Ciabatta with Pesto and Melted Mozzarella served with Marinara Sauce. Yum!
Baked Potato/Baked Sweet Potato (Liberty Square Market): This sort of nondescript area, located in Liberty Square is often something that you will walk by and not think anything of.  You will see that they sell lots of fruit, but did you know they served a few unique dishes too? One of them is either the baked potato or the baked sweet potato, which is also considered a snack credit on the Disney Dining Plan! If you're ever looking for a light lunch option, this is it! (Head over to Columbia Harbor House, pay for a bowl of chili (which is vegetarian!) and you've got an even better combination!)
Chicken Fried Rice (Yak and Yeti Local Foods Cafe): A great location overall if you're looking for something unique, you can grab a side of chicken fried rice and be perfectly happy.  Still hungry? Consider picking up a pork egg roll too!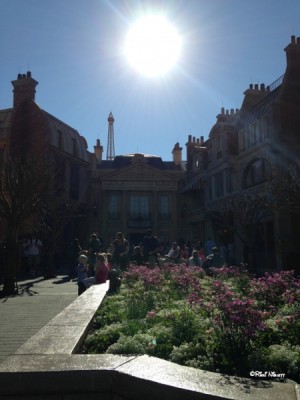 Croissant Jambon Fromage (Boulangerie Patisserie): Looking for a light but filling meal while touring World Showcase at Epcot?  Try this snack, which is actually ham, cheese and bechamel in a croissant. This snack stop also offers Roule au Fromage, which is a baguette, garlic and cheese and Bisque de Homard, otherwise known as lobster bisque. Any of these things would be delightful! (I've been dying to try their lobster bisque ever since they re-opened…too bad it's always been like 100 degrees out ever time I've been over near the France pavilion.)
Curry Chicken Pockets (Joy of Tea): Most people think this kiosk in the China Pavilion at Epcot only serves up tea, however, they actually offer a few unique options. One of which is the Curry Chicken Pockets.  They also serve an egg roll, and here you'll find both pork and vegetable on the menu. (And if you're looking for a great deal, but aren't on the dining plan, consider ordering the Lucky Combo, where you'll be able to enjoy a  Pork Bun, a Chicken Pocket, and an Egg Roll, with your choice of a Soft Drink and an Ice Cream. For $9.98, that's a good deal!)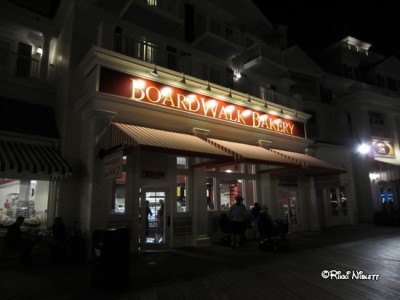 Side Salad (Boardwalk Bakery): Did you know that the Boardwalk Bakery located at Disney's BoardWalk Inn serves more than sweet treats? They actually serve up a ton of unique offerings like sandwiches and soups, but the unique item that's actually found listed as a snack credit is their side salad.  (If you're in the mood for a salad and you are not near the BoardWalk, look at many of the Quick Service eateries though throughout property to see if a salad option is listed. It just might be.)
Soup (Most Disney Food Courts/Counter Service Locations):  If you're in the mood for a good soup, head to one of the many Counter Service locations and you'll be able to pick up something warm and delicious! Options can include mushroom cream, vegetable, clam chowder, tomato basil, chicken noodle, etc.  A lot of times it depends on the time of year, and even the day that particular soups are being offered.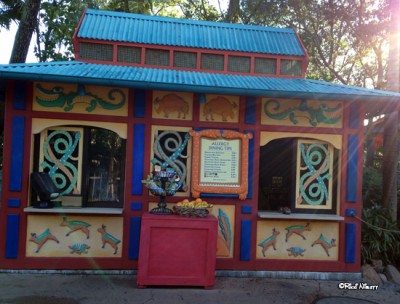 Hummus and Veggies or Chips (Gardens Kiosk/Prince Eric's Village Market): Ok…so this is available at more than just these two places, but I wanted to give you a couple of suggestions on where to look. What a great snack to keep you going throughout the day!
Edemame (Mr. Kamal's or Bradley Falls): This unique and healthy treat can be found at two of Disney's Animal Kingdom's snack stops.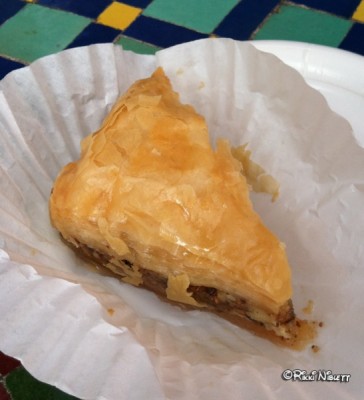 Epcot Food and Wine Festival Marketplace Booths/Epcot Flower and Garden Festival Outdoor Kitchens: I would normally leave these off, but since these two festivals last for the majority of the year now, it seems, I may as well include them.  While it's always unknown until these Festivals start which items are included, many items that are sold at these booths are able to be purchased using snack credits. This is especially handy if you save them up amongst a few of you and all try and sample different things amongst your traveling party. Quite a few of these items are well over $5 and are counted as a snack! How awesome!
That's my list, but obviously I'm missing stuff, and that's where you come in! Make sure to let me know what your favorite out of the box snack is!