This post may contains affiliate links for your convenience. If you make a purchase after clicking a link we may earn a small commission but it won't cost you a penny more! Read our full disclosure policy here.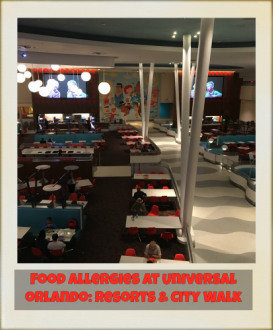 If you're traveling to Universal Orlando with food allergies, you may be looking for options beyond the park. As discussed in my prior posts on Universal Studios and Islands of Adventure, Universal Orlando requires a little more pre-planning for food allergies than Walt Disney World, but it is still more accommodating than the "regular world".
Food Allergies at City Walk
The restaurants at City Walk are independently owned and operated and if you are considering dining at them with food allergies you should contact each restaurant directly for accommodations.
Some of the top recommendations include:
Margaritaville– They have a gluten free menu and exceptional food allergy awareness. Apparently there are food allergies in Jimmy Buffett's family and they take such accommodations very seriously.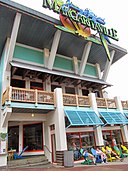 Emeril's– If you're looking for a fancy dinner, this is probably your best bet. Again, the staff is "Disney level" accommodating if contacted in advance.
Moe's– This varies depending on how cross-contamination sensitive and what allergies you deal with. But there are plenty of vegan and vegetarian options. Gluten free is easy. I've found the staff is more than willing to change gloves and wipe down the bar prior to service.
Hotel Dining with Food Allergies
The hotel restaurants are all able to accommodate food allergies to some level; however, it may vary by chef.
The chefs at the Bayliner Diner at Cabana Bay have always been able to modify something to accommodate my nut and dairy allergy, but as with Disney counter service are usually limited to modifying existing meals. They do have a "special diets" section that is mostly gluten free and each station has a vegetarian option.
We had an excellent experience at the Character Breakfast at Jake's American Bar. The chef prepared fresh items in the back to accommodate my allergies. It was a typical breakfast buffet, but again it was a nice safe option.
While I've never tried it, I've heard from others with food allergies that poolside dining is also an option. Again, the menu is somewhat limited, but at least some have found gluten free buns and allergy-safe fries available.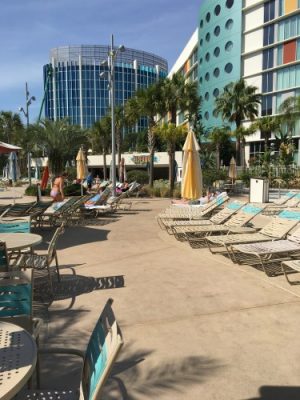 Conclusion
Universal Orlando with food allergies is certainly doable. The hotels and City Walk are more than willing to try to accommodate. That being said, allergy safe treats are not quite as easily available as at Disney. If you stay at Cabana Bay you will have a fridge or kitchenette and you may want to bring or order some favorite snacks just in case. Also, always ask for a chef or manager and verify menus and accommodations prior to ordering.
What tips do you have for someone staying at a Universal Orlando Resort or visiting CityWalk with a dining allergy or restriction? Share your experiences in the comments.
Did you like this article? Make sure to share it with your friends! Check below for easy ways to share!
Incoming search terms:
https://www themouseforless com/blog_world/food-allergies-orlando-resort-citywalk-hotels/