This post may contains affiliate links for your convenience. If you make a purchase after clicking a link we may earn a small commission but it won't cost you a penny more! Read our full disclosure policy here.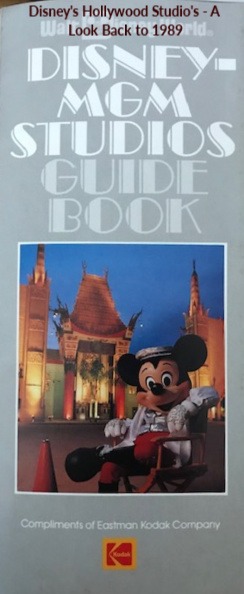 I am lucky (and old) enough to be able to say I visited Disney's Hollywood Studios back in September of 1989. It was my first trip to Disney and I so loved this park. Now that the park just had its 30th Birthday, take a stroll down memory lane with me. Lets browse through the Guide Book together and visit Disney's Hollywood Studios – A Look Back to 1989.
Is the park that much different today? Well, first off, the name is different! It was called Disney-MGM Studios. Walt Disney World was much different too: Disney's Animal Kingdom did not even exist yet and Epcot was still called Epcot Center! How about the fact that Blizzard Beach did not exist yet, but River Country did and so did Discovery Island. Disney Springs was called The Disney Village Marketplace, not even Downtown Disney yet! The resorts, well those were significantly fewer and different as well. Here is a small look at them:
The Disney Inn? That is now Shades Of Green. What was Disney's Village Resort? Is that what is now known as Saratoga Springs?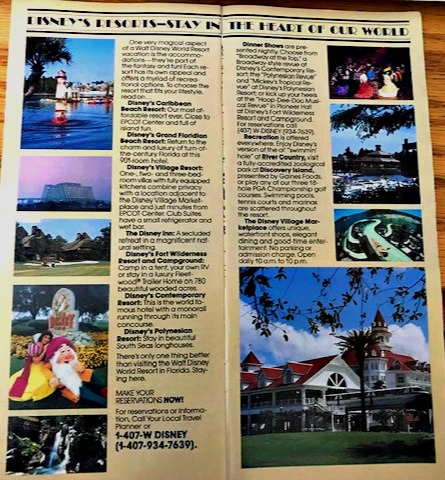 Mind-blowing huh? Well, if that didn't blow your mind, the cost of tickets back then will.
How much were tickets? One-Park/One-Day Ticket was $29 per day for adults and $23 per day for children (plus tax). Wow! What is now known as a Park Hopper was available for 4 or 5 day options. 4 days for $97 adults and $77 for children (plus tax).  5 days were $112 dollars for adults and $90 for children (plus tax). I probably don't have to mention (but I will) that it was cheaper for a 5 day pass with hopper than it is now for one day one park today.
As a side note, an Annual Pass cost $180 for adults and $155 dollars for children. This makes me want to cry!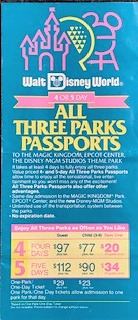 The overall lay of the park: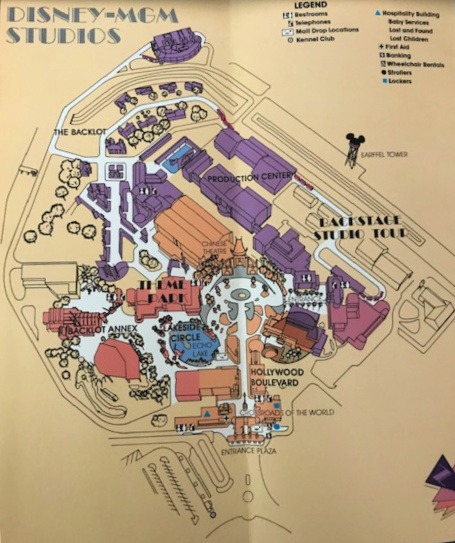 How about the attractions? Take a stroll down Hollywood Boulevard. The Great Movie Ride,  I miss it! I am looking forward to Mickey and Minnie's Runaway Railway, but sad that this one is gone. I wish we could have had both! The second attraction here appears to be a stage show. This took place very close to The Hollywood Brown Derby. Look for the items in red on the map below.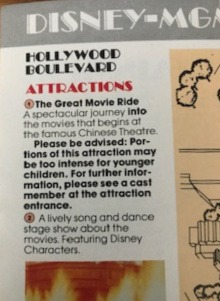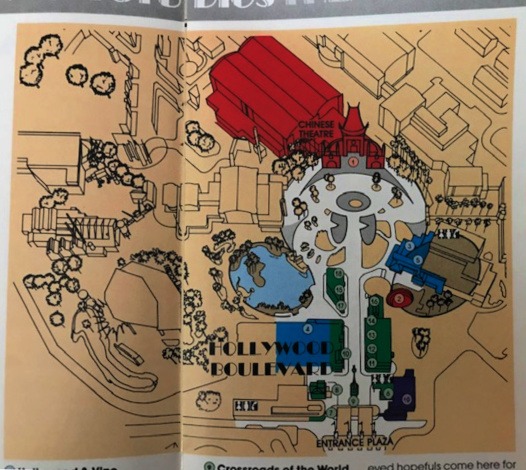 As we continue with Disney's Hollywood Studios – A Look Back to 1989, we will move to the left side of the park where we had SuperStar Television and The Monster Sound Show! We also had Epic Stunt Spectacular. Wait? It wasn't Indiana Jones yet? It was, but it wasn't named as such yet. If you look closely at the picture below in the left corner you see that Star Tours was shown on the map as coming in 1990.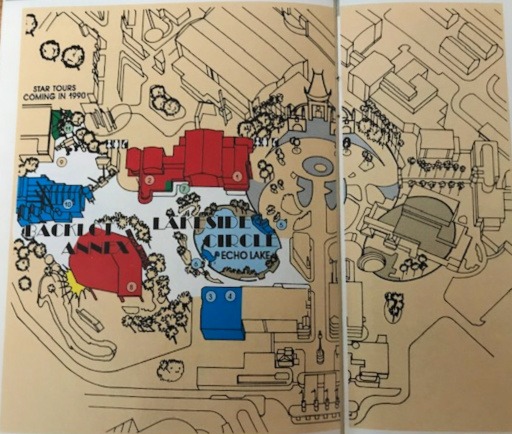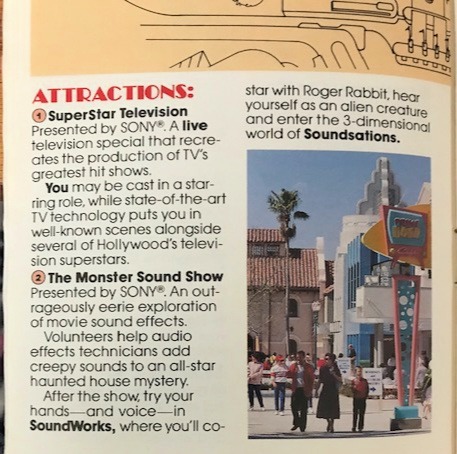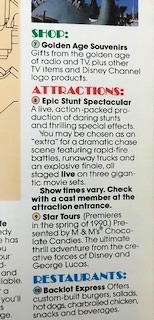 Next on our walk down memory lane is the Backstage Studio Tour. This was actually a working movie and television production studio. The tour itself was 2 hours! One hour by foot and the rest on a shuttle. Catastrophe Canyon and New York Street were two of the high points. Take a look at the brochure:
Finally, we had the Disney-MGM Studios Animation Tour. Here you could witness a real animation studio. You could witness how special effects like rain, fire and lightening were developed. You could also witness animators actually working on cells for upcoming motion pictures.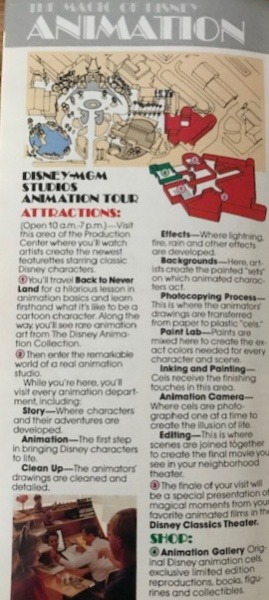 In case you were wondering what dining options existed 30 years ago, see below. We did have some familiar options to choose from! The Hollywood Brown Derby and 50's Prime Time Cafe were both options for table service. I bet you could walk right up to them without an Advanced Dining Reservation and get seated. There was also entertainment, and that was primarily "streetmosphere". Do you think Disney coined the term "streetmosphere"?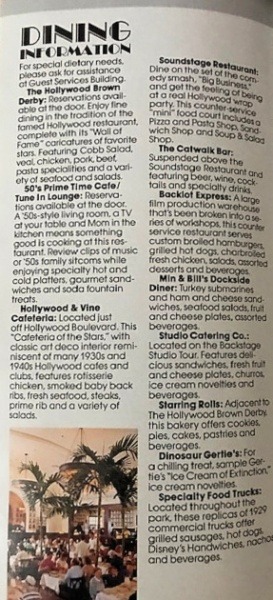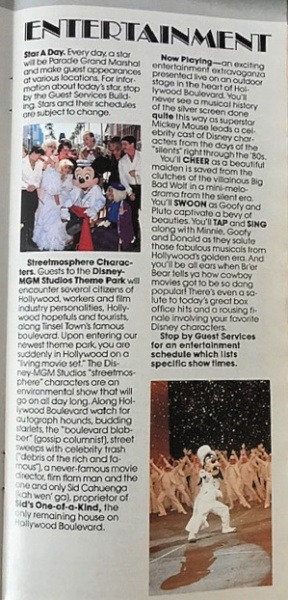 I hope you enjoyed looking at the guidebook from Disney-MGM Studios from 1989 with me. What are some of your memories of visiting the park back then? Share them with us in the comments or on Facebook or Twitter! 
Did you like this article? Make sure to share it with your friends! Check below for easy ways to share!
Want to visit the Walt Disney World Resort? Contact The Magic for Less Travel for more information and a free, no-obligation quote.

Incoming search terms:
https://www themouseforless com/blog_world/disneys-hollywood-studios-a-look-back-to-1989/
walt disney studios shorts off his rockers cast & crew list originally released on july 17 1992