This post may contains affiliate links for your convenience. If you make a purchase after clicking a link we may earn a small commission but it won't cost you a penny more! Read our full disclosure policy here.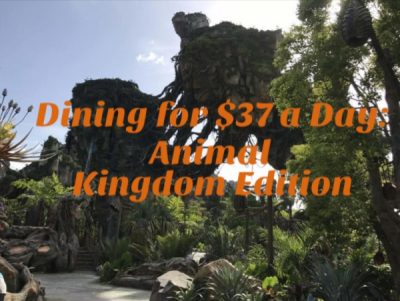 Welcome back to another edition of Disney Dining on $37 A Day! Our first edition started in the Magic Kingdom. Today's adventure will take us to Disney's Animal Kingdom. As the park with the most recent update, Pandora – The World of Avatar, Disney's Animal Kingdom has lucked into some fun, new treats, and dining locations. Let's hit the ground running with a breakfast that's purely Pandorian and can only be found within this Disney park.
Pongu Pongu
Translated from Na'vi, Pongu Pongu means "Party Party"! While we will mostly find drinks at this spot, hiding within the depths of Pongu Pongu is a specialty item that is absolutely a "party party" for your taste buds. The Pongu Lumpia is a warm spring roll that is stuffed with cream cheese and pineapple. It's perfectly portable dining to grab as we head straight to Flight of Passage!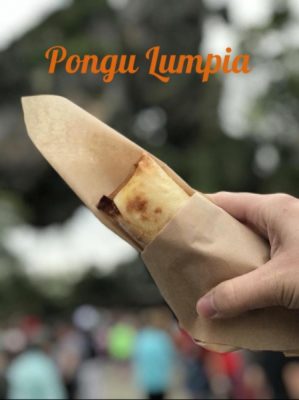 Pongu Lumpia:            $2.99
($34.01 Remaining)
Kusafiri Coffee Shop & Bakery
Let's swing into Kusafiri Coffee Shop & Bakery for a mid-morning espresso. When the question is caffeine, the answer is always, "yes".
Espresso:           $2.49
($31.52 Remaining)
Flame Tree Barbeque
You've presumably flown on a banshee, taken a safari through Africa and scaled Mt. Everest while touring at Disney's Animal Kingdom. It's time to fuel up!
Flame Tree Barbeque has been a reliable dining spot for smoked meat connoisseurs for some time now. Ribs, chicken, and sandwiches are tried and true options but I'm going to suggest a dish that seems to have everything a Wilderness Explorer like yourself might want in a hearty lunch: Baked Macaroni and Cheese with Pulled Pork. Not only do you get a huge helping of mac and cheese but you'll also get a side of coleslaw and a few of their famous (and huge) onion rings. A drizzle of barbecue sauce on top and you've got a plate fit for the King of the Jungle. If you're anything like me, belly up to the condiment counter for extra barbecue sauce. Sauce it up and chow down!
Don't forget, Flame Tree Barbeque now offers Mobile Ordering! You can order for your group ahead of time through Disney World's mobile app. When you arrive and are ready to eat, just tap "I'm Here, Prepare my Order" and your meal will be ready in no time. No lines for you, you savvy traveler!
Baked Macaroni and Cheese with Pulled Pork:       $11.99
Fountain Drink:                                                      $3.29
($16.24 Remaining)
Satu'li Canteen
Pandora: The World of Avatar at night. It's a must-see! While we're there, we may as well have dinner.
In James Cameron's Avatar, as Jake makes his decision to fight alongside the Na'vi he says, "Sometimes your whole life boils down to one insane move." I wonder if the Disney Chefs who dreamed up this creation for Satu'li Canteen had a similar thought. Cheeseburger Steamed Pods are unique to this location. All the ingredients you'd expect to find in a burger (ground beef, ketchup, mustard, pickle and cheddar cheese) are packed inside a soft steamed bun and served alongside a crisp vegetable slaw and vegetable chips. This twist on the standard burger fare will have even the pickiest eater feeling like they're a connoisseur.
For dessert, the Blueberry Cream Cheese Mousse is as delicious as it is gorgeous. The blueberry cream cheese mousse is topped with a dollop of passion fruit curd and garnished with a thin slice of white chocolate. What a sweet way to end our day.
Satuli Canteen offers Mobile Ordering, as well. To take advantage of this dining time-saver, you simply order through your Disney World app!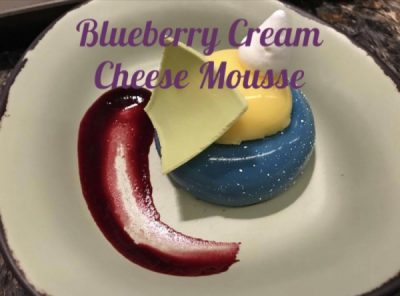 Cheeseburger Steamed Pods-Bao Buns:                  $10.99
Blueberry Cream Cheese Mousse:                           $5.29
($-0.04 Over Budget)
We missed the budget by less than a nickel. That's not too shabby for having traveled to Africa, Asia, and an entirely different planet to get to Pandora, no less. I call that a win!
Join me again soon for another edition of Disney World Dining for $37 a Day, where we eat for a full day on a budget.
Where would you stop for dining for $37 a day at Disney's Animal Kingdom? Share in the comments, or on Facebook or Twitter.
Did you like this article? Make sure to share it with your friends! Check below for easy ways to share!