This post may contains affiliate links for your convenience. If you make a purchase after clicking a link we may earn a small commission but it won't cost you a penny more! Read our full disclosure policy here.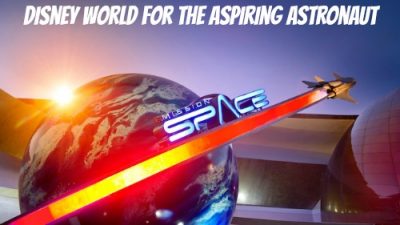 Do you have an aspiring astronaut in your family? Are you an aspiring astronaut yourself? For those of us who grew up dreaming of being in the astronaut corps, the answer to every career day question was an easy one. Who doesn't want to be strapped into a rocket and shot into space at 22,500 miles per hour? I know for a long while that was my dream and for many children it remains one of the most sought after occupations to aspire towards.
Walt Disney was an ardent supporter of space travel and even allowed famed rocket scientist Wernher Von Braun to help develop a three-part "science factual" TV series on space exploration in the 1950s. Luckily for those of us who do not have test piloting experience or who may not be old enough yet to qualify for the astronaut corps Walt Disney World offers a chance to escape gravity and earn our silver wings while staying (relatively) glued to the ground. Here are rides that offer a test of space exploration for the adventurous among us:
Of course, the perfect complement to a space-themed Walt Disney World vacation would be a trip to the Kennedy Space Center, located about one hour east of Disney World. The heart of America's space program (I consider Houston's Johnson Space Center to be the brains), Kennedy Space Center is a pilgrimage every aspiring astronaut needs make. The relative proximity of the Space Center to Walt Disney World makes it perfect for a day off from the parks and a recent expansion added new attractions; which include a space shuttle launch simulator and a chance to view the shuttle Atlantis. The fourth operational space shuttle, Atlantis flew 33 missions into space including STS-135, the final mission of the STS program, and travelled over 126 million miles! The depth and breadth of immersion at the Space Center is astounding and the highlight for many visitors is a complimentary 45-minute bus tour through the active launch areas which illustrate the amazing power of spaceflight in ways an exhibit cannot.
Having made the trip to Kennedy Space Center countless times in my life and even multiple times on the same trip I can safely say it is one of the best non-Disney attractions in Florida and a must visit even if you are not a fan of spaceflight. Admission to Kennedy is about half of a one-day park ticket ($50 vs. $105) and Grey Line offers a roundtrip bus fare ($59) with pickups at Disney's All-Star Music and the Walt Disney World Swan Resort on property if individual transportation cannot be arranged.
Since the 1960s a trip to Florida has been a dream for any aspiring astronaut. The histories of Walt Disney World and the Kennedy Space Center are forever intertwined, given Walt Disney's love of spaceflight and his decision to purchase land in Central Florida around the same time NASA began launching rockets from Cape Canaveral (NASA's reason was a little more practical than Walt's: Florida is the closest US state to the Equator and rockets launched closer to the Equator take a shorter route into orbit and thus can carry more cargo). Walt even used NASA's now-defunct Manned Orbiting Laboratory Project to drive speculation about other industries purchasing land around Bay Lake.
Any visitor to Walt Disney World, not just the ardent fans of the American space program, should take time to explore the ties between Walt Disney World and spaceflight. Whether it is riding the rides on this list and then some or taking a day to visit the Kennedy Space Center no visit to Central Florida would be complete without fostering an appreciation for the astronaut corps and those who aspire to join them someday.
What are some of your favorite ways to experience Space travel at Walt Disney World? Share them in the comments!
Did you like this article? Make sure to share it with your friends! Check below for easy ways to share!