This post may contains affiliate links for your convenience. If you make a purchase after clicking a link we may earn a small commission but it won't cost you a penny more! Read our full disclosure policy here.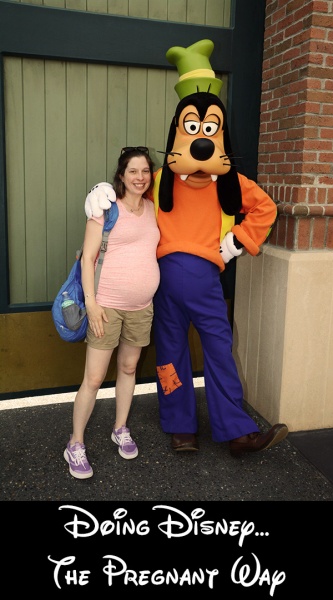 A Disney vacation is something most people plan for.  We book our Advance Dining Reservations 180 days in advance, FastPasses at 60 days out, and read up on tips and tricks to make sure our trip is magical.  Because Disney is all about the magic.  So what do you do when your plans are set and then you discover that a new mousketeer is on the way? Well, you make the most of it and learn how to do Disney… the pregnant way.
No matter what month you are in when you travel (although flying within the last month is usually restricted either by doctor or by airline), you will need to make some changes to your touring style.  Going from rope drop to park close is going to be difficult. Trust me, I tried.  I was 30 weeks during my recent trip to Walt Disney World and definitely overdid it on day one.  Be smart and realize that you are going to need a break in the day to relax, nap, put your tired feet up, and recharge.  If you are able to return to your resort and the weather is cooperating, take a dip in the pool.  Floating around is relaxing, takes the weight of your ankles and feet, and the water helps cushion your bump so your back gets a break too.
Speaking of those poor ankles and feet, get off them when you can.  Most people are more than understanding and will give up their seat on the bus, monorail or boat for you.  Take them up on their offer! I averaged 10-11 miles per day on my last trip and by the end of the week, you would not have even been able to tell that I had ankles due to the swelling. If you can plan your park touring so that you are not walking back and forth from Tomorrowland to Frontierland repeatedly or circling the World Showcase 3 times in one day, then do it! All that extra walking adds up to sore feet and swollen ankles.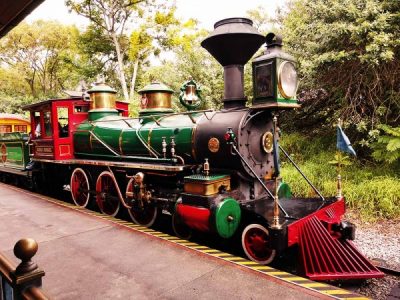 When you are looking for places to get off your feet while pregnant, take in a show.  There are some amazing shows and entertainment at the Disney parks and plenty of people miss out on them in all of their rushing around from thrill ride to thrill ride.  Well, since thrill rides are off the table when you are pregnant, you can finally enjoy some of the attractions you might ordinarily miss. Check out Festival of the Lion King or Finding Nemo – The Musical while you are in Animal Kingdom.  Catch the Voices of Liberty at the American Adventure in Epcot. Ride the Peoplemover in Magic Kingdom, stop by to visit the Carousel of Progress and the Country Bear Jamboree, or just ride the train from the Storybook Circus to Main Street so you don't have to walk. Your tired feet get a break while you get to enjoy a show or attraction that is usually air conditioned!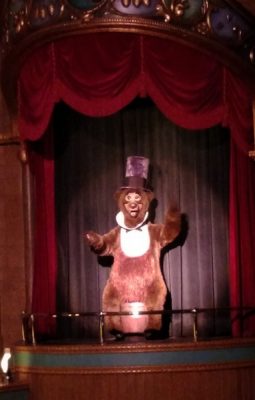 While you are looking for different things to do when pregnant, consider meeting some characters.  Even if you usually skip character meet and greets, give one a chance.  My favorite interaction was with Chip and Dale in Dinoland.  They looked adorable in their dinosaur costumes and they were absolutely fascinated by my baby bump.  A serious discussion of whether I was having a chipmunk or a dinosaur ensued.  I think they were both a bit disappointed when I told them it would be neither, but the photos from that meet and greet are fantastic.  Often I don`t know what to say to a character, but having a baby on the way is a great conversation starter.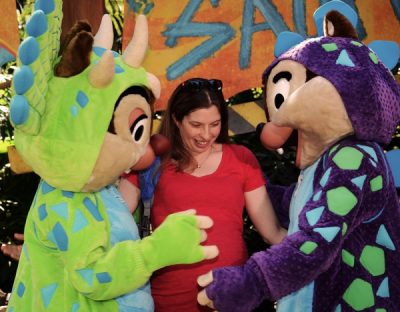 I'm sure it goes without saying, but just in case you are not familiar with the basics of Disney travel, remember to wear comfortable shoes and stay hydrated! There is no need to hurt your feet even more by wearing impractical footwear.  You will need those comfy sneakers to get you to the next restroom! Believe me, with all that water you will be drinking, you will know where every restroom is, in every land, of every park.
Make the most of this special trip and take plenty of photos. Slow down, enjoy the little moments, and realize how different things will be on your next trip. Years down the road, you will be able to tell your child about the time they went on their very first Disney vacation, they just did not know it.
What tips do you have touring around a Disney theme park pregnant? Share in the comments,or on Facebook or Twitter!
Did you like this article? Make sure to share it with your friends! Check below for easy ways to share!
Want to visit the Walt Disney World Resort? Contact The Magic for Less Travel for more information and a free, no-obligation quote.

Incoming search terms:
https://www themouseforless com/blog_world/disney-pregnant/