This post may contains affiliate links for your convenience. If you make a purchase after clicking a link we may earn a small commission but it won't cost you a penny more! Read our full disclosure policy here.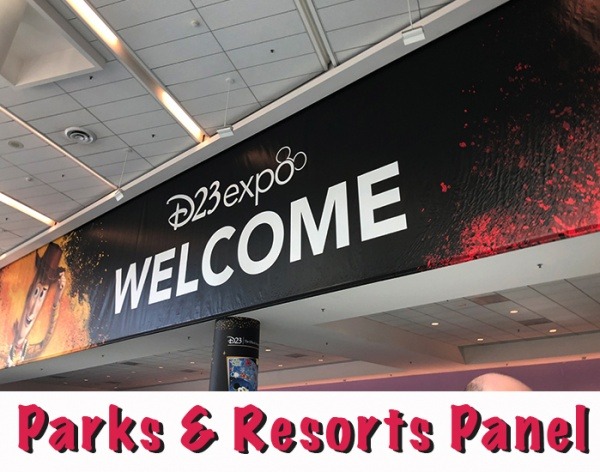 Like many in the Dis-Universe, I watched the D23 Parks and Resorts Panel live stream, anxiously awaiting the near-certain verification of rumors, and hopeful for more exciting reveals. As the first hour ticked by, I became increasingly excited. By hour two, I was giddy!
Then Bob Chapek closed the show. I waited for him to invoke his inner Steve Jobs and grinningly add "Oh, and one more thing". Then he walked off stage and the screen went dark. I looked on in abject horror! This couldn't possibly be it. What about Brazil? You didn't say anything about Journey Into Imagination!
I immediately resumed texting a trusted source stationed inside the room. "Where did he go?" "Is there a riot?", and my most eloquent "But…but…". Then, I took to Twitter to commiserate with my fellow Disney fanatics. We were robbed, after all. All those beautiful posters that we collectively hoped and believed held so many hidden Easter eggs.
Then, amid the screams of injustice and righteous indignation, something occurred to me. What was actually missing? Brazil? That was nothing more than a rumor backed by an aerial shot of some earthen berms beside the Germany pavilion. Journey Into Imagination? I'm just excited they didn't announce it was in the path of a bulldozer.
In a brief moment of clarity, I realized I wasn't actually upset. In fact, I was excited!
Let's get the uncomfortable truths out of the way. First, a lot of what we saw wasn't new. Heck, at least half of the announcements were just updates on projects that were already announced.
Second, much of the commentary from the stage had a slightly cold and corporate feel. In all honesty, I've often referred to the "Bobs", both Iger and Chapek, as Disney's newest and most advanced AudioAnimatronic figures. Whenever they try super hard to sound genuine, I just hear Ron Burgundy reading off the teleprompter, regardless of what it says. "I'm Bob Chapek?"
And finally, my third issue is that I sometimes felt like I was watching a heavily choreographed and produced version of the Oscars or the Tony Awards. At one point, I felt like the only thing missing was Neil Patrick Harris running on stage and breaking out into song. In the end, there was quite a bit of substance, but we had to suffer through an awful lot of fluff between solid announcements.
With those issues aside, or at least placed more properly in perspective, I'm happy to say that I'm mainly excited about what Mr. Chapek had to offer.
Opening the panel with a video showing Galaxy's Edge, fireworks, and the recent Blue Angels flight over Spaceship Earth, Chapek offered a brief nod to the 160,000 Cast Members who spend each and every day trying to provide the "Disney Difference". He went on to state that they "listen very closely" to guests, then plugged the Skyliner to awkward and tepid applause.
Deepening the emotional pain of those of us who still miss it, the crowd was reminded that the Main Street Electrical Parade is back home in Disneyland. Adding salt to that raw emotional wound, Chapek went on to say that Disneyland will be getting an all new parade called "Magic Happens".
The floats, showcasing characters such as Moana, Coco, and Sleeping Beauty looked amazingly colorful and fresh. With the announcement that the parade will premiere this spring, Jordan Fischer provided a performance of the new title song with video of exploding colors in the background that seemed eerily like an Apple commercial.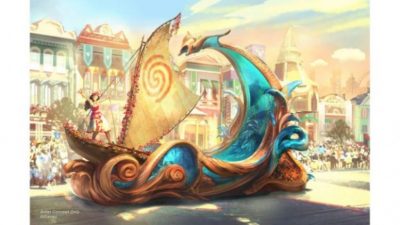 While the parade looks amazing, and I'm hoping it's ready in time for my May, 2020 visit to Disneyland, I was left with only one question: Does this mean we can have the Main Street Electrical Parade back? Disneyland clearly doesn't need it anymore. We need to invoke Kindergarten rules here. You have three and we have one. Time to share with the rest of the class.
Next, fans received an update on the progress of Mickey's Runaway Railway. Renderings were shown of the "El CapiToon" theater, and a "stunning surprise twist" was even hinted at. This ride should be eagerly anticipated by fans on both coasts. Mickey's Toontown desperately needs something new and fresh to anchor itself to, and Disney's Hollywood Studios will certainly need to draw crowds away from Galaxy's Edge.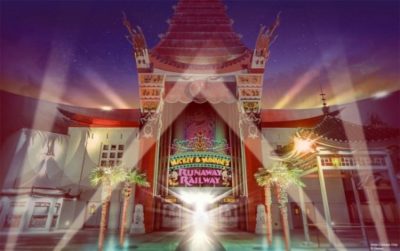 Jetting to the opposite side of the globe, attendees were reminded that Zootopia will be coming to Shanghai, and the Hong Kong Disneyland castle is undergoing a transformation (actually, that word was used a lot during this panel).
Inspired by thirteen Disney heroines, the new castle may end up becoming the grandest of them all. Called the "Castle of Magical Dreams", the structure will be the canvas for new day and nighttime shows.
Finally, Hong Kong will also be receiving a new coaster themed after Frozen with Wandering Oaken's Sliding Sleigh.
Crossing the International Date Line once more, updates were offered for Walt Disney World. First, after being vacant since New Years Eve of 2017, Cirque du Soleil at Disney Springs will finally host a new show. With previews beginning on March 20, 2020 and a full premier on April 17, 2020 this new show focuses upon a young girl who embarks on a journey of self-discovery, led by her father, a Disney animator.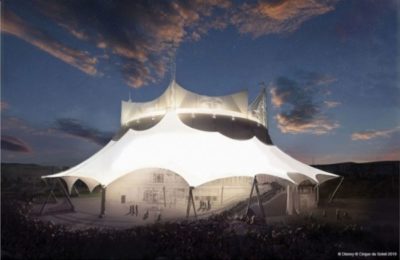 Walt Disney Imagineering and Walt Disney Animation partnered with Cirque du Soleil to combine Disney's rich history in storytelling with Cirque's award-winning performance art. The result has been promised to blend iconic Disney moments and musical themes with a performance that has animated characters seamlessly interacting with live performers.
Ensuring that nobody forgets that he controls both experiences AND products, Chapek welcomed Target CEO Brian Cornell on stage to announce a deeper partnership between Disney and the retail giant.
Let me state that again, just to make sure I highlight how awkwardly out of place this was. During the "Parks and Resorts" panel, Bob Chapek invited the CEO of a national retailer on stage to highlight a new and improved retail presence for Disney merchandise inside Target stores. Remember I spoke about that cold corporate feel…
Promising easier access to "high quality Disney merchandise", Cornell announced that, by October of this year, twenty-five Target locations will contain a dedicated Disney store, with another forty locations by October 2020.
Finally, once Bullseye the Target dog left the stage (seriously, the dog was on stage), the exciting news began.
Following up on earlier teases and reports, Marvel will finally be making a big impact across the Disney sphere. Avengers Campus will soon open in Disney California Adventure and later in Disneyland Paris. Billed as an immersive superhero land, Avengers Campus will place the guest into the middle of the Marvel Universe by turning them into recruits.
Broken into two phases, the first will bring both a web-slinging Spiderman ride and a Pym test kitchen to California in the spring of 2020, alongside the existing Guardians of the Galaxy: Mission – BREAKOUT! ride. Just a few month later, in the summer of 2020, Disneyland Paris will debut their own specialized recruitment campus along with Avengers updates to the New York Hotel. These updates will include themed suites, and over 300 pieces of specially commissioned art.
The campuses themselves will be broken into recruiting specialties, but guests can be sure to meet Black Widow, Dr. Strange, Ant-Man and The Wasp, Iron Man, heroes from Wakanda, and the Guardians of the Galaxy.
Later in Phase Two of the Avengers Campus project, Disney California Adventure will get a new E-Ticket ride. Centered around an all-new ride system, the new ride will place guests aboard a Quinjet to fly beside their favorite Marvel heroes to Waconda and beyond. However, like all super hero adventures, this one is sure to have a few hiccups and challenges along the way.
I'm excited for this, even though I'm not yet a huge fan of the Marvel Cinematic Universe. My kids are currently four and seven, which means they're just entering what I consider to be the prime age for superheroes. I've been waiting anxiously to immerse us all into Marvel, and the timing of this couldn't be better. By the time this is all built, we should be deeply invested in that universe.
With that said, I'm nervous about this one. There's always been a big difference between what's announced for coming attractions and what actually comes to fruition. History tells us that some of what we saw will not see the light of day. Two things about this make me pensive. First, this is already scheduled to come in multiple phases. To me, that means they've budgeted for Phase One and they're waiting to see how it goes.
Second, with the still somewhat murky agreement between Disney and Universal regarding rights to Marvel characters and where they can be used, Disney is left in a tricky position. The park with the most space and the longest vacation stays is precisely the one that supposedly has limitations on who and what can be displayed. This means that Disney has to focus their attention on the West Coast, where space is already at a premium. I hope I'm wrong on this, but only time will tell.
Next, fans were provided with a juggernaut of an Epcot presentation. This section was so big, in fact, that I have no choice but to give it its own blog post. So stay tuned!
The next thing that was announced was that starting in late 2020, guests will have access to "Disney Genie". This new online system will reportedly include custom itineraries, themed vacation plans (think princess fairytale vs adult food & wine), real-time updates, and planning help.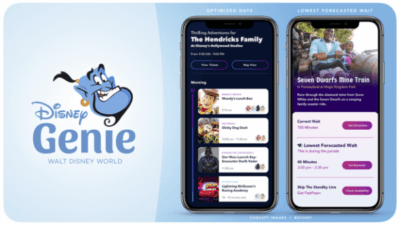 This raises so many questions. First, why are we getting an all new online system that's seemingly far more intense than the current system? I can't even get My Disney Experience to work correctly all of the time. I've had someone in my Friend and Family list for over three years that I've never met before, and Disney IT's only suggestion is for me to start a whole new account.
Second, it appears that guests will be able to make dining and FastPass+ reservations via this new tool. How exactly is that going to work? Will these guests be given preference over others who wake up early to make their own reservations on the appointed 180 or 60 day mark? If there is a timing advantage, will this be yet another up-charge?
More details were also provided about the newest Disney Vacation Club property, Reflections – A Disney Retirement Home and Solarium (Actually, I just made that part up). Reflections – A Disney Lakeside Lodge will be situated on the site of the old River Country.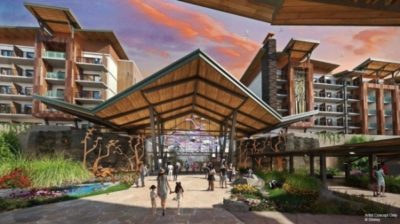 As a current DVC member, I have to admit that not much about this property excites me. It's located next to two current DVC properties and the theming isn't as grand as I'd like to see. The proposed lakeside A-frames and tree houses look interesting, but like many DVC members, I'm picky.
The one thing that I am looking forward to is the proposed table service restaurant themed after The Princess and the Frog. If this isn't completely themed after either a bayou-side eatery or Tiana's Place, I'm assembling a crowd with torches and pitchforks.
Finally, we were offered Disney's plans for future cruises, both on the sea and in space. As previously released, Disney will be taking delivery of three new ships. The first, to be named "Disney Wish", will be delivered in 2021 with bookings available for January 2022.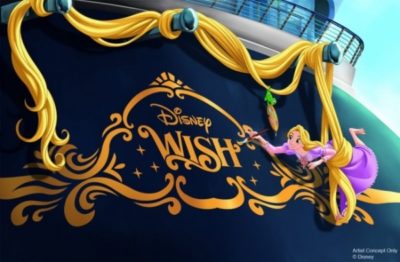 Joe Rhode was also brought on stage to talk about Lighthouse Point, Disney's newest Bahamian port. Utilizing Joe for what he's become so famous for, Disney has sent the Imagineer (and his earring) on an in-depth tour of the Bahamas to interact with local artists and share their common passions. In addition to speaking about the artistic influences, a heavy emphasis was placed on Disney's commitment to the preservation of the local environment and nature.
In keeping with the cruising theme, more detail was also provided about the upcoming Star Wars hotel. Guests will embark on the Galactic Star Cruiser "Halcyon", for a two-day and two-night cruise into outer space.
Utilizing the cruise model, guests will check in together at a port terminal prior to boarding a launch pod and being whisked into outer space. Once there, they have the option of kicking back and enjoying the cruise, or diving into a galactic adventure.
Honestly, I'll leave the analysis and reaction of this venture to the Star Wars fans. It's not how I would choose to spend my vacation at Disney, but I know many who are eagerly lining up for their chance to experience this immersive addition to Galaxy's Edge.
The panel closed by highlighting Disney's partnership and commitment to the Make-A-Wish foundation, and Chapek brought numerous "Wish Kids" on stage to celebrate. As a long-time supporter of St. Jude, a member of the St. Jude Hero running team, and a volunteer for Give Kids the World, it was my turn to fight back the "ugly tears".
You can say what you want about the Disney corporation, but these kids really put things in perspective. Despite how hard some of us can often be on the parks, a trip to Disney for them is still a dream come true.
Now it's your turn to tell us what you thought about these announcements from the D23 Expo. Let us know in the comments, or on Facebook or Twitter!
Did you like this article? Make sure to share it with your friends! Check below for easy ways to share!
Want to visit a Disney Destination? Contact The Magic for Less Travel for more information and a free, no-obligation quote.