Black Widow: A Mouse for Less Review
|
This post may contains affiliate links for your convenience. If you make a purchase after clicking a link we may earn a small commission but it won't cost you a penny more! Read our full disclosure policy here.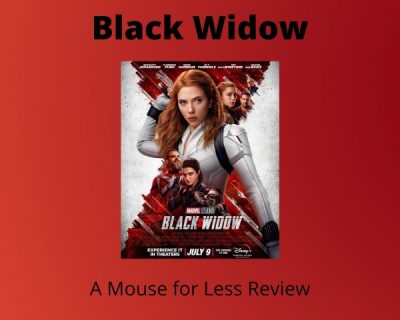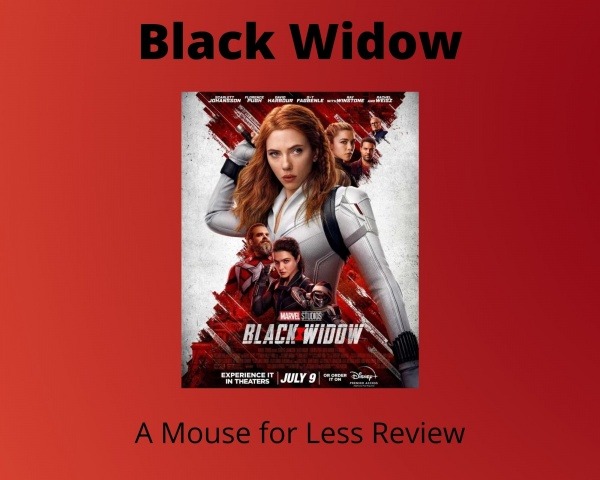 Black Widow: now in theaters and on Disney + with Premier Access
It's finally here. After years of planning, production, post-production and delays because of the COVID-19 pandemic, Black Widow, my favorite Avenger, has her own solo movie! For those of you thinking, "Wait a minute, didn't she die in Avengers: Endgame?" remember that this hasn't stopped Marvel before. (Both Vision and Loki have their own Disney + shows, and the last time we saw them in the films, they were both decidedly not alive.)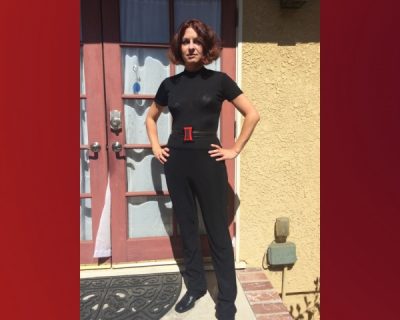 My Black Widow costume for Mickey's Halloween Party 2016
This film shows us what happened to Natasha Romanoff (Scarlett Johansson) after joining Steve Rogers' side in the Avengers Civil War. The story that is told in this film wraps up just before she leaves to rejoin her comrades in Avengers: Infinity War.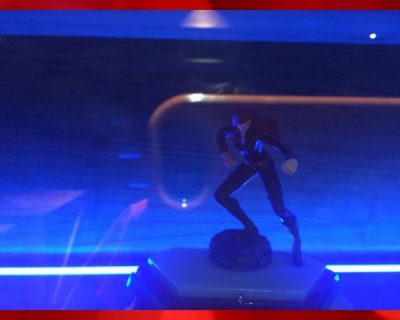 Black Widow figure on board the Disney Dream
I had been so looking forward to this film that as its release date approached, I was worried I would be disappointed. I am thrilled to report that I was not. This film gave us everything I wanted in a Black Widow film: fantastic action sequences, a peek into her dark and haunting childhood, and a chance for her to shine on her own rather than just as a sidekick to another hero.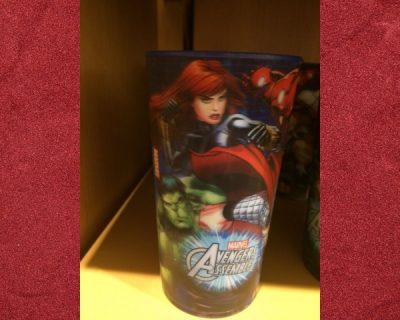 Avengers glass featuring Black Widow on sale on the Disney Dream
Besides giving us a great story featuring Agent Romanoff, we are also introduced to some new characters. Florence Pugh plays Yelena Belova. That name may be familiar to comics readers as a young Russian who also takes up the mantle of Black Widow. Rachel Weisz plays Melina, a figure from Natasha's childhood whose motives are often mysterious. And David Harbour is Alexei, a former Soviet super-soldier known as the Red Guardian.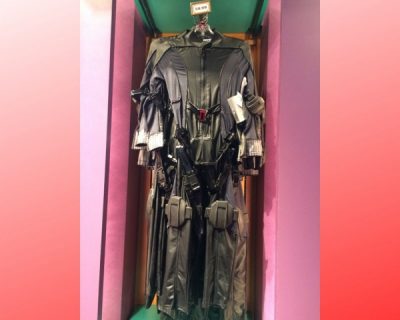 Black Widow costume on sale at California Adventure
But the standout actor in the film is one who is only onscreen for a short amount of time. Ever Anderson plays Natasha as a child, and her intensity and presence are fantastic, especially considering the length of her role.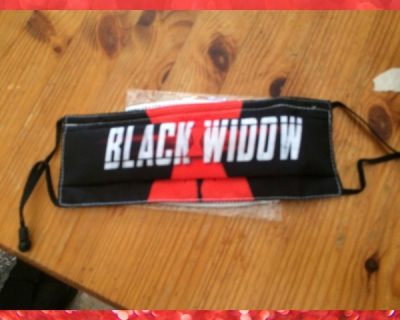 Face mask featuring Black Widow logo
This film is not perfect, and it could be argued that some plot points, especially the reveal of who is behind the mask of the chilling villain Taskmaster, are underwhelming. But the film's overall tone, coupled with the themes of breaking away from past trauma and choosing to move forward, are strong enough to make up for these minor set-backs.

As with any other Marvel project, do not get up out of your seat until the end credits are done. There is a major setup for a future Marvel project.

Black Widow is rated PG-13 for "intense sequences of violence/action, some language, and thematic material." It is now playing in theaters and also available on Disney + with its Premier Access.
Have you seen Black Widow yet? Let us know in the comments or on Facebook or Twitter!
Did you like this article? Make sure to share it with your friends! Check below for easy ways to share!  
Want to visit a Disney Destination? Contact The Magic for Less Travel for more information and a free, no-obligation quote.