This post may contains affiliate links for your convenience. If you make a purchase after clicking a link we may earn a small commission but it won't cost you a penny more! Read our full disclosure policy here.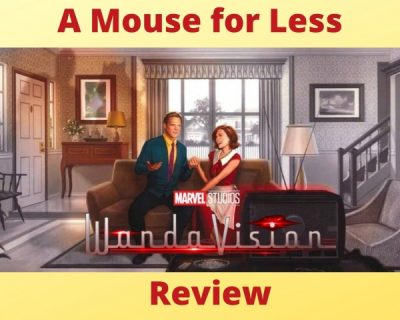 WandaVision, now streaming on Disney +
After a long, painful year in which no new Marvel Studios content was released, WandaVision arrived on Disney + on January 15th. This is the first Marvel original created for Disney +, and so far, it has a very unique feel.

Those who have watched every Marvel movie and show might have scratched their heads when this show was first announced. "Wait, Vision was killed in Infinity War. And the last time we saw Wanda was at the end of Endgame, where she is quietly mourning his death. So how can this show happen?"

That's exactly the question Marvel wants you to ask.

You see, without any explanation whatsoever, the show starts in black and white. Opening credits roll and we learn that Wanda (Elizabeth Olsen) and Vision (Paul Bettany) are starring in an old-fashioned 1950s TV show, complete with laugh track. Wanda and Vision are happily married and living in an idyllic American suburb. The set design and costumes very lovingly reference Donna Reed and Father Knows Best.

But some things are poking holes in their happy life. Why can't either of them remember their anniversary? Or the song that played at their wedding? Or why they moved into this town in the first place?

The second episode begins, once again, with no explanation, this time with an animated Bewitched-style opening credits scene. The style of this episode is slightly updated to the 1960s. It's still in black and white, but Wanda is (gasp!) wearing pants.

Once again, their happy sitcom life is disturbingly broken by strange things. Bursts of color break into Wanda's life when she least expects them. She begins to hear a voice calling her name.

The second episode ended in such a way that my entire family is eagerly looking forward to the third one. As a comics reader, I can recognize certain aspects of this show that are based on a comics run. But something I've learned from the Marvel Cinematic Universe is that they often take inspiration from the comics, but they never follow the comics word-for-word. So even comics readers will probably be surprised by the way this story unfolds.

The first two episodes are well under an hour long, making them seem more like a typical half-hour sitcom than a full-blown Marvel extravaganza. So far there has been a complete lack of violence and absolutely no swearing. And the most risqué thing they've shown so far is Wanda using her powers to turn their very-I-Love-Lucy twin beds into a (clutch your pearls, ladies) double bed that she and Vision share. Since this is a Marvel show (and from the trailer) it looks like we can expect some action sequences, but all in all, this show is (so far at least) very family friendly.

My whole family is looking forward to figuring out what is happening to Wanda and how this unique, original take on the Marvel universe will unfold.
Have you caught the first two episodes of WandaVision? What do you think so far? Share with us your thoughts in the comments or on Facebook or Twitter!
Did you like this article? Make sure to share it with your friends! Check below for easy ways to share!  
Want to visit a Disney Destination? Contact The Magic for Less Travel for more information and a free, no-obligation quote.