This post may contains affiliate links for your convenience. If you make a purchase after clicking a link we may earn a small commission but it won't cost you a penny more! Read our full disclosure policy here.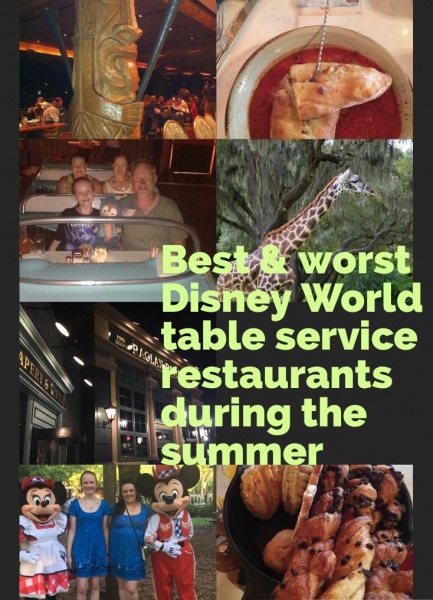 During the hot summer months in Walt Disney World, a great way to beat the heat is to take advantage of all the wonderful table service options available! I would suggest booking your dining reservations for places that offer air conditioning, BBQ options & of course, ice cream. Satisfy those summer cravings with some delicious, tropical restaurants. Another tip for beating the heat is to dine during the peak heat times, like lunch & supper. Tackle the parks in the morning & evening when the heat is at it's lowest.
With so many options available, it can be a bit overwhelming. Here's our list of the best and worst Walt Disney World table service restaurants during the summer.
Best Table Service Meals
This one is first on my list mainly because of the ICE CREAM. You can indulge in the Kitchen Sink sundae which feeds 4, or enjoy one of the many delicious sundae & option choices! There is also SO many other dessert options & classic milkshakes. For your entree, you can enjoy classic American cuisine, such as a burger. Located at Disney's Beach Club resort, this is a fantastic choice for your summer evening!
This is hands down my favorite table service that I have tried so far! I am a huge country music, bbq, beer & character lover. This meal has the best of all those worlds. Located in a shaded outdoor theatre at the Fort Wilderness Resort, you'll find an all you can eat buffet filled with all kinds of BBQ'd goodness, from burgers, ribs, chicken and so much more. There's also a soft serve machine there to keep you cool. You'll also have all you can drink beer, wine & sangria-always a bonus! On top of all that, you'll have character meet & greets, live country music & even the opportunity to dance with the characters! Not to mention-the great atmosphere of this spot in general. Fort Wilderness is a fantastic summer evening's retreat from the parks!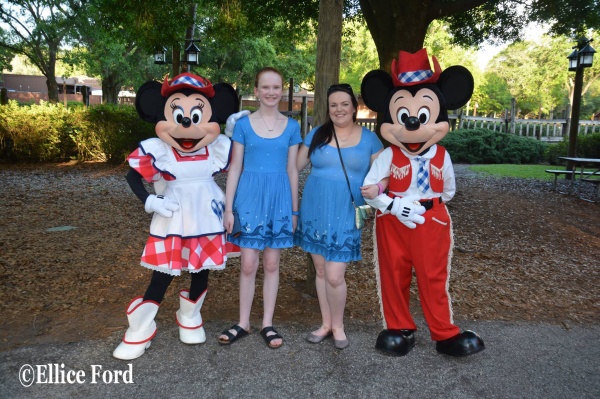 Looking for dinner AND a show?! Head on over to Disney's Fort Wilderness resort to enjoy a western themed musical where you'll enjoy acting, singing & a foot stompin' good time! Be prepared to get involved-they love to involve the guests! You'll enjoy all you care to enjoy fried chicken, BBQ ribs, salad, cornbread and so much more. For guests 21 & over, unlimited draft beer, wine & sangria will also be included!! This is an experience for sure-and worth adding to your summer bucket list on an off park day or if you're looking for an early evening off from the parks.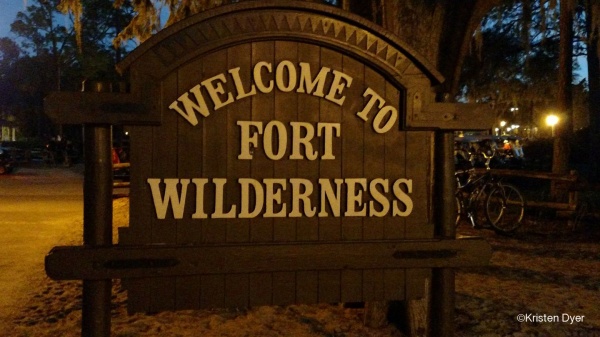 One of the hottest dinner reservations on property-you'll drift away to an island paradise at the Polynesian resort at 'Ohana! This all you can eat Polynesian style restaurant is sure to fill that summer vibe & fill you up! Starting off with a combo platter for the table of pot stickers, noodles, wings, veggies & more-make sure you leave room for the all you can eat meat & shrimp! After your starter, the servers will come around with giant skewers of beef, chicken, shrimp & more-all grilled on their open concept fire grill. You can take however much you want & they come around several times. If you go at the right time of night, you'll even get to see the Happily Ever After Fireworks at Magic Kingdom! A great dinner option for your Magic Kingdom day.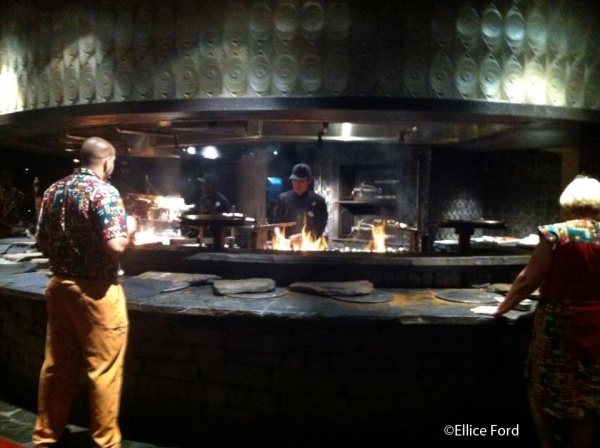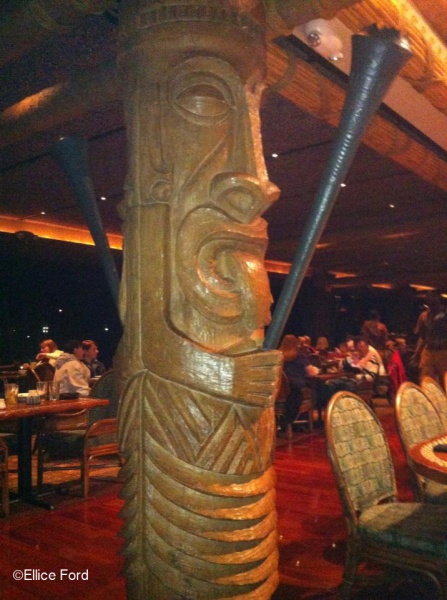 Another delicious option at the beautiful Fort Wilderness Resort, you'll find an all you care to enjoy buffet for the family! I suggest taking a break indoors from the heat for a dinner or brunch (brunch only available on weekends). You will find American favorites, such as salads, fried chicken, pasta, smoked ribs & a meat carving station. At brunch, you can get a taste of the hand carved applewood-smoked bacon & ham, and of course your eggs, Mickey waffles & so much more! There is also an all you can eat soft serve machine on site! The atmosphere of this restaurant gives a summer vibe too, equipped with traditional western log interior & decor. You will feel right at home!
Mmm mmm! Good home cookin'-southern style! Southern fried chicken, sliders & mac n cheese-just to name a few! Enjoy Homecomin' on your Disney Springs evening. This is a super popular option on property-so be sure to book your advanced dining reservations for this spot! Everyone likes fried chicken all year long-but something about southern fried chicken in the summer just feels perfect! Take advantage of this delicious southern option.
Take a boat ride over to the Wilderness Lodge on you Magic Kingdom day to take a break from the heat. Whether you choose lunch or dinner-the options are very similar. Enjoy a family style platter of all you care to eat ribs, corn, chicken & more! If you don't want to take advantage of the BBQ platter-you can also get single orders of other BBQ alternatives. For dessert, have your choice of maybe cobbler, cheesecake or pudding. How can you go wrong with this place?! Again, the atmosphere of this resort is a good reason to broaden your summer restaurant list!
Head on over to the beautiful Disney's Animal Kingdom Lodge & soak in the atmosphere & wildlife. This is a fantastic afternoon or dinner choice for your Disney's Animal Kingdom day or an off park day. The lodge in & of itself is worth the trip over to see. The courtyard has animals like wildebeest, giraffes and so much more! At Sanaa, you'll be dining right alongside them! This African cuisine restaurant is bound to get you in the summer spirit! For your starter, I highly suggest trying their bread service, with all the sauces-YUM! This one was a no brainer for the best list!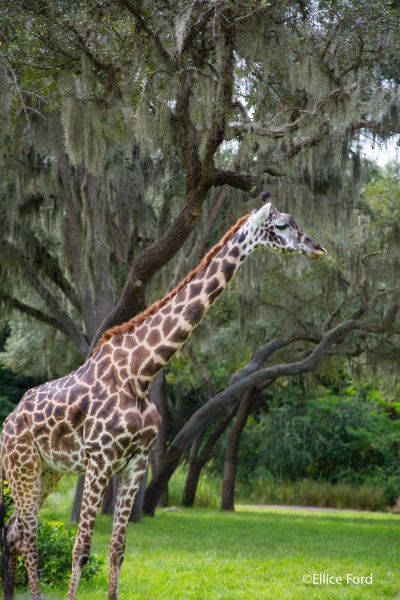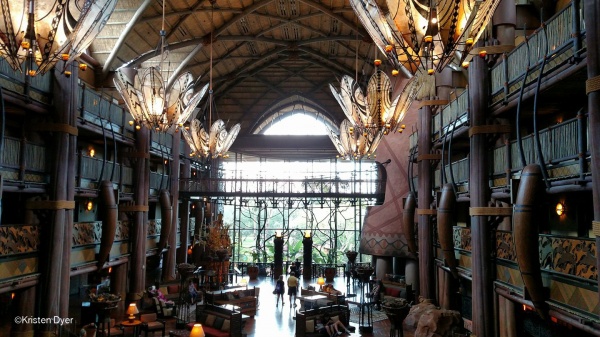 The other character option I have added to this list-and for good reason! Located in Future World, Epcot, dine with Chip n Dale & friends & enjoy all you can eat skillets of BBQ goodness! For lunch or dinner, you'll get a skillet to the table of corn, beef, sausage & more! And we can't forget, this restaurant spins-that's right, SPINS! You'll get to enjoy your delicious summer meal while viewing the garden views & picnicking with Chip n Dale!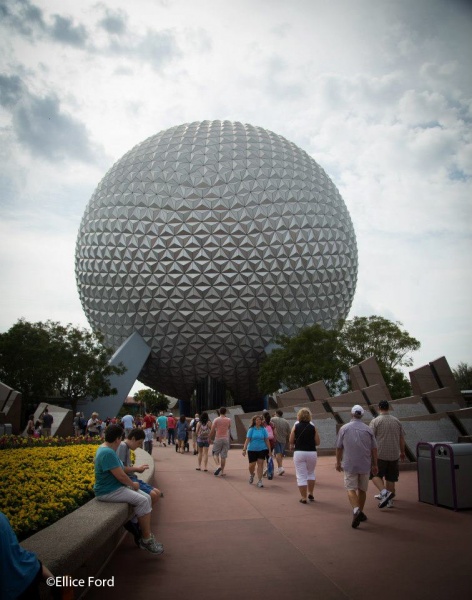 A fantastic option on your Epcot day, dine under the sea in this restaurant inside a huge aquarium! You'll be dining alongside the fish, sharks and other sea creatures. What feels more tropical than that?! Serving an array of options such as steak, pasta & seafood, there's options for the whole family! Cool off, pull up a seat & dine with the ocean.
Located in Disney's Hollywood Studios, this one is a family favorite for all ages! This one made my list mainly for the atmosphere-it's styled as a drive in theatre that plays old sci fi shorts & if you're lucky-you even get to dine in a "car"! They have delicious American favorites like steak, burgers & of course, shakes! Take a mid day or evening break in the air conditioning and dine "under the stars" in this unique experience!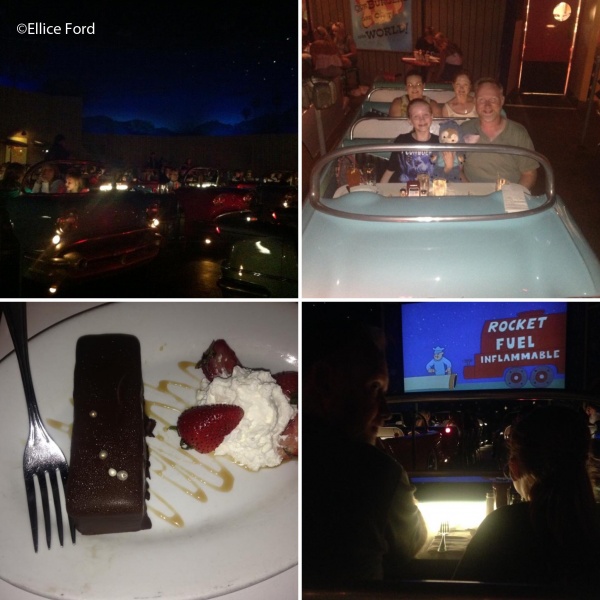 A lesser known gem at Walt Disney World & located at Old Key West resort, you'll definitely get in the summer spirit here! Taking a bit of a break from the BBQ style restaurants, this restaurant is no exception to the delicious meal options available. The prime rib here is incredible! You can also choose from scallops, steak & more delicious meal options. This spot is worth the trek over on your off park day, or if you call it an early evening!
Another great one if you're looking for something other than typical summer BBQ food. Located on the Disney's Boardwalk resort, you'll definitely feel like it's summer! Head into the air conditioning and relax while you enjoy authentic Italian cuisine. For breakfast only, you can also meet Rapunzel, Flynn Ryder, Ariel & Prince Eric! The breakfast is a great option if looking for a character meal. Then, grab the boat over or walk to the back entrance of Epcot!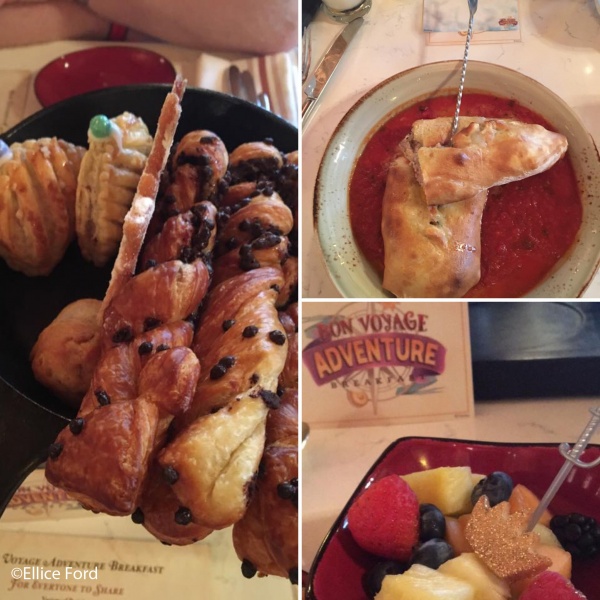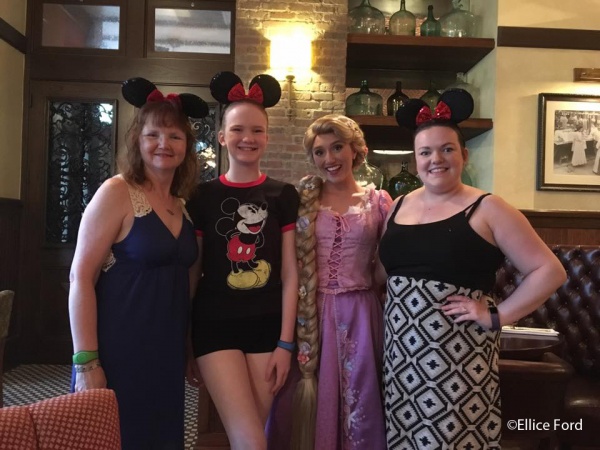 Worst Table Service Meals
While this is a awesome bar & grill over at the Wilderness Lodge, it is an open air concept & I have heard that there are not a lot of shaded options. Awesome American favorites like burgers & draft beer on tap-it has been a crowd pleaser. With that said, I would choose elsewhere on a summer day to take a break from the heat.
This is a popular character dining choice located in the Magic Kingdom. Breakfast buffet options with your standard eggs & waffles, and lunch/dinner buffets such as meats & salads, it's a popular spot. Reason this one makes my list is that there's nothing entirely "summery" about the buffet or restaurant itself. With so many other options in or near the Magic Kingdom, I'd probably opt for elsewhere!
A relatively new restaurant to Disney Springs, this Italian restaurant has been true to it's promise. The pasta & Italian options have been said to be incredible. The atmosphere is set in a 1930s airline terminal and is definitely worth the experience! Although delicious, Italian can sit a little heavy on a summer's day! If taking a quick summer trip-I'd choose something from the "best" list instead.
A Disney Springs option that has not been overly popular since opening. Offering a wide array of options expressing international cuisines-there may be many options for your family-but not the best choice for a summer evening. With indoor & outdoor seating, it also may not be the coolest choice to unwind. It's also a bar & grill atmosphere and a little on the louder side-I'd head to another spot on Disney Springs day!
It is with great sorrow this one hits my worst list. And honestly, it's more of an honorable mention than a worst list item! Raglan Road is an Irish pub & restaurant in Disney Springs. The beer is good, the atmosphere is fun with Irish music & dancing. With authentic Irish cuisine, the reason I chose this one for my worst list is because it is dark, loud & nothing overly summerly about it. With that said, I think you should definitely stop by for a beer flight!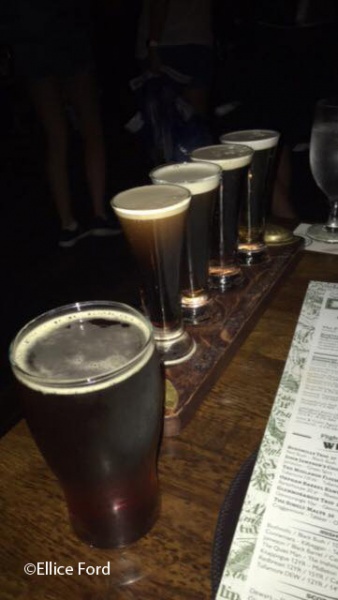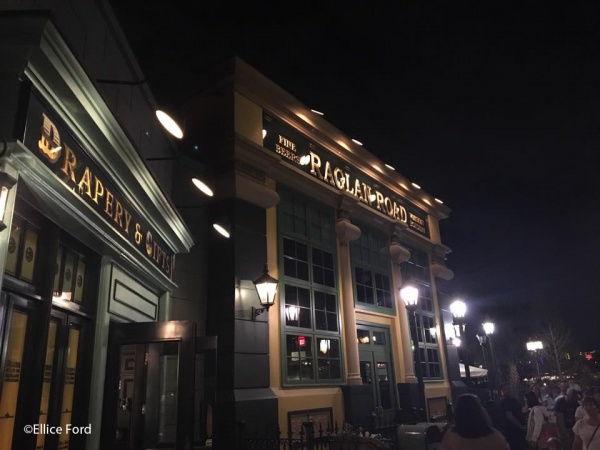 Located in the France pavilion in Epcot, there is nothing super special about this spot. It is worth the trip one time, to experience the delicious french cuisine, however, it's not extraordinary food. The air conditioned atmosphere is also not "summery". I'd head somewhere else on your Epcot day!
This American cuisine restaurant at Disney's Contemporary Resort, is a great option on a Magic Kingdom day, but maybe as a last resort on a summer day. They make a mean steak and have other delicious entrees, but there's something a bit dreary about the atmosphere, especially during the summer. You want a break from the heat, but you don't want to avoid the sun. This restaurant almost feels like it's underground. Grab a reservation at another spot on your Magic Kingdom day!
There you have it! Just a few of my favorite Walt Disney World table service restaurants during the summer. A great way to beat the heat & feel some tropical, summer vibes. These restaurants will make your summer dining experience perfect!
What makes your list as one of the best table service summer time restaurants at Walt Disney World? Share in the comments, or on Facebook or Twitter.
Did you like this article? Make sure to share it with your friends! Check below for easy ways to share!