This post may contains affiliate links for your convenience. If you make a purchase after clicking a link we may earn a small commission but it won't cost you a penny more! Read our full disclosure policy here.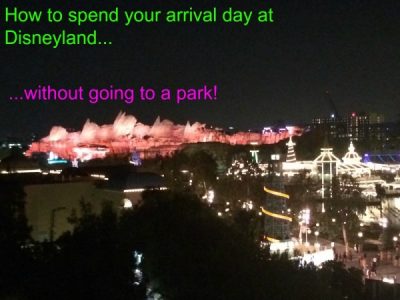 View from the observation deck of the Grand Californian Villas
You've made it! After a long day of traveling, you've arrived at the Disneyland Resort. You've checked in and settled into your hotel room. The thing is, it's fairly late in the day, and you don't want to shell out big bucks to get into a park if it's not going to be a full day. What do you do? How do you spend your arrival day at Disneyland?
EXPLORE THE RESORT HOTELS
Maybe you're staying in a Disneyland owned and operated resort hotel, or maybe you're staying close by off property. In either case, remember that once you arrive on Disneyland property, the three official hotels are in easy walking distance from each other.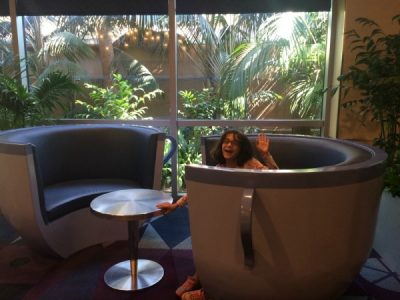 Pose for photos in the lobby of the Disneyland Hotel
Go to the Disneyland Hotel and visit each of the towers. In the Fantasyland Tower, sit in the teacups while the little ones catch Disney cartoons on a nearby TV. Characters are known to stop by the lobby, so bring your camera! Head over to the area where the restaurants are, and take photos of your kids sitting in an old school Tomorrowland Autopia car. In the Frontier Tower, gaze at the scale model of Big Thunder Mountain Railroad. In the Adventure Tower, check out the maquettes from the Jungle Cruise.
In the Paradise Pier Hotel, take the glass enclosed elevator up and down to get a unique view of the surrounding area. Visit the cute themed sandcastle room where you can sit in beach chairs and watch Disney classic cartoons.
In the Grand Californian, gaze in wonder at the gorgeous, massive lobby. Sit in comfortable chairs near the fireplace and listen to a pianist play Disney melodies. If it's Christmas time, check out the beautiful tree. If it's Halloweentime, there's a gingerbread display that's not to be missed.
TAKE A DIP IN YOUR POOL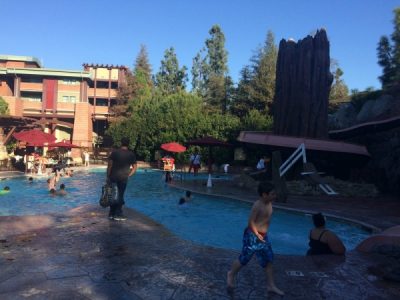 Pool area at the Grand Californian Hotel
All three Disneyland owned and operated hotels have great themed pool areas, and many off property hotels are doing their best to compete. (The Howard Johnson Anaheim boasts a really cool pirate themed water play area featuring views of the monorail and the Matterhorn.) In general, pools around here are open year round, and are heated in the winter.
ARE YOU STAYING ONSITE?
If so, there are a few fun things to do that are only available for guests of each hotel. If you're staying at the Paradise Pier, visit the rooftop pool area to catch a view of World of Color, complete with the soundtrack! Certain rooms in this hotel also offer spectacular views, and you can tune it to the soundtrack from the comfort of your room. (Of course, the one time we got a room like this, the show was canceled because of high winds. Sigh.)
In the Disneyland Hotel, check to see if a movie is being shown on the Magic Kingdom lawn. Beach chairs are set up for your comfort and guests are encouraged to bring their own food and drinks.
Are you staying at the Grand Californian Villas? If so, there is a DVC observation deck with a stunning view of California Adventure. Heat lamps are turned on when it's cold out, and the soundtrack to World of Color is piped in so you can watch (from a slightly strange angle) from this vantage point.
DOWNTOWN DISNEY
The shops, bars, movie theaters and restaurants of Downtown Disney are open into the wee hours of the night, and there is no admission charge to enter Downtown Disney. Additionally, there is almost always street entertainment here.
If you're staying on site or close by, it's easy to walk here. If not, you'll need to park. Parking in the Downtown Disney parking lot is free for the first two hours, and the AMC Theaters and table service restaurants will validate for an additional two hours of parking. After that, it's $6 per half hour, with a maximum charge of $36. If you're planning on staying for more than that, or you won't enjoy a flick or a sit-down restaurant, it's a much better deal to park in the Mickey and Friends parking structure for the flat fee of $18 and then take the tram or walk to Downtown Disney.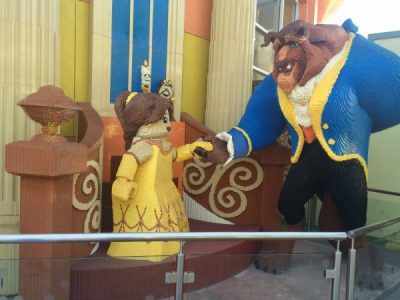 Gorgeous display at the Lego Store, Downtown Disney
SURPRISES
Sometimes the best times at Disney are ones you don't expect. In January, we drove to Disneyland Friday after school to meet up with my parents and sister, who were in Disneyland Park. My daughter and I waited for them outside of the park, when suddenly the Disneyland Marching Band appeared just inside the turnstiles and played a fabulous set of songs from Disney attractions. We basically got a free show just standing outside the park!
TURN IN EARLY!
Trust me when I tell you that the most pleasant, relaxed, uncrowded touring at the two Disneyland Parks are in the early morning hours. So whatever your arrival night plans, get to bed early and set that alarm! When you're able to conquer most of Fantasyland or ride Radiator Springs with a short line, you'll thank me.
What are your best suggestions for spending your arrival day at Disneyland Resort? Share in the comments!
Incoming search terms:
https://www themouseforless com/blog_world/arrival-day-at-disneyland/