This post may contains affiliate links for your convenience. If you make a purchase after clicking a link we may earn a small commission but it won't cost you a penny more! Read our full disclosure policy here.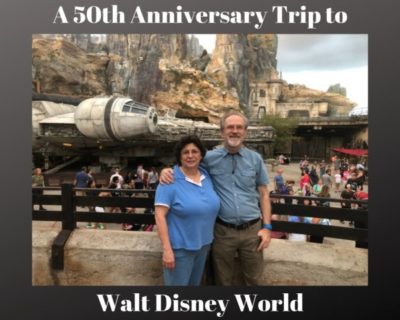 My parents celebrating their 50th on Batuu
My parents have celebrated three milestone anniversaries at Walt Disney World. For their 30th, my sister and her boyfriend (now husband) and my husband and I joined them. For their 40th, the group expanded to include our kids and others from our extended family. But for their 50th, they went together, just the two of them.
I'm going to admit, I was more than a teensy bit jealous as they texted photos from their amazing trip to me! We even tried Facetiming one day when they were in Epcot and my family was in California Adventure, but the connection wasn't too great.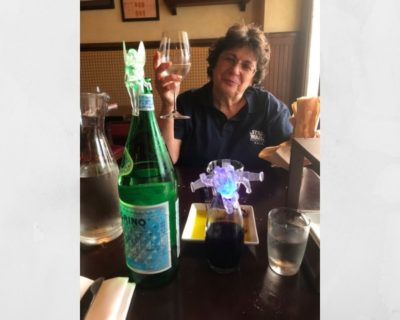 An anniversary toast wearing her new Galaxy's Edge shirt!
When they got back I asked them about their trip and what advice they would give to those taking a Walt Disney World trip to celebrate a milestone anniversary. Here's what they said.
BOOK THOSE SPECIAL MEALS
My parents decided to try five restaurants they had never eaten at before. They enjoyed dinner at the California Grill at the top of the Contemporary Resort, and were treated to a delicious meal and spectacular views.
They also splurged for Monsieur Paul in Epcot, and praised both the food and service. Because of bad weather conditions that forced them to change their flight to Orlando, they had to cancel their reservation for Trattoria al Forno on the Boardwalk, but luckily they were able to get a reservation for later in the week.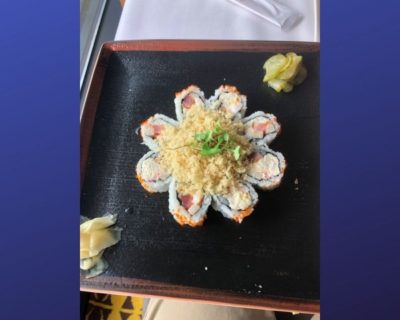 Sushi at the California Grill
Since they were staying at the Boardwalk Villas, they also booked dinner at the Flying Fish. Last but not least, they finally tried Yaki and Yeti in Animal Kingdom, which they both loved.
WEAR THOSE "I'M CELEBRATING" BUTTONS
My parents were floored by all the well wishes and congratulations they received throughout their trip. At many meals, they were treated to complimentary champagne. They were also surprised by beautifully plated celebration desserts. They were tickled pink by a "voicemail" from Woody and Buzz Lightyear that they received in their email.
In fact, on their final day they were very surprised to get three free FastPasses! Many Cast Members told them "Happy Anniversary" and many others said they couldn't believe it had been 50 years.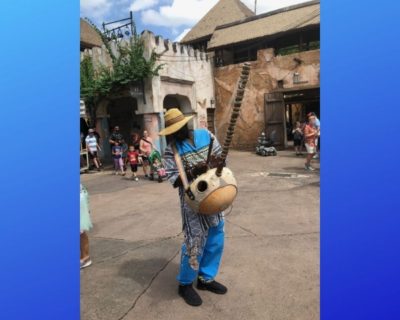 In Animal Kingdom, a musician played a special anniversary song
THE JOYS OF AN EMPTY NEST TRIP
Because there were not grandkids to dote on nor adult children to keep up with, my parents were able to head back to their villa for a much-needed midday break from the parks. This gave them the energy to hit the parks super early in the morning and to stay out some nights to enjoy the nighttime extravaganzas.
However, they emphasize that it's very important to tell the front desk about any napping plans you might have. A few times they wanted to rest in the middle of the day only to have housekeeping come and knock on the door, waking them up. If they had a chance to do this trip again, they would let the front desk know, in advance, what times they planned to be in the room and didn't want to be disturbed.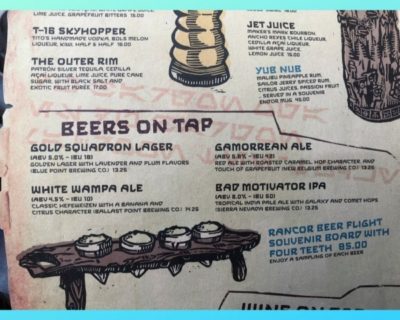 Dad enjoyed a drink in Oga's Cantina
WHAT THEY WISH THEY HAD DONE DIFFERENTLY
The weather in Central Florida in September can be stifling hot and very humid, and they wished they had booked their trip for a cooler time. Also, the surprisingly early opening of Galaxy's Edge made the parks more crowded than they had anticipated. They also wished they had used FastPass+ more strategically so that they could have spent less time in the parks.
Also, they stayed at the Boardwalk, which, in general, they liked very much. But since this is right around the time when Illuminations was being retired and the new nighttime fireworks show was being prepped, there were some nights when Epcot tested the new show in the middle of the night. The proximity to Epcot is usually a good thing when you talk about the Boardwalk, but when you're trying to sleep and fireworks wake you up, not so much.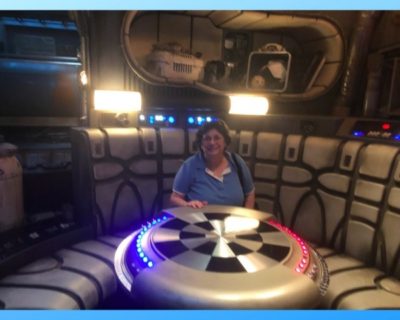 Mom relaxing on the Millennium Falcon
COUPLES ONLY TIME
Although my parents love to travel to Disney with their kids and grandkids, they both say that it was wonderful to enjoy the parks just the two of them, with no one's schedules to try to adhere to. And judging from the photos they sent me, despite the bumps along the way, I'd say this trip was a success! I hope I'm lucky enough to celebrate my 50th anniversary here!
Have you celebrated a milestone (or any) anniversary at Walt Disney World? What did you do to make the day special? Share in the comments or on Facebook or Twitter!
Did you like this article? Make sure to share it with your friends! Check below for easy ways to share!
Want to visit the Walt Disney World Resort? Contact The Magic for Less Travel for more information and a free, no-obligation quote.