This post may contains affiliate links for your convenience. If you make a purchase after clicking a link we may earn a small commission but it won't cost you a penny more! Read our full disclosure policy here.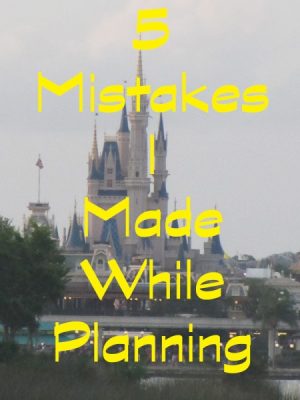 I love planning my Walt Disney World Vacations as much as I love the vacations themselves.  Over the past few vacations I have made some mistakes when planning and I wanted to pass them along to help you from making these same mistakes as you plan your Walt Disney World Vacation.
First, just a quick reminder when planning your vacation, make sure you are in the know regarding FastPass+, Advanced Dining Reservations and Extra Magic Hours.  These three items are key to a successful trip.  Once you have those items figured out, here are five other mistakes I have made while planning.
Over Planning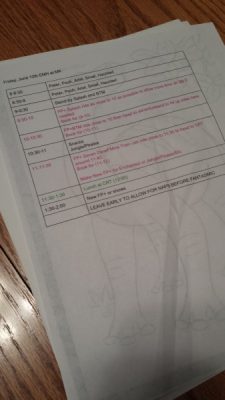 Trying to get better at having flexibility
As I mentioned earlier, I love planning Walt Disney World vacations but that sometimes can lead me to planning too much.  I have been know to go to the extreme of planning bathroom breaks which with a 4 and 2 year old is just setting myself up for frustration when we get there.  Don't fall victim to over planning.  Although it is becoming more and more important to have a plan when heading to Disney, you want to make sure you don't over schedule yourself making it feel like you are running from ride to ride or show to show without actually enjoying them.  Have a general plan.  Have an outline but leave space to breathe as well.   No one, including yourself, will have any fun if you over plan. This leads me to my next mistake.
 Not Allowing for Magic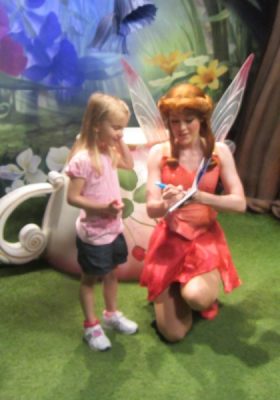 Enjoying a impromptu stop

Another mistake I have made when planning is that I become so focused on the plans that I don't allow time for us to just enjoy the magic of Disney.  Instead of planning our FastPasses back to back, I space them a little to allow us time to stop and see a show or grab some ice cream.  When planning for a Disney vacation, make sure you allow yourself time to just sit and enjoy.  We have loved watching the castle show multiple times while enjoying treats or dancing along with the Move It! Shake It! Dance Party.  We even were able to sneak in stops to meet characters one trip.  These are some great memories that we didn't have planned but we were able to enjoy because we didn't over plan and allowed some flex time which is key to planning.
 Planning Too Many Meals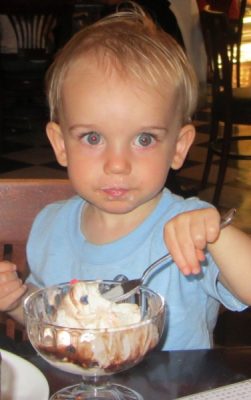 Giving in to ice cream when they are done with sit down meals
I love eating at Disney and there so many options to choose from which makes it so hard to decide where to plan your meals.  One of the mistakes I have made in the past is scheduling too many table service meals during our trip.  Even though we love eating at the many table service restaurants, we have also learned that scheduling multiple in a day does not work for us as it makes us feel like we are spending more time in the restaurant and not on rides or at shows.  We have also learned that our kids don't like to sit that long.
We have learned that for our family it is better to schedule only one sit down meal a day as it provides that needed break from the hustle and bustle of the park without making us feel like we are missing out on park times.  Sometimes however plans required two sit down meals because of maybe an evening dining package for a show.  If that is the case, I would recommend trying to spread them out as much as possible.  Food is a key part to any Disney vacation so make sure you take time to enjoy those meals just don't make my mistake and try to do too many at one time.
 Doing the Same Thing Over and Over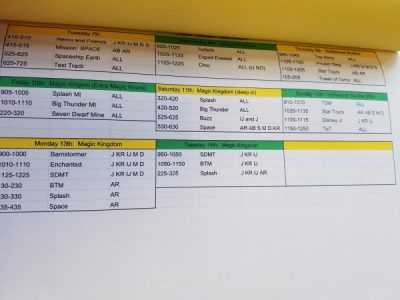 Trying to mix up the plans
Everyone has their favorite rides and shows in Disney and when planning our trips I always take those into account.   I use of Fastpasses to ensure we get to Splash Mountain, Toy Story Mania, Tower of Terror and other must experience attractions.   The mistake I have made in the past though it that I plan for us to do these main attractions so often that we miss trying new things.  Finally after three family trips we took time to ride the Peoplemover.  How fun and relaxing it that ride?  Up to this past year however we just never tried it.
There are hidden gems like this throughout the Disney parks just waiting to be discovered.  My mistake in the past is that I have either ignored them because they were not E ticket attractions or we were so over planned that we did not slow down to experience them.  Don't make my mistake and miss these fun gems.  From the Stormtrooper march in Disney's Hollywood Studios to the unique experiences in Epcot's World Showcase, there are some many fun experiences to discover.
 Focusing on the Four Main Parks
Another mistake that I make when planning is focusing just on Disney's four main parks ( Magic Kingdom, Epcot, Animal Kingdom, and Hollywood Studios).  There is so much to do and experience outside the four main parks as well.   Disney has two wonderful water parks where you can escape the parks for a day at the pool.  Don't forget the newly refurbished Disney's Springs.   When thinking about amazing food options, Disney Springs is a destination to keep at the top of the list.  It is easy when planning meals to think only of the four parks but there are amazing options throughout Disney Springs and Disney Resorts.   When planning your Disney vacation don't forget to look outside the four Disney parks as there is tons to discover in the resorts and in Disney Springs.
Hopefully these tips will help you from making some of my planning mistakes when planning a Walt Disney World Vacation.  Don't forget to leave room to enjoy the magic, try something different and think outside the four main parks when planning your next Walt Disney World vacation.
What are some of the mistakes you've made in the past? Share them in the comments.
Did you like this article? Make sure to share it with your friends! Check below for easy ways to share!