This post may contains affiliate links for your convenience. If you make a purchase after clicking a link we may earn a small commission but it won't cost you a penny more! Read our full disclosure policy here.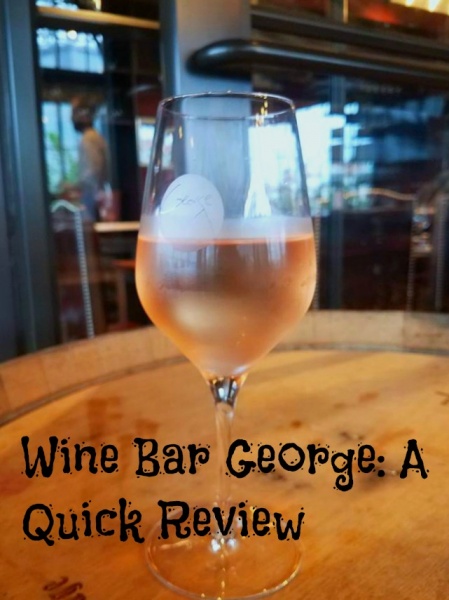 I have to admit, the opening of Wine Bar George kind of snuck up on me. I had heard it was coming down the pike, but I guess it fell off my radar. Mrs. Chef Todd, on the other hand, was very diligent in her "reminders" to me as I solidified plans for our annual School's Out trip. We agreed that we would try it on the last day of our trip.  We took an Uber over to Disney Springs on a Sunday morning as to arrive right at 11:00 a.m. The weather was threatening(natch) so The Springs crowd was pretty light.
We walked right into Wine Bar George and were escorted upstairs, past the beautiful bar and lounge, to the dining room. Glass completely surrounds the wood-beamed room allowing excellent views of the lagoon and the rest of the landing. There is also a glass enclosed cellar room with tables available for private parties. A covered wraparound deck also features al fresco dining.  Most of the tables are tall tops, with stools for seating.  We had the entire room to ourselves.
Our server brought over the menus. Large, single page lists just like the ones at The Boathouse. I am a fan of this format. The wine list is huge, and it would take all day to discuss the selections that are offered, but I would like to talk about a couple pretty neat programs that are in place.
First, there are a handful of wines offered on tap at Wine Bar George, ranging from 9-15 dollars a glass. I love this idea. Also, there is a "by the ounce" section. This gives you the opportunity to sample some of the higher-end wines you might not otherwise be able to try, as they are commonly only available by the bottle.
I adore wine, and I consider myself fairly nimble when it comes to navigating a wine list. But on this morning I was in the mood for a beer, and ordered it from our delightful server. My wife chose a rose', perfect for a late morning lunch.
Moments later, a tray arrived with the chilled wine, but no beer. I was informed that they were out of my brand. I jokingly said "You might want to send someone next door to borrow some. I plan to have a few" Well, about 5 minutes later, George (yes, that George) shows up with my Bud Light (don't judge, it was the beginning of a long day) Turns out he borrowed a six pack from another restaurateur across the street!! How awesome is that? We talked for a few minutes. He is very likable and from what I have heard, is always there.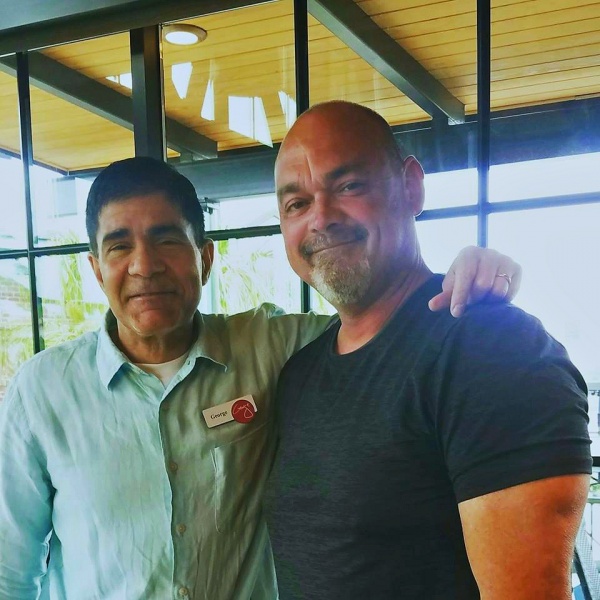 On to the food. There is a nice list of small plates at the top of the menu. We started with the Hummus, Grilled Octopus and Porchetta Spiced Pork Cheeks. The hummus was pretty standard issue, with a nice pop of chipotle powder dusted on top. The naan breads were small and tender, very good. Ask for more, you will need them.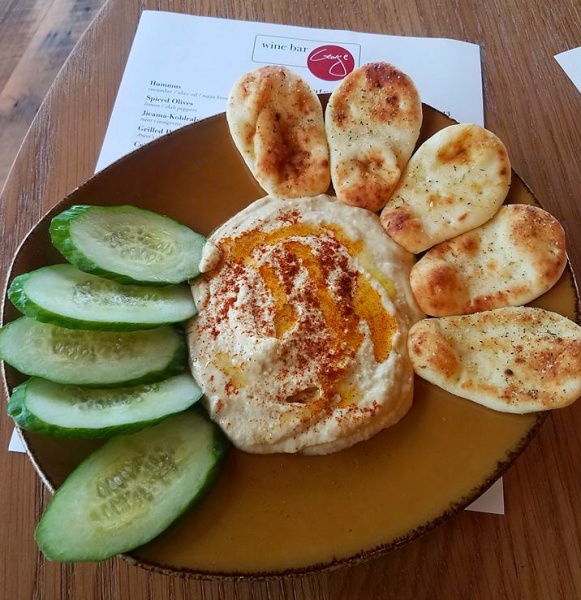 The octopus was prepared like it is in most of the Walt Disney World restaurants. Par-boiled, then charred on the grill. In this case, it is then chilled and marinated in a lemon vinaigrette. The finished product is light and little toothy, perfect for a lunch appetizer. The olive salad was a salty and tart compliment to the rich mollusk.
Pork Cheeks. How do you pass that up? I had been dreaming about them since I read the menu. The cheek of any animal is among the most tender and prized cuts of all.  These are fennel spiced, seared, and finished in the oven. The garnish is a gremolata which in this case is made with orange zest, parsley, bread crumbs and olive oil. All of this goodness sits atop a pile of creamy cheesy polenta. Polenta is one of my favorite sides. It is the Italian version of grits, and I can't get enough of it. I order it every time it is on any menu. This one made me very happy. Clean plate club for sure.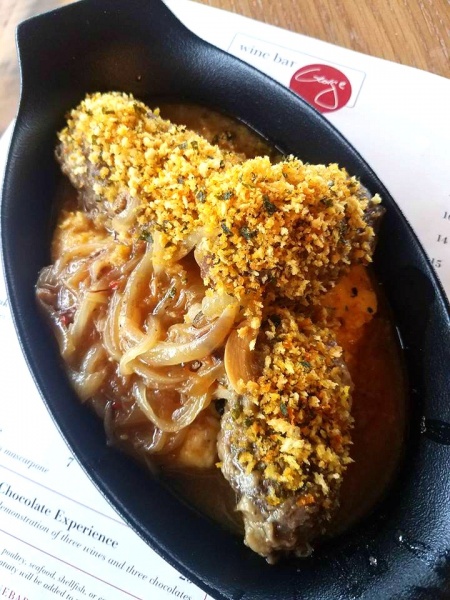 There are three family style plates that are meant for two or more. Skirt Steak, Wine Braised Chicken and Whole Grilled Sea Bass. We opted for the fish. It was presented on a gigantic platter. The fish itself was probably 3-4 pounds when it was swimming. Perfect grill marks slashed down its side. The base for the fish was a cannellini bean ragout with olives.
As for the fish, it was as flaky and juicy as I have had. There are bones to deal with, but they are very easy to remove from the tender flesh. We ate and ate, and barely got through half of it. The beans were even better than the fish. Al dente and creamy. The briny olives added the exact right amount a salt to the ragout. Seriously as good a side dish as I have had. This entrée is among the best around. I will have it on my recommend list for a long time.
We skipped dessert, as The Ganachery down the street was beckoning. The Olive Oil Cake is on my next time list.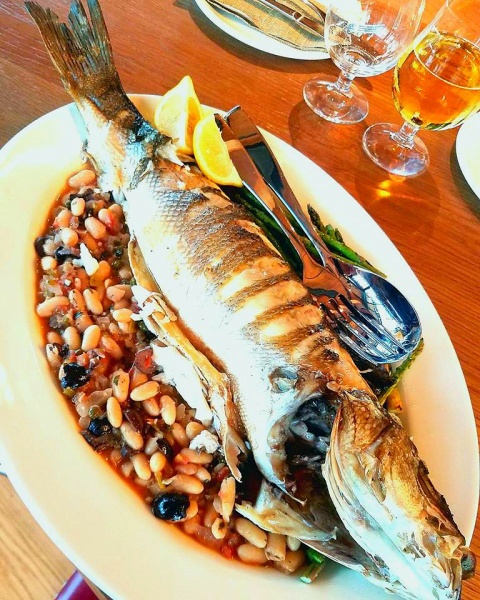 If you have even the slightest interest in good wine, Wine Bar George is a great spot to explore. I did spend some time on the list, and it is excellent. I will be back one evening, and there will be no Bud Light on the table next time. The Big Board of cheese and charcuterie is also calling my name.  Ciao for now!
Have you tried Wine Bar George yet? What were your thoughts? Let us know in the comments, or on Facebook or Twitter.
Did you like this article? Make sure to share it with your friends! Check below for easy ways to share!
Want to visit Walt Disney World? Contact The Magic for Less Travel for more information and a free, no-obligation quote.

Incoming search terms:
grilled octopus salad georges wine bar
https://www themouseforless com/blog_world/wine-bar-george-review/