This post may contains affiliate links for your convenience. If you make a purchase after clicking a link we may earn a small commission but it won't cost you a penny more! Read our full disclosure policy here.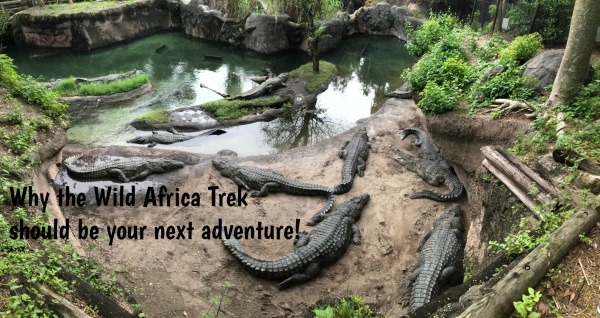 Want to do something adventurous and even educational on your next Walt Disney World vacation?!
If so, the Wild Africa Trek at Disney's Animal Kingdom may be just what you're looking for! It's a fabulous way to spend 3 hours of your day. You'll get up close (sometimes REALLY close) to the animals, and learn more about their care and needs.
Getting ready for the adventure
We met our tour guides just outside the Kilimanjaro Safari.  Long pants as well as closed toe shoes were highly recommended. They fit us with vests with safety harnesses, and gave us canteens with water to take with us. We were able to take our phones with us for photos, and we were given a looped tie to secure it to our safari vest. The guides took photos along the way, but we were glad we had our phones as well. They gave us a locker to put our personal belongings in at the check-in station.
Our tour had 12 people, plus two tour guides. One guide led the way and told us about what we were seeing, while the other took photos for us. At the end of the tour we were given access to all of the photos, including some stock photos of the animals and the safari area.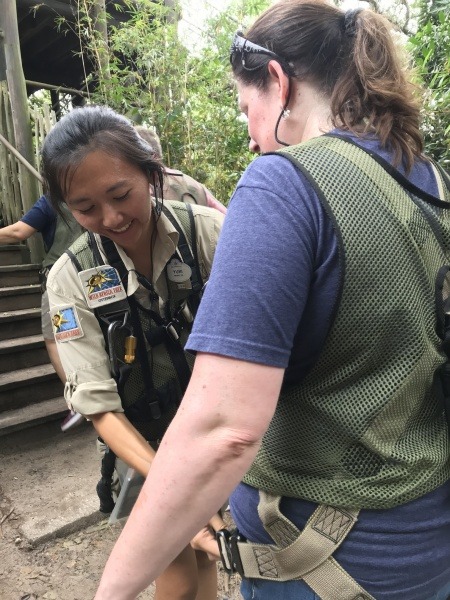 Up close with the animals
The tour started with us getting to see some hippos up close and we were able to watch them being fed. We learned about their natural habitat, and how Disney works to help them feel at home in the Animal Kingdom.
Have you ever noticed the suspension bridges that are over the hippos and crocodiles?  One of our tour guides went first, so that she could catch photos of us as we crossed the bridge after her. They tethered us to the bridge, which made me feel a whole lot safer! The next time you're on the Kilimanjaro Safari ride and see someone up there, smile and wave!
Have you ever wanted to get up close and personal with a crocodile?! We were tethered again, and it sure was fun taking photos near the edge that made us look like they were right behind us!
Next up on the tour was a ride on a safari vehicle. While driving out on the savannah, our tour guide pulled off and we had time to sit and watch the giraffes close up.  It was fun leisurely ride out among the animals.
We headed next to the outlook building that is set off to the right as you pass the elephants. We enjoyed a delicious snack while relaxing and enjoying the view. The food was similar to what you find at Tusker House, served in metal stackable tiffin boxes. They accommodated my gluten allergy, which I made note of when I reserved the tour. There were restrooms here as well. This was our last stop before finishing up our ride back to the check-in station.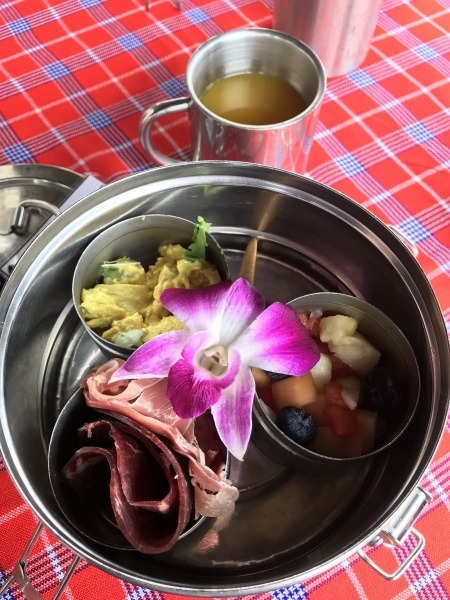 What to know before you go
The first tour of the day leaves at 8AM, with the last tour leaving at 2:30PM. We opted to do the 1:15PM tour. This gave us a chance to have a bite to eat beforehand and it was a little warmer outside. This tour costs $189-$249 based on the time of year, day of the week, or even time of day. Discounts are available for both Disney Vacation Club members and Annual Passholders.  In order to receive the discount there may be day or time restrictions. Guests need to be at least 8 years old and 48" tall, and weigh between 45 and 300 lbs. It is recommended that you use the restroom before checking in, as there won't be a bathroom break for about 2 hours. If you love the backstage aspects of Disney World, and are looking for something new and different to do, check out the Wild Africa Trek! I don't think you'll be disappointed.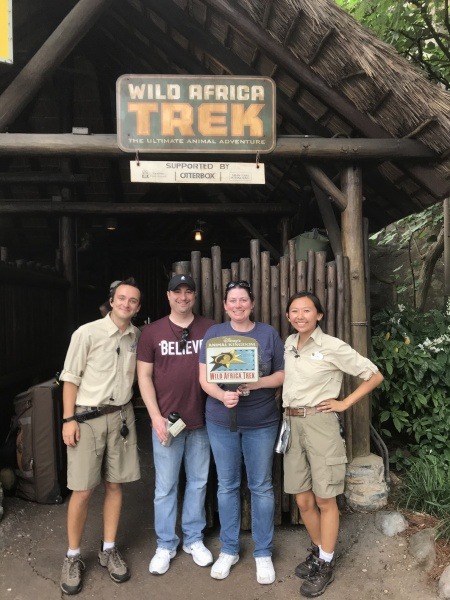 Have you participated in the Wild Africa Trek? What were your thoughts? Share in the comments or on Facebook or Twitter!
Did you like this article? Make sure to share it with your friends! Check below for easy ways to share!
Want to visit the Walt Disney World Resort? Contact The Magic for Less Travel for more information and a free, no-obligation quote.