This post may contains affiliate links for your convenience. If you make a purchase after clicking a link we may earn a small commission but it won't cost you a penny more! Read our full disclosure policy here.
Do you recognize the voice in Spaceship Earth?
"Welcome, foolish mortals, to the Haunted Mansion." "Please stand clear of the closing doors." "Dead men tell no tales!" If you're a Disney fan, you probably heard those voices in your head as you read those words.

The narrators of the Disney attractions are, in some way, the unsung heroes of the parks. Guests hear them speak, again and again, and often don't know who they are. Or sometimes, they find themselves thinking, "That voice is so familiar! Where do I know it from?" I thought I'd shed some light on the voices behind the most iconic Disney phrases.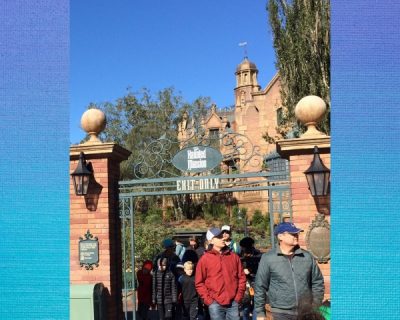 Haunted Mansion in Liberty Square
THE GHOST HOST – PAUL FREES

At both Disneyland and Walt Disney World, your tour guide through the Haunted Mansion is the Ghost Host, played to perfection by Paul Frees. A voice actor of great renown, you've probably heard his voice dozens of times without even knowing it. Besides being the voice who tells you that he will lower your safety bar, he was the voice of the friendly famer in the Green Giant commercials. Disney lovers will also recognize him as Ludwig von Drake, as well as the voice in Pirates of the Caribbean warning us that "Dead men tell no tales!" It is no surprise that this gentleman was made a Disney Legend.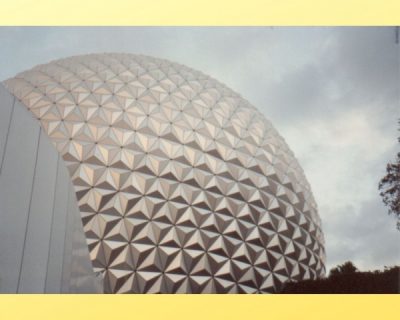 SPACESHIP EARTH – JUDI DENCH

Longtime Epcot fans will notice that unlike the famous Ghost Host, Spaceship Earth's narrator has changed throughout the years. I've been lucky enough to hear three of these narrators who have led us through the evolution of human communication.

From 1986 – 1994, you would hear the voice that many Americans recognized right away: the legendary voice of newsman Walter Cronkite. Many Americans had heard this man announce the death of President Kennedy, the successful mission to land humans on the moon, and many more events, ending each newscast with his catchphrase "And that's the way it is."

In 1994, updates were made to the ride, including a new narration by esteemed actor Jeremy Irons. As Disney guests rode, the British accented voice would describe the scenes that guests glided in front of.

As of this writing, the current narrator is that of another acclaimed British actor, Dame Judi Dench. Some of her most famous appearances were in A Room With a View, and she's known by James Bond fans as M. Although Disney had planned a renovation of this ride, it has been put on hold, so we don't know if future guests will continue to hear Ms. Dench or will be treated to a brand-new narration.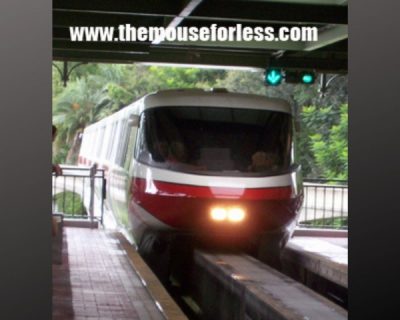 THE MONORAIL – TOM KANE

For many guests, this is the very first piece of Disney narration they hear, so it's no surprise that Disney hired some seriously good voice actors to record it. For decades, the narration on the monorail (including the famous "Por favor mantengase alejedo de las puertas") was the voice of Jack Wagner, who already had a long career as "The Voice of Disneyland," having recorded many pre-recorded announcements heard at Walt's original park. In 2012, the narration was updated with voice actor Tom Kane stepping in as the new narrator. Kane is a prolific voice actor, and Star Wars fans have heard him as Yoda in The Clone Wars. He's also voiced numerous characters in various Marvel animated shows, as well as the loveable chimp Darwin on the animated show The Wild Thornberrys.

So the next time you're enjoying the Disney theme parks, take a moment to appreciate the voices that you hear. Some of them are well known, others are not, but all the voices add to your experience and help create the Disney magic!
What is your favorite Disney voice? Let us know in the comments or on Facebook or Twitter!
Did you like this article? Make sure to share it with your friends! Check below for easy ways to share!  
Want to visit a Disney Destination? Contact The Magic for Less Travel for more information and a free, no-obligation quote.

Incoming search terms:
https://www themouseforless com/blog_world/wait-where-do-i-know-that-voice-from/
https://www themouseforless com/blog_world/wait-where-do-i-know-that-voice-from/#:~:text=THE GHOST HOST – PAUL FREES times without even knowing it
universal voice spaceship earth