This post may contains affiliate links for your convenience. If you make a purchase after clicking a link we may earn a small commission but it won't cost you a penny more! Read our full disclosure policy here.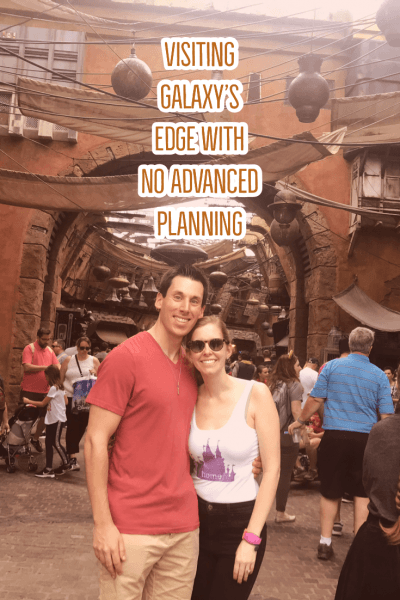 My husband and I recently returned from Galaxy's Edge over Christmas week, when crowds are high! We showed up at Disney's Hollywood Studios at around 10:00 am with no plans, no ADRs, and no idea how the day was going to pan out! We ended up having a fabulous day, even without showing up at 5:00 am and having reservations made. Here, I'm bringing you my best advice for visiting Galaxy's Edge without any advanced planning!
It's All in Your Attitude!
My husband is possibly the world's biggest Star Wars fan, so he's been anxiously awaiting his trip to Galaxy's Edge for years now. My parents surprised him with tickets to WDW for his birthday, so we had no way of planning this this trip, making ADRs, or reserving a spot at Savi's Workshop for Lightsaber building, but we showed up excited and ready to go!
We aren't the "wake up early" type, so we rolled out of bed around 8:00 am, had some breakfast, took a shower, and headed over to Hollywood Studios, arriving around 10:00 am (about 4 hours after all of the Rise of the Resistance boarding passes had been distributed for the day). We managed our expectations, and acknowledged that our first trip to Galaxy's Edge would not include this attraction, and gives us a reason to come back again once the crowds have died down (or when we're feeling emotionally prepared for a 4:00 am wake up call!).
We walked over to Savi's Workshop upon our arrival to be told that all reservations had been booked up for the next week (not surprising, given the newness of the land, and Christmas crowds), and then to Oga's Cantina to find that there were no walk-ins or ADRs available for the day (more on that later!). I could see the disappointment on my husband's face, but we stayed positive and decided to go enjoy the things that didn't require advanced planning. We enjoyed the atmosphere (my husband got asked for identification by two Stormtroopers, which was hilarious!), tried some Blue Milk (gross), and did some shopping.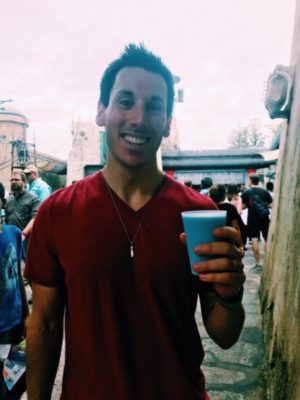 Black Spire Outfitters
My husband's first shopping spot was Black Spire Outfitters. The robes and tunics are ready to be tried on, and accessories include belts and Lightsaber hilt clips. My husband had a blast trying on the different attire options, and I even tried on a tunic! The energy in this shop was really great; lots of fans were busy trying on options for their various missions on Batuu and beyond (even though you're not allowed to wear the floor-length robes on Batuu). Stuart ended up purchasing a black tunic with a matching belt, and I got an Annual Passholder discount, so be sure to ask about that!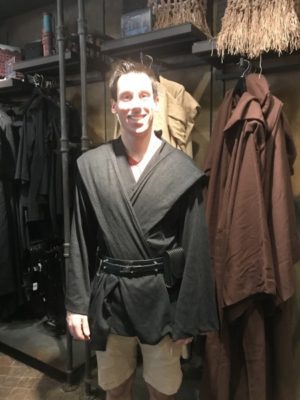 Lunch Break
Once we'd shopped around, we started to get hungry, so we headed over to Docking Bay 7 Food and Cargo for some lunch. This counter service restaurant doesn't require ADRs, so it's a great way to immerse yourself in Star Wars culture without a reservation! We really enjoyed our lunch; though quite pricey for counter service, we thought the quality of the food and the presentation were definitely a step above most quick service options. My husband got the Batuuan Beef Pot Roast, a sizeable piece of roast served with pasta, kale, and mushroom sauce. I opted for the kids' Fried Chicken Tip-Yip Youngling Meal, fried chicken, macaroni and cheese, and seasonal vegetables (for us, roasted broccoli). The meal was delicious and quite filling.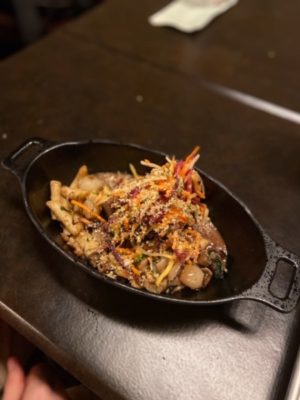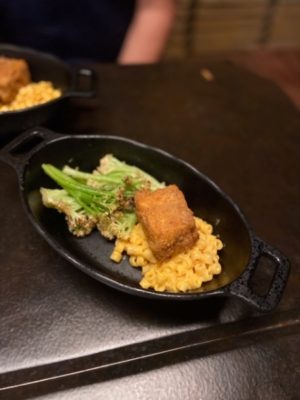 A while later, we went to Ronto Roasters to try the Ronto Wrap, which was my favorite option in Galaxy's Edge. This wrap comes with pork sausage, sliced pork, tangy slaw, peppercorn sauce, on a soft, fluffy pita. Not a huge fan of spicy foods, I worried the peppercorn sauce may be too spicy, but combined with the slaw and the pita, I was able to handle the (very mild) heat! While there is no seating at Ronto Roasters, we found a standing table to enjoy our snack at!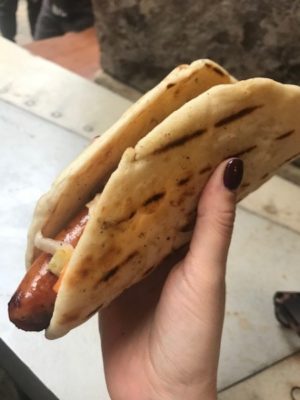 Keep Your Eyes Peeled for ADRs!
While Stuart was trying on tunics and robes, I kept refreshing MyDisneyExperience for any Advanced Dining Reservations (ADRs) for Oga's Cantina. I figured it was worth a shot, and I was right! I was able to snag a 4:05 pm table for two! Keep trying, and you never know, something may pop up! I hurriedly confirmed the reservation, and we went about our day!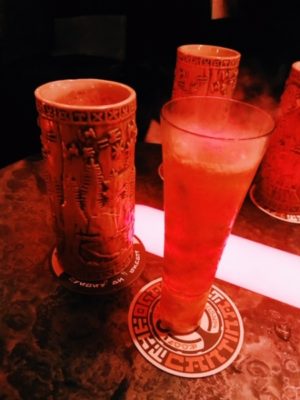 If Savi's Workshop is Fully Booked…
My husband really wanted to build his own Lightsaber; he'd done all the research online (trying his best to limit any spoilers), and had come up with the Lightsaber of his dreams. He was ready to build, until we found out that no reservations were available for the coming week! If this sounds like you, there's another nice option. While you won't get to build a Lightsaber yourself, Dok-Ondar's Den of Antiquities offers a fun alternative: purchasing a Legacy Lightsaber! The line for Dok's workshop was posted as 60 minutes, but we were in and out in less than 30! At Dok's, you're able to purchase an authentic saber from one of the films. My husband opted for Obi-Wan's saber, as he plans to build a green saber at Savi's during our next visit (when we actually make a reservation!).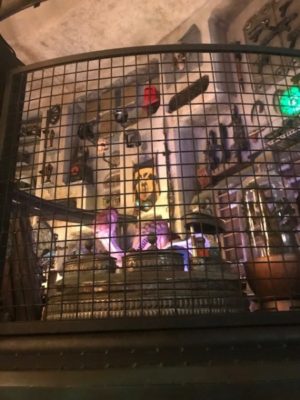 The experience was a lot of fun; Stuart got to "try out" the different sabers to see which one he liked the most. Hilts range in price from $129.99 to $139.99, and blades are $50.00. Blades come in different lengths: shorter for younglings, and longer for adults. Shipping to your hotel or your home is also available at additional cost, or your saber can count as your carry-on if you're flying home. Though not as fun as building your own, this was a great option for those of us who didn't manage a reservation at Savi's!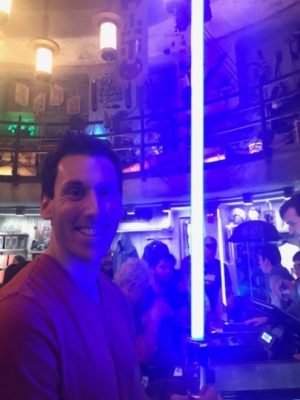 Cutting Down on Wait Time
The line for Smuggler's Run ranged from 220 minutes down to 55 minutes during our time at Galaxy's Edge. If you're looking to wait in line for less time, we found the line dwindle down throughout the course of the day, so head over in the evening for a shorter line. We also tried the Single Rider line; while there was no indication of wait time (the Cast Member told us "the wait may be longer or shorter than the standby line," which isn't exactly reassuring), we waited for 20 minutes as single riders, while the standby line as at 120 minutes! If you're okay with being an Engineer, the single rider option is a good one!
Obviously, with our late arrival time, we didn't stand a chance at getting a boarding pass for Rise of the Resistance, but we agreed we'd try again on a trip later in the year when crowds were lessened (or when we were feeling ambitious and ready to wake up early!). If you really want to get on this attraction, show up before park opening to queue up, increasing your odds of riding! An important thing to note is that there are no FastPass+ for the two Galaxy's Edge attractions, so advance planning isn't necessary here (aside from waking up early to try to get a boarding pass for Rise!).
Summary
We were shocked at how much we actually accomplished at Galaxy's Edge given our late start and lack of advanced planning! With some persistence and luck, we visited Oga's Cantina for drinks, we enjoyed all the dining options in the land, we got on an attraction with very little wait time, and we got to take home a Lightsaber! In between all of these activities, we also soaked up the atmosphere of the land, visiting the Bazaar for some shopping, and interacting with Stormtroopers. We took the time to relax and really take in the land, which made for some of my favorite memories during our time on Batuu. If you're planning to visit without any advanced planning, you can absolutely have a wonderful visit full of activities. Just remember to be flexible, and you'll have a blast!
What tips do you have for those looking to visit Galaxy's Edge? Let us know in the comments or on Facebook or Twitter!
Did you like this article? Make sure to share it with your friends! Check below for easy ways to share!
Want to visit the Walt Disney World Resort? Contact The Magic for Less Travel for more information and a free, no-obligation quote.

Incoming search terms:
https://www themouseforless com/blog_world/visiting-galaxys-edge-no-advanced-planning/
savis workshop walk up