This post may contains affiliate links for your convenience. If you make a purchase after clicking a link we may earn a small commission but it won't cost you a penny more! Read our full disclosure policy here.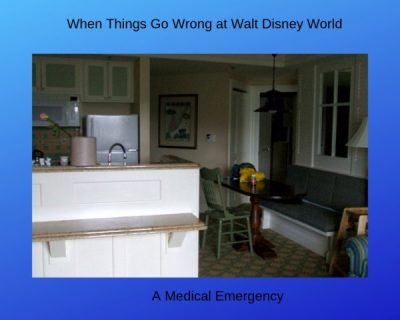 the kitchen of our two-bedroom Beach Club Villa
Walt Disney World may be the most Magical Place on Earth, but that doesn't mean that nothing goes wrong while you're on vacation there! Years ago, my family had their trip interrupted when one of us got hurt. Here's what happened, and how Disney helped.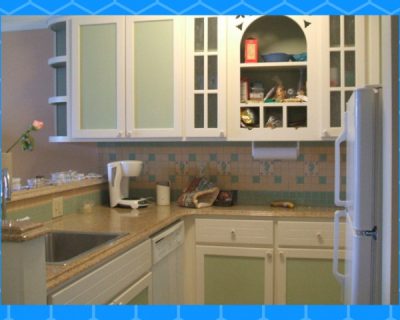 the scene of the accident
We had a huge extended family trip when my parents celebrated their 40th wedding anniversary. Most of us stayed in the Beach Club Villas, while a couple stayed at the Animal Kingdom Lodge.
My husband, daughter and I shared a 2 bedroom Beach Club Villa with a dear family friend who we've always called "Uncle," his wife and their daughter. One morning my family left early to hit the Magic Kingdom, while my uncle and his family stayed behind to have a leisurely breakfast in the villa.
Unfortunately, my little cousin tried to grab a glass bottle of apple juice from the refrigerator and dropped it, cutting her foot. Her parents called the front desk to explain what happened.
The front desk immediately arranged for transportation to Centra Care, a local urgent care facility. They also sent up Mousekeeping to clean up the broken glass. My uncle and his family say that the Centra Care staff was wonderful, taking care to examine my cousin and try to keep her cheered up.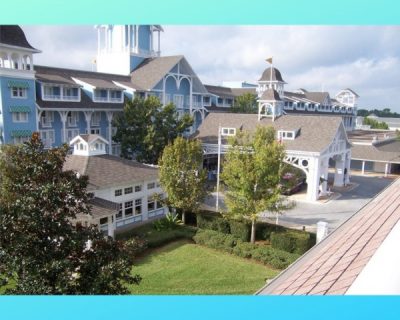 entrance to the Beach Club, where the courtesy shuttle picked up and dropped off
In the end, they carefully bandaged her foot and suggested that she get around the parks in a stroller for a couple of days. They gave her some Disney stickers and sent her back to the Villas in a courtesy shuttle.
Meanwhile, my Uncle had called my parents, who were in the Magic Kingdom, to tell them what had happened. We all had reservations at Cinderella's Royal Table for lunch, and they weren't going to be able to make it.
Walt Disney World restaurants have a strict no-show policy, and we weren't sure if we would be charged a fee when we arrived at the podium and announced that we were now a party of nine instead of twelve. However, when my parents described what happened, the Cast Member quickly told us that there would be no penalty considering the circumstances.
In fact, our hostess made a little bag for us with a copy of the coloring menu, some crayons, a wishing star, princess wand and prince sword which were given to children who ate at the restaurant. She asked us to please give the bag to my cousin and to tell her that the Princesses hoped she felt better very soon.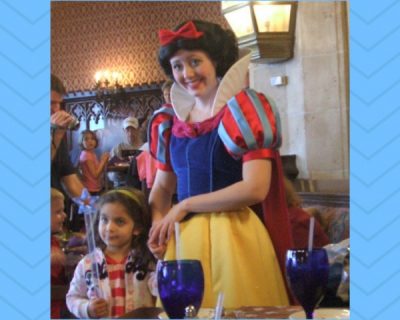 My daughter holding the princess wand that we gave to our cousin
Thankfully, my cousin felt much better quite quickly, and was able to enjoy the rest of our vacation with us. So even when things go wrong in Walt Disney World, it's good to know that Disney will do their best to help you get back out there and enjoy the magic!
Have you had something like this go wrong on your Walt Disney World vacation? Share what you are excited to experience in the comments below or on Facebook or Twitter!
Did you like this article? Make sure to share it with your friends! Check below for easy ways to share!
Want to visit Walt Disney World? Contact The Magic for Less Travel for more information and a free, no-obligation quote.

Incoming search terms:
https://www themouseforless com/blog_world/walt-disney-world-medical-emergency/
walt disney world emergency procedure for blood-borne pathogen