This post may contains affiliate links for your convenience. If you make a purchase after clicking a link we may earn a small commission but it won't cost you a penny more! Read our full disclosure policy here.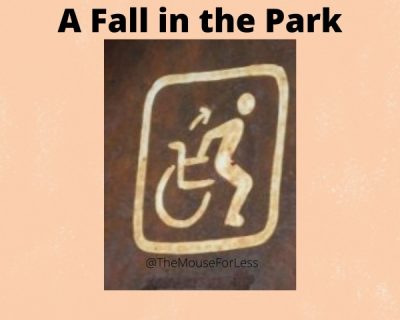 Sometimes, thing go wrong at Disneyland
Disneyland may be the Happiest Place on Earth, but that doesn't mean everything will go right all the time. In two previous blogs, I talked about When Things Go Wrong at Disney: One blog featured my story of losing my license at Walt Disney World, and the other was an account of when my cousin needed stitches after dropping a glass bottle in the Beach Club Villas.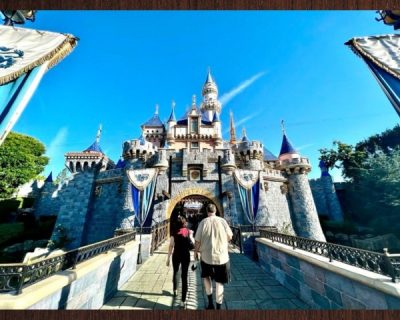 Entering Fantasyland before the fall
Today I'm going to give an account of something that happened to us in Disneyland Park recently. My sister-in-law took a fall, and I want to let you know what Disney did to help, as well as some mistakes my traveling party made that you'll want to avoid.

It happened while our traveling party of eleven was split in two. Nine of us went to ride Snow White's Enchanted Wish, and two of us, including my sister-in-law, sat down in a nice shaded area by Dumbo. My sister-in-law got up to meet us when we got off the ride, and that's when she fell. She wound up hurting her knee, and said it was painful to walk on.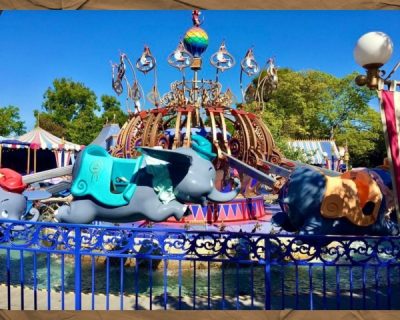 There is a seating area near Dumbo the Flying Elephant
According to her, at least thirty people leapt up to help her, but they were all guests. No Cast Member witnessed the fall. So my husband received a text to come help her. He went to find her and then helped her back to meet the rest of our party.

That was our first mistake. What we should have done was went to meet her and alert a Cast Member immediately. So if it happens to you, keep that in mind. At any rate, by the time they made it back to the rest of us, a Cast Member noticed that my sister-in-law appeared hurt. He called First Aid and asked them to come with a wheelchair.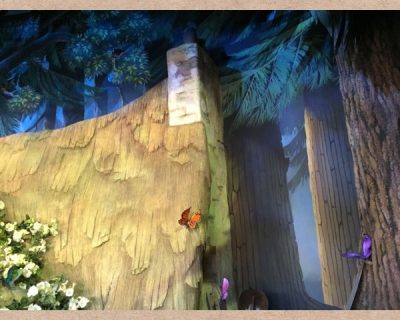 Snow White's Enchanted Wish
My sister-in-law was concerned that if she sat down, she'd have a hard time standing back up. So she remained standing and some security guards stood in a semicircle around her so that no passing guest would jostle her unintentionally.

Just a few minutes later, Mary, a very nice nurse from First Aid, came up to us with a wheelchair. While she helped my sister-in-law into the wheelchair, a security guard filled out an incident report, asking my husband for my sister-in-law's name and contact information.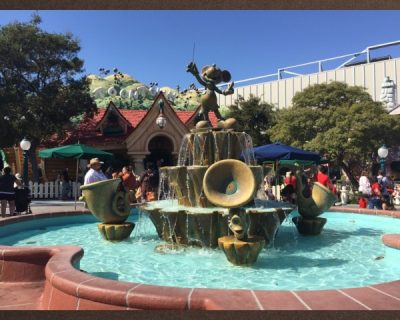 We sat and took a break in Mickey's Toontown
The nurse told us that paramedics were on their way, which surprised me. She said that paramedics were dispatched for any injuries in the park. She then took my sister-in-law's blood pressure and temperature before asking her how much water she had drank that day. She did not seem pleased when my sister-in-law told her she was only on her second bottle, since it was a hot day.

After this examination, the nurse told the security guard that the injury was not life-threatening and that he could call off the paramedics. She suggested that we go to First Aid so that my sister-in-law could sit in the air-conditioning and drink some more water. She also wrote out a coupon for a wheelchair and gave it to my husband, asking him to pick one up at the exit to the park and meet us in the First Aid building.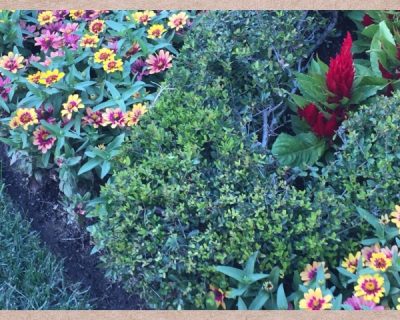 Flowers in Fantasyland, where the First Aid nurse met us
The First Aid section is tucked in a little corner between Main Street and Tomorrowland. They have automatic doors so that wheelchair-bound guests can easily access the building. While there, my sister-in-law was attended by nurses, who gave her ibuprofen and an ice pack for her knee.

My husband met us there with the wheelchair, which was complimentary. The nurse asked us how long we were planning on staying. We told her the original plan was to leave at 8:00, although we would certainly leave earlier if they thought my sister-in-law needed immediate medical attention. We were assured that she would be just fine, and after she promised that she would not go on any more rides, my sister-in-law left with us to enjoy the rest of the evening.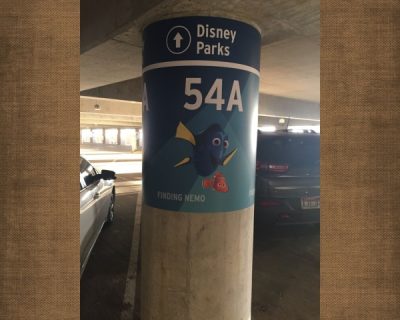 We parked on the fifth floor…which became a problem
The next issue came when we left the park. Because the tram between the parking structure and the parks is not running right now, guests are able to return rented strollers and wheelchairs right at the parking structure. This location is right next to the handicapped parking section. The idea is that guests who require wheelchairs can use their handicapped parking placard to park in this section and then a member of the party can make the quick stroll to rent a wheelchair. Upon their return to the parking structure, there are benches where guests can sit after their wheelchairs are returned, and then the driver in the party can retrieve their car, drive up to the area with the benches, and help their friend or family member into the car.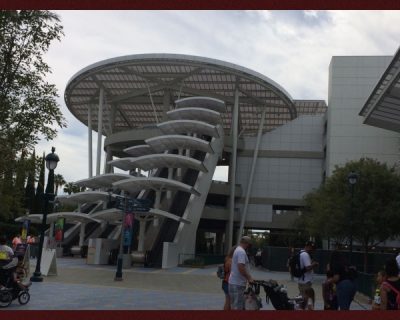 Part of the massive parking structure
However, we did not park in the handicapped section. We had no idea we'd be using a wheelchair when we arrived that morning. After discussing the situation with the Cast Members, it was decided that my husband would go to the car, which was parked on the 5th floor in the Nemo section, drive it to the elevator bank, and text us to get into the elevator to meet him. This is what we wound up doing.

As soon as I received my husband's text, I wheeled my sister-in-law to the elevator and then returned the wheelchair. Then we all went up to meet the car. It turns out that a security guard in the parking structure asked what my husband was doing, but after my husband told the guard that a Cast Nember had instructed us to do this, he let him proceed.

Another option that would have worked? Another Cast Member suggested to us that my husband could have left the parking structure, reenter it, tell the Cast Member at the payment booth what the situation was, and the Cast Member would have let him drive to the handicapped section to pick up my sister-in-law. We did not try this, so we don't know if it would have worked or not.

I have to give the Cast Members at the First Aid station top marks for quickly and efficiently coming to help us. Mary the nurse was friendly and upbeat. The security guards who were with us made sure we were safe, and the Cast Members at the parking structure did their best to help us out. So even when things go wrong at Disney, it doesn't have to ruin your day!
Have you ever been injured while visiting a Disney park? How did they assist you? Share your thoughts in the comments or on Facebook or Twitter!
Did you like this article? Make sure to share it with your friends! Check below for easy ways to share!  
Want to visit a Disney Destination? Contact The Magic for Less Travel for more information and a free, no-obligation quote.