This post may contains affiliate links for your convenience. If you make a purchase after clicking a link we may earn a small commission but it won't cost you a penny more! Read our full disclosure policy here.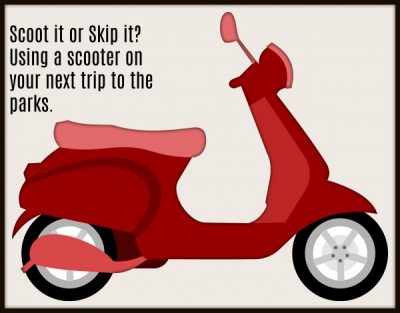 The wonderful thing about any Disney destination is the attention to accessibility. In December 2017 I took my parents who are in their early 70's, their best friend also 70+, along with my husband to the World to celebrate my parent's 50th Anniversary. While planning, the question of mobility came up and we thought about renting a scooter for this trip. They may have the marriage thing licked by year 50 but they are not seasoned travelers.  My husband and I have been to the parks in Florida many times. My mom had been to Walt Disney World one other time several years ago. Their friend, who accompanied us, is a seasoned Disney fan and traveler. This was only the second time my dad has been on a plane in 49 years!  Getting my dad through security at the airport without landing on a no- fly list could be the subject of a future blog.
Kidding aside, both of my parents have some health issues. Nothing visually obvious but my dad has arthritis and also had some vertigo type issues prior to the trip. My mom has lupus and her limbs tire easily. She has some lung/breathing issues too, so walking uphill can be a challenge and she utilizes inhalers.
Knowing this could be their only trip to Disney since they do not typically stray far from their home (by personal choice) I wanted this trip to be perfect. I had awesome advanced dining reservations, I scored the coveted Flight of Passage FastPasses and even booked a Happily Ever After Fireworks Dessert Party for their actual anniversary night!
The question was – could they physically handle the parks? We discussed it together. I was surprised they agreed and it was decided that I would rent ONE scooter for them to share. In their minds' perhaps it would not seem like they "needed" it, more that they had it for which ever one of them wanted it at a given time. They each played it off like it was best for the other spouse. (Hey, maybe that's how they made it the 50 years).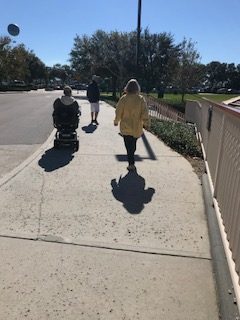 The scooter was at our resort (Disney's Saratoga Springs Resort) when we arrived – all ready to go! We spent some time at the resort taking turns riding it. They enjoyed it! I mentioned to them that it was not too late to get a second one delivered, but they stuck to their plan of only having one, you know, in case the "other spouse" needed it.
Since it was mid- December the parks were pretty busy. We were worried that driving the scooter would create stress, or make them feel self-conscious. It did create a little stress and I do think they felt somewhat self-conscious at times mainly because they felt guilty for needing it but not looking like they needed it. They didn't want people to think they were lazy. However, once they used it during a busy day at the park, they really appreciated it! They felt it was a lifesaver. They do not think they would have enjoyed the trip as much or been able to do everything we had planned without it.
On one occasion I did rent a second scooter at Disney's Animal Kingdom. (I rented one for the day at that park so we had to return it on the way out of the park.) Animal Kingdom is huge with a lot of walking to get from one end to the other. We had to get to Pandora in a timely fashion for our fast passes and it was crowded. They were glad they each had a scooter that day.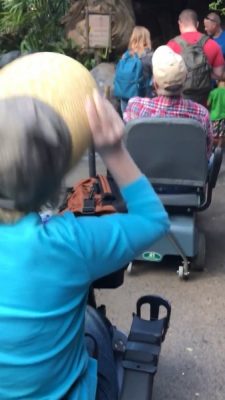 Back to the stress -I mentioned that bit of stress earlier; The stress was that it was crowded at the parks. People do not always look before they cross right in front of you. I know when I am at my favorite place, I am so happy to be there and determined to get where I am going, I do not always pay attention to the scooter headed right at my unsuspecting legs either! The scooters do not have brakes, they have "gas" or "let go of the gas" and you stop. This takes a minute to get used to and when you stop, you stop dead. So, while you may be stopping dead to avoid running into someone who cut in front of you, it caused a human pile up behind you from your sudden stop.
My parents did each get used to it after a short time. I think the trick is to be assertive. Go forward, don't hesitate and people will give you clearance. Did we have a couple of close calls of running over some unsuspecting person? Yes, but I think it was well worth the risk. It allowed them to do much more than they could have without it.
We did rent a car so we didn't use the scooter on the Disney buses too often. One night, we went to Artist Point at Disney's Wilderness Lodge for dinner by boat from the Magic Kingdom and made several trips to Disney Springs by boat with no issues.
Driving to the parks was ok, but I would recommend you have a handicap sticker to park in closer parking lots as the scooters can't fit on a parking lot tram. We didn't have a sticker, so my husband and I would drop them off near the entrances of the parks and then we'd have to backtrack to go and park.
I did rent one of the scooters that could break down into 3 or 4 pieces and fit in the trunk of the car. Each trip we had to load and unload the scooter out of the car assembling and dis-assembling as appropriate. It was not difficult, but, was something that had to be done each time. At the end of the day it was tempting to leave it in the car for the next day, but we would reassemble it and take it into the room to recharge.  I had some flashbacks to when I brought my son as a small child with his stroller and all those accompaniments. I guess it's true when they say things do go full circle!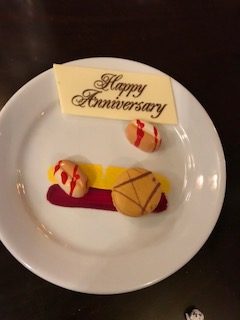 If you are on the fence about a scooter, I say go for it. It may make all the difference in the World!
Have you rented a scooter before? What were your thoughts and experiences? Share in the comments or on our Facebook page.
Did you like this article? Make sure to share it with your friends! Check below for easy ways to share!
Incoming search terms:
https://www themouseforless com/blog_world/using-scooter-disney/
using a scooter at animal kingdom