This post may contains affiliate links for your convenience. If you make a purchase after clicking a link we may earn a small commission but it won't cost you a penny more! Read our full disclosure policy here.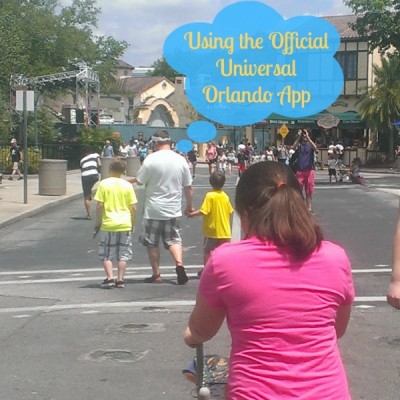 On our most recent Universal Orlando trip we tried the Official Universal Orlando App. The app is really easy to use and there are so many great features. From the home screen you can go directly to rides, shows, and dining. Some of the top rides and attractions scroll across the top with their current wait times.
To the left is a detailed menu. You can mark your favorite attractions before you leave home and be able to pull them up easily with the "My Favorites" button in the left menu.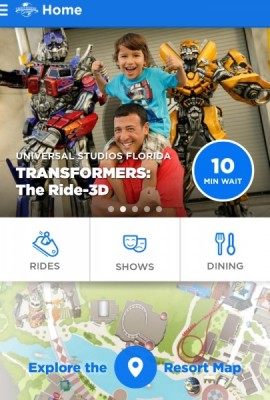 When you first enter Universal Orlando, the app welcomes you to the park. We found the GPS to be very accurate.
You can start off by using the parking reminder. It is a spot right on the app where you can mark notes about where you parked. (Genius, if you ask me.)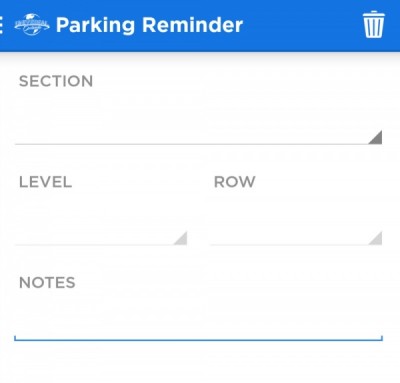 From here you have two options. If you know which park you will be at, you can choose it from the left menu. If you would rather make a plan based on a particular ride or show, you can choose either of those categories on the right instead.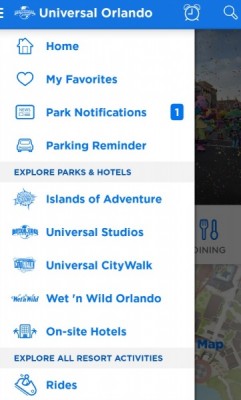 Choosing rides from the menu pulls up a map of both parks and highlights all the rides. You can then choose to eliminate certain types, leaving the category you are looking for. At the top the choices are thrill, 3D & 4D, water, and kids. Each type has its own icon.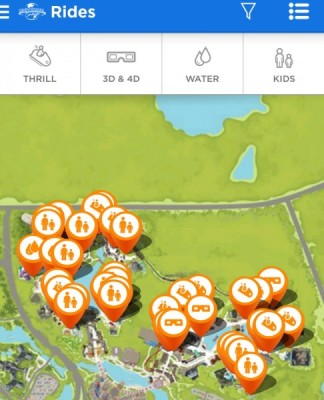 When you choose a park, you then have buttons across the top to highlight rides, shows, dine, and shop.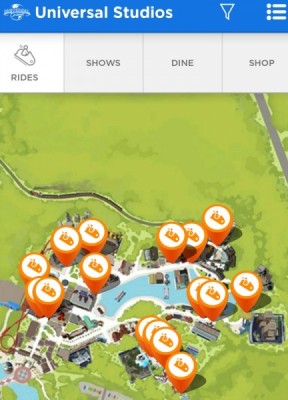 No matter what you are looking for, you touch the icon you would like and a box of information will pop up. From here you can choose the "guide me" feature, or click the name for a more detailed description. There will be many details, including the park it's located in, a description, any height requirements, if express pass is accepted, and much more.
As a mom, I really enjoyed the find a bathroom feature. I'm sure fellow moms share my thrill. When your small child has to go, she has to GO.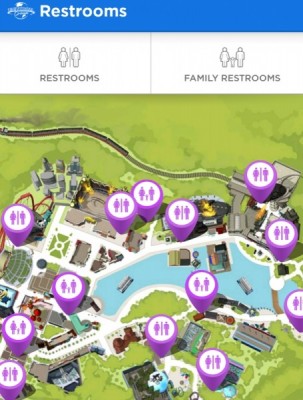 I really liked the Universal App. I found it easy to maneuver and very helpful. Since this was our first visit to Universal Studios Florida, we used the "guide me" feature a few times. It was fun for my son who loves maps to see if he could guide us faster. The "guide me" feature was very accurate in where we were and what steps we needed to take, but the steps seemed a little weird. It would list every single thing we would pass as a step. We thought it might be better if it listed when we came to an intersection instead, or maybe marked a few things we would pass instead of all of them. It was just confusing trying to keep up with everything we were passing while keeping our eye on the phone.
Another thing that was a bit frustrating was the wait times listed. Many times we saw a wait time listed and headed to that attraction only to find the actual time was ten minutes more. While ten minutes isn't much, each of those times adds up over the course of a day.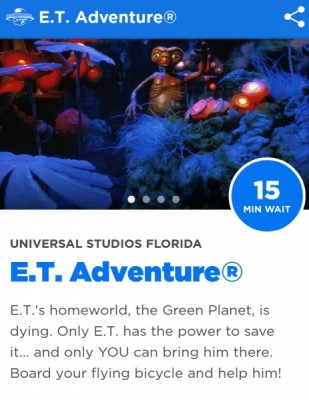 Overall, I definitely recommend the Universal App for your next Universal Orlando vacation. Search for it in the Apple or Google Play App store under Official Universal Orlando Resort App. You can use it to research the resort and it is very helpful when you arrive. And don't worry about draining your battery either. Universal Orlando has free Xfinity WiFi available in both parks and CityWalk. Except for a few outskirt areas, we found the WiFi to be very reliable and didn't have to use our mobile data at all. Hope you enjoy your vacation as much as we did!
Let me know how the app worked for you in the comments below.
Incoming search terms:
https://www themouseforless com/blog_world/using-official-universal-orlando-app/
how to use the universal studios orlando app tutorial
https://www themouseforless com/blog_world/using-official-universal-orlando-app/#:~:text=You can mark your favorite welcomes you to the park