This post may contains affiliate links for your convenience. If you make a purchase after clicking a link we may earn a small commission but it won't cost you a penny more! Read our full disclosure policy here.
We go to Disney often enough that we are always trying to find a way to experience it differently. I have heard about the Ultimate Touring Plan from several different friends in the Disney community and thought it might be cool to attempt.  I did a bit of research beforehand on what needed to be submitted to be considered if everything was completed.  Yes folks, there are official rules and a Hall of Fame to be inducted into should you complete the mission!
A little more background, there are Ultimate Touring Plans for each of the four parks. Magic Kingdom was the one we choose.  The rules include things like a photo on each ride of the group doing the plan, recording the posted wait time and posted FastPass return time, recording the time you enter the queue, recording the time you board the attraction or the main show starts and record the time you get off the attraction.  For character greetings, you must get an autograph if they sign.  For parades, you must view every float.
As you can see, this would be quite difficult without a way to document.  I decided to carry around a spreadsheet.  I would have used my phone, but even with an external charger, I wanted to limit its use to booking FastPasses and taking pictures.  There are a list of Core Attractions that must be completed in order to qualify, but there are also a list of Bonus Attractions that you can earn bonus points for.  The folks in the top spots on the Hall of Fame completed their challenge on the 24 hour days the park has hosted.  We were only there for a short girl's weekend to celebrate my daughter's birthday and this was a fun way to spend our day.
We got there at about 8:15 a.m. on a day where the park opened at 9:00 a.m. We grabbed some quick breakfast at Casey's Corner, something new for us.  Then we proceeded towards the Castle to watch the new Welcome Show.  We loved it.  At this point folks were choosing which direction they were going from four basic points at the Castle Hub.  You could go around either side of the castle, over towards Tomorrowland, or over through Liberty Square.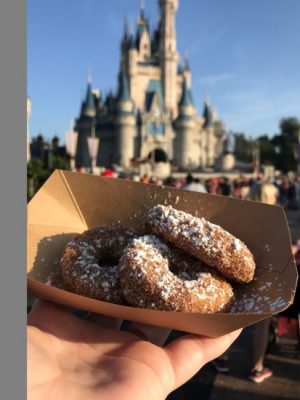 Mini Croissant Donuts from Casey's
After I thought about it, we should have headed to Seven Dwarfs Mine Train or Tomorrowland to knock some of those things off first before heading towards our FastPasses in Frontierland. We got off to a good start though.  We had completed all of Frontierland except Tom Sawyer Island in the first 35 minutes.  By the time the afternoon had come around, it was warm and we had made the mistake of waiting about 25 minutes to meet Merida, and that sort of threw off the rest of the day.  By the time the Festival of Fantasy Parade was coming through, we were pretty tired and neither of us were really interested in seeing the parade.  Being that it was one of the Core Attractions, we decided that we would just spend the rest of the day enjoying some of our favorites.  It was also a little more crowded than I expected for a January day.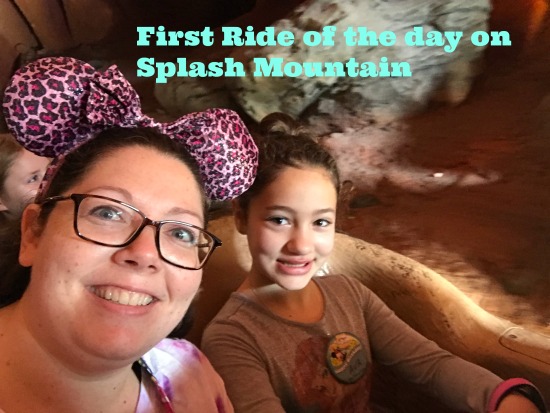 I think if I had spent a little more time planning, it would have been a little easier to tackle the Magic Kingdom. I think you have to decide ahead of time when you are going to view each Core Attraction show.  Some have limited performances, for example the Welcome Show.  That has only one time and it is a Core Attraction.  Also, the Main Street Vehicles are a Core Attraction.  In the past, I have never made a point to ride them, so I wasn't even sure of their operating hours or where you get on or off of them.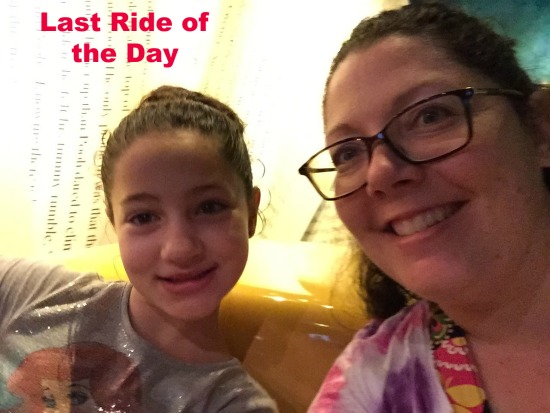 All in all, we had a blast. We did 25 Magic Kingdom attractions!  We did leave about an hour earlier than park closing.  I think it definitely gave us the opportunity to do things we normally wouldn't do and see.  I had never seen Mickey's Royal Friendship Faire or the Country Bear Jamboree.  There will be a lot more planning next time we try to do this and maybe we will do a different park too!  I love that the parks never seem to get old.  I love seeing them through my kids' eyes at all the different ages that they have been.  It's a different perspective every time.  Sometimes it's a relaxing trip, sometimes it's a fast-paced quick trip.  No matter what, they are always filled with magic and fun!
What tips do you have for someone trying to do the Ultimate Theme Park Touring Plans, specifically at the Magic Kingdom? Share in the comments.