This post may contains affiliate links for your convenience. If you make a purchase after clicking a link we may earn a small commission but it won't cost you a penny more! Read our full disclosure policy here.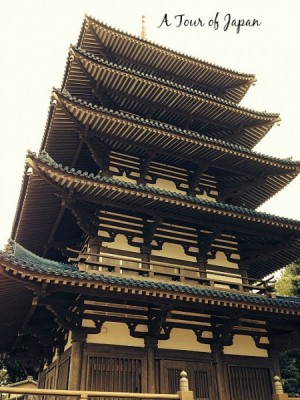 When walking into the EPCOT's Japan pavilion, it is impossible not to notice how large and spread out the courtyard is. The designers of the pavilion used every inch of the space to be able to encompass so many glorious facets of this land and give the visitor a true taste of the culture of Japan.
If you time it right, when visiting Japan, you might be lucky enough to see the Matsuriza Taiko Drummers. The ceremony takes place on the balcony of the pagoda that was built to resemble the seventh century Haryuji Temple. The occurrence is an awesome display of Japanese culture and the strong, rhythmic drumming most certainly had mine and my family's attention.
Further into the pavilion and you are greeted by a beautifully stone encircled pond with many Coy fish happily swimming around, oblivious to all the attention they are receiving.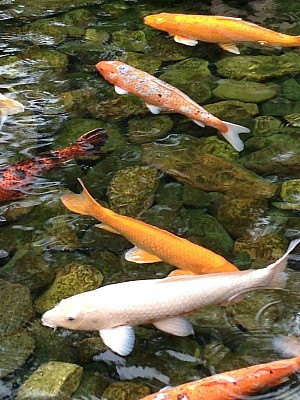 Look to your left and there is a footbridge that will take you to the Katsura Grill for a delicious and satisfying lunch. The Katsura Grill is a Quick Service option in the Japan pavilion. As any Disney fan knows, Quick Service at World Showcase does not mean boring.
At Katsura Grill, you are treated to a variety of Asian delights including Sushi, Udon Noodles, Teriyaki and of course dessert. If you feel like relaxing with an "adult" beverage there is Sake, Kirin beer and Plum Wine.
One of the best parts of eating here is the option of eating outside in a wonderfully shaded area. I have personally eaten here during the day when I could enjoy the beauty of nature all around and during the evening when the soft lighting gives the area a romantic spin. It is one of the more peaceful areas in the park to just sit back, enjoy a meal and let the day just drift away.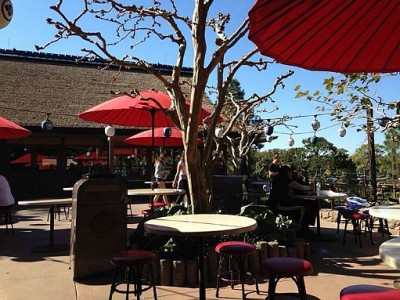 Perhaps you want a real sit down lunch or dinner with the family, why not try Teppan Edo or Tokyo Dining. Teppan Edo is hibachi-style dining and a family favorite for us. Many people will say they can get hibachi style dining in their town, but I think walking around the incredible Japanese pavilion, enjoying the atmosphere and topping it off with this meal takes it one notch above everyday dining. Don't be dissuaded by the many stairs it takes to get to the restaurant, there is also an elevator near the entrance of the Mitshukoshi Department Store that will take you to your destination.
Upon entering the restaurant, you will notice that the ambiance is warmly lit, but very simple. When checking in, you will be given a buzzer that will alert you when your table is ready. Booth seating allows for patrons to sit and wait to be "buzzed" for their reservation.
The tables at Teppan Edo are communal and give you a chance to "meet your neighbor" and perhaps share tips and the day's events with some new friends. If you have any food allergies they will immediately call the manager to the table to address them and explain to you how your food will be prepared. I witnessed this last September and was amazed at the swiftness and concern this was handled with. Everyone at your table will get to pick what they would like and your chef will dive into creating a masterpiece as well as entertaining you along the way. No spoilers here, but the entertainment is light-hearted and amusing even if you have been several times.
The Teppan Edo menu selections include: Filet Mignon, Asakusa (steak and shrimp), Sushi, Miso Soup and Hotate (Scallops) to name a few and don't forget to try the Yum Yum sauce in the trio of dipping sauces, it is addictive.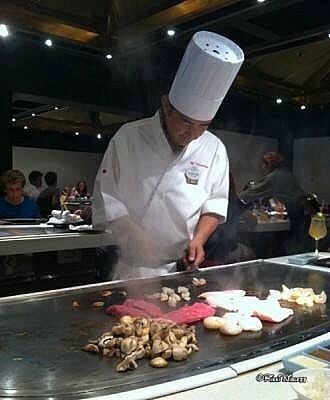 In addition to Teppan Edo, the other table service restaurant is Tokyo Dining. Tokyo Dining is a small area that offers a generous selection of Sushi, Tempura, Bento Boxes and traditional Japanese cuisine. A later reservation at this restaurant may work to your advantage, as the windows offer a superior view of Illuminations.
A few tips for dining:
Be on time! Teppan Edo and Tokyo Dining are very strict on reservation time. There is very little wiggle room here based on the immense popularity of these restaurants.
If you have small children in your party (or anyone who hates to wait) bring your electronics for some quick games. You will not be alone in this and it helps pass the time.
Also, be patient. You will have to wait to be seated, but this meal and the atmosphere is worth it.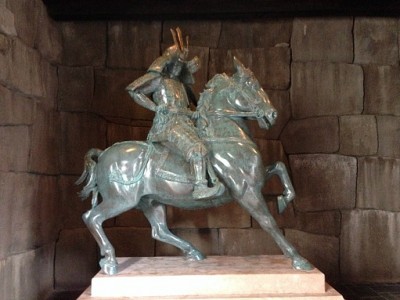 Perhaps you're just not in the mood to dine quite yet, there is still plenty to enjoy here. Take stroll through the Spirited Beasts exhibit in the gallery. Did you know that the gallery was designed as a replica of the Bijtsu-Kan Gallery in Japan? The gallery houses a tribute to the history of Anime, as well as a Zen Garden and some statuary. The space is quiet and well air conditioned with a few bench seats, making it an ideal respite from the hot Florida sun. It never seems crowded so it is also a terrific place to have some peaceful thoughts when the crowds get to be a bit much.
Another way to enjoy this pavilion is to do some shopping or browsing at the Mitsukoshi Department Store. Mitskoshi is the oldest department store in Japan dating back three centuries. At EPCOT, it is located in the Ceremonial Hall to the front of the Japan pavilion.
When you enter off of the World Showcase thoroughfare, you will most likely hear the cheers of Cast Members and the enthusiastic clapping of onlookers at the Pick a Pearl station. This is one of the most popular stops along World Showcase. Visitors are encouraged (for a fee) to pick an oyster out of a tank of water, the oyster is opened and your authentic pearl is revealed. You may then either take your pearl home with you or you may have it placed in a necklace setting. The color and size of the pearls vary and I have heard many people rave about their treasure and the experience.
If pearls aren't your thing, take a look at the rest of the store. There is Anime, clothing, toys, prints, incense, tea sets, kimonos and a variety of food offerings. The food offerings are pre-packaged and range from Asian sodas and juices to candies and chips. There is even a couple of unusual items such as small spicy crabs, dried squid and small dried fish. There is definitely something for everybody or at least something new for everybody to try.
As you leave this beautiful land, take a moment for family picture (or a selfie) with the Red Tori Gate in the back drop. If you line it up just right, not only will you get a picture of the beautiful gate and the water, you will also have a picture of Spaceship Earth nestled right in the middle of the gate. This makes for a beautiful picture.
So, next time you are in EPCOT stop by Japan and take a few minutes or even hours to explore this wonderful land. I'm certain you will not be disappointed.
What's your favorite part about visiting the Japan Pavilion? Let us know in the comments.