This post may contains affiliate links for your convenience. If you make a purchase after clicking a link we may earn a small commission but it won't cost you a penny more! Read our full disclosure policy here.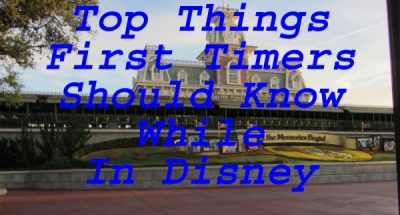 Walt Disney World is an exciting vacation for anyone, but for first timers it can be the experience of a lifetime.  It can also be overwhelming and stressful.  Previously we looked at things first timers don't know before going, and in this post we will look at what first timers don't know while in Disney.
Enjoy those snacks whenever you want
Dining credits are lumped together
Dining credits are based on your nights of stay at a Disney resort.  A five night stay means each person in your traveling party with a dining plan would have five credits each for either table service, quick service and snack credits depending on which dining plan you are on. Understand that your dining credits are all lumped together throughout your whole trip.  This means that all of your snack credits for your whole traveling party are in one big pool to be used by your traveling group.  If you have five credits per person and there are four in your traveling party, this means you have 20 credits to spend for the whole group and it allows you to use these credits whenever and wherever you want.  It does not specify which people or which days credits can be used throughout your trip. For example, Dad can use all 20 snack credits if he wants to.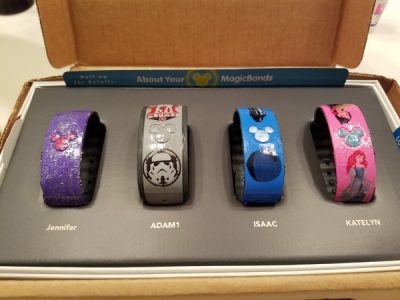 Decorate those MagicBands
Prior to heading to Walt Disney World, you will receive MagicBands for your traveling party, if staying on property. (If staying off property, you able to purchase MagicBands at arrival to a park).  So what are these?  These small, watch-like bands are your tickets to magic.  The bands allows you access into your room, gets you into the parks, as well as use your dining plan credits, and of course charge things for your trip, like that wonderful Mickey plush.  Many people will decorate their MagicBands before heading to Disney to make them more unique.
No gum anywhere
Know before you go that the Walt Disney World Resort does not sell gum anywhere on Disney property.  Make sure to pack some with you if you are one that needs gum throughout the day.
Hidden Mickeys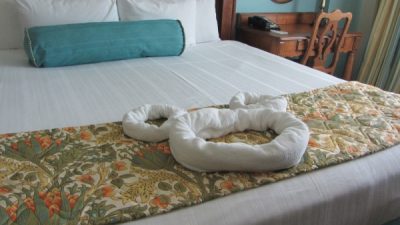 Mickey Mouse Ears Everywhere
One of the many pieces of magic spread throughout the Walt Disney World property are what are called Hidden Mickeys.  Hidden Mickeys are the famous Mickey ears that can be found hidden throughout the Disney landscape.  Hidden Mickeys can be found in queues, on buildings, at resorts and in restaurants.  You can pass the time looking for this hidden piece of magic while waiting in line or just walking around the park.  There are books and sites that will guide you to where you might find these if you want a little help along the way.
Rider Swap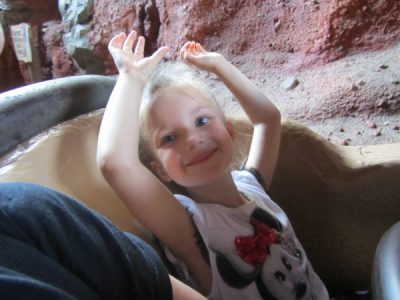 Daughter loving the benefits of rider swap
Those traveling with small children need to be aware of rider swap.  Rider swap allows for parents and older children to ride thrill rides without having to waste time waiting in line twice.  How does it work?  All traveling members head to the ride entrance and let the Cast Member know they want to use rider swap.  The party will be given a tag/pass that indicates that they are using this system.  At least one adult and the younger child will stay back while others ride the ride first.   When the first group comes back, the adult and normally two other riders can head back to the Fastpass entrance with the tag/pass and they are able to move through the ride queue easier and faster avoiding the long stand-by line.  Make sure to take advantage of this option provided for families.
You can bring in food
This was a surprise to me when we started to head to Disney.  I am so used to visiting sporting venues where you aren't able to bring in anything that I was surprised by Disney's policy.  Disney allows you to bring in food and drinks into the park for your convenience.  Water, fruit snacks, sandwiches, and fruit are all able to be brought into the park.  There is a size limit regarding coolers and bags, so make sure you take that into consideration when planning.  Take advantage of this opportunity by throwing in some snacks to help when the hungry bug hits quickly while waiting in line.
Free water at quick service places
Florida is hot.  Disney Theme Parks are steaming.  Make sure you stay hydrated while in the parks.  As mentioned before, you are able to bring in your own food and water bottles.  Even though this is an option, sometimes it is hard to keep that water bottle filled and cold in the hot months.  To help guests stay hydrated, Disney offers cold, ice water for free at quick service locations.  Just ask for a cup of cold water and you don't have to pay the high price for a bottle of water.
Photographers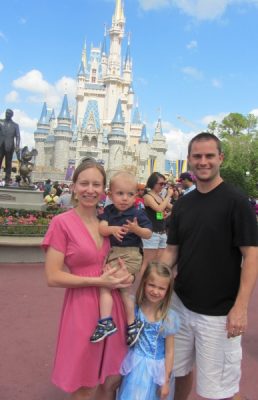 Get everyone in the photo
Throughout Walt Disney World, professional photographers called Disney PhotoPass photographers are scattered around to take pictures of your magical moments.  Although these photographers are connected to Disney's Memory Maker, they can also will take your picture with your camera.  Take advantage of these photographers to get everyone in your party in on those magical moments.
Baby Care Centers
Walt Disney World offers Baby Care Centers throughout their parks.  These centers are quiet, air-conditioned areas that allow moms, dads, and little ones a break from the crowd.  Use these areas for that much needed break from the heat, for nursing, or to pick up an extra diaper.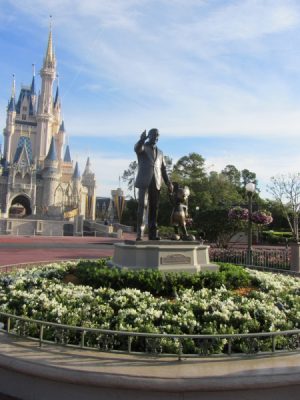 Take in all the beauty of Disney
Stop and catch the magic
Make sure that you take time while in Walt Disney World to slow down and just enjoy the magic all around you.  Between rushing for FastPasses and dining reservations, it can be easy to miss out on the magic that is happening right in front of you.  Take time to stop and smile, laugh, and dance.
Have a great trip!  I hope that these trips will help you be better prepared for the magic.
What tips do you have that first timers should keep in mind when they are touring around the Disney theme parks? Share them in the comments.
Did you like this article? Make sure to share it with your friends! Check below for easy ways to share!