This post may contains affiliate links for your convenience. If you make a purchase after clicking a link we may earn a small commission but it won't cost you a penny more! Read our full disclosure policy here.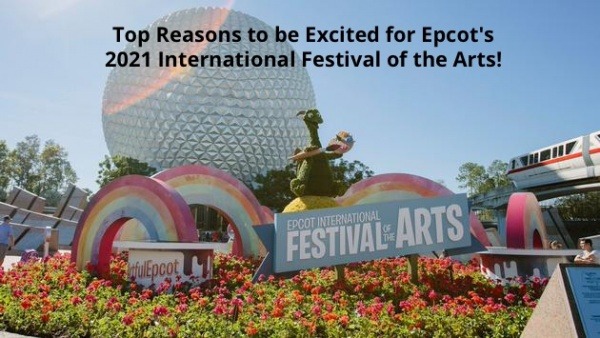 It is hard to think of Walt Disney World's EPCOT without thinking of FESTIVALS! EPCOT hosts festivals throughout most of the year, and what makes each one special is the theme. The 2021 Taste of Epcot International Festival of the Arts is no exception. This 6-week festival highlights culinary, visual, and performing arts.
Due to the pandemic, the Festival of the Arts is a "taste" for 2021 just like the festivals from 2020. And while Disney has to scale back on festival offerings, there is still plenty to do! The festival runs from now through February 22, 2021, and there are a lot of reasons to get excited about visiting!
Food!
Over a dozen unique food booths are set up throughout EPCOT. These booths feature 2-3 menu items that are themed around the culinary arts. Perhaps the most Instagram-worthy is the painter's palette cookie! Full menus can be found here.  Guests can enjoy beef Wellington, coq au vin, pork belly pastor, sushi donuts, and Remy's ratatouille on the savory side. I'll be focused on the sweets! Tempting items like panna cotta, cream filled Italian donuts, and the Pop't art (Disney's take on the popular breakfast pastry) will be available. Oh, and several alcoholic and non-alcoholic beverages will be on tap at each booth. This year will be my first visit to this festival, and I am so excited to try as much as possible!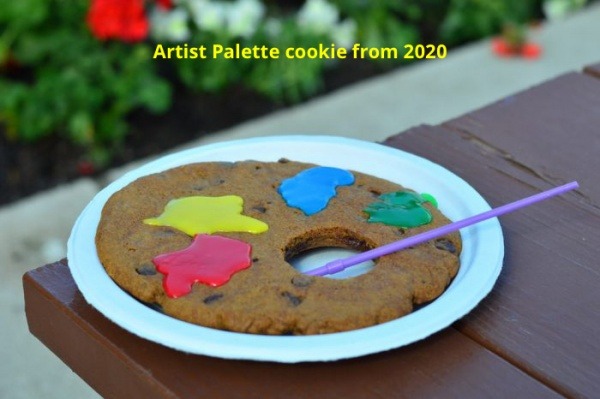 Performing Arts!
Even on a smaller scale, the 2021 Festival of the Arts will still offer lots of live entertainment throughout EPCOT. The Voices of Liberty will be performing in the American Gardens Theater. Their new showcase, The Disney Songbook, will shine a spotlight on beloved Disney classics. The World Showplace (between the UK and Canada pavilions) will feature Art Defying Gravity and the EPCOT pianist. The JAMMitors will also perform on the Mill Stage in the Canada pavilion. Unfortunately, the Disney on Broadway Concert Series will not be happening in 2021. But there will still be plenty of entertainment throughout EPCOT. Make sure to grab a festival guide to find those performers who will be popping up during the festival.
Visual Arts!
Another reason to be excited about the 2021 Festival of the Arts is watching artists create and use their talents. Guests can visit the World Showplace Thursday-Sunday to watch Visual Art in Performance: a high-energy performance by a guest artist who will paint a Disney character in minutes on stage. I'm really excited about this! As a person with little to no artistic ability, I love watching artists showcase their skill. In Future World East, a chalk artist will be around throughout the day creating masterpieces in chalk. There will also be many guest artists appearing throughout the festival marketplaces. These artists will be featured through exhibits highlighting many different artistic mediums such as sculpture and jewelry making. At some markets, guests can even get involved in the creative process and watch pieces get made before their eyes! Featured artists will have their pieces for sale, as well.
Interactive Experiences!
As mentioned, guests can help create pieces of art in the markets. But another exciting part of the Festival of the Arts is getting to make your own art! There will be fun photo op sites throughout EPCOT. Guests can become part of famous paintings like Munch's The Scream or Da Vinci's Mona Lisa. Or grab a paint brush a help create a paint by numbers mural. There are festival themed Kidcot stops and a scavenger hunt where guests help Figment learn about art. And then, twice a day, guests can experience the Animation Academy. Located at the American Gardens Theater, an animation artist will teach guests how to draw a Disney character. How cool is that? So even for a person like me with zero artistic ability, I can still participate and create art.
Get Excited!
Food! Performers! Interactive Experiences! The 2021 Taste of EPCOT International Festival of the Arts has something every guest can enjoy. I can't wait to visit in February and experience everything for myself!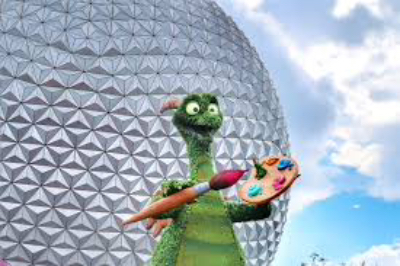 What are you excited about? Share with us your thoughts in the comments or on Facebook or Twitter!
Did you like this article? Make sure to share it with your friends! Check below for easy ways to share!  
Want to visit a Disney Destination? Contact The Magic for Less Travel for more information and a free, no-obligation quote.