This post may contains affiliate links for your convenience. If you make a purchase after clicking a link we may earn a small commission but it won't cost you a penny more! Read our full disclosure policy here.
When planning my next Walt Disney World vacation, food is usually where I focus the majority of my energy. From browsing menus to looking back through old food photographs I've taken over the years, I spend hours making sure I'm ready to check all of my Disney food must-haves off my list! One of my very favorite places in all of Walt Disney World is the World Showcase in Epcot; needless to say, you'll find some of the best food on property as you "travel the world" and explore the different countries. Today, I'm bringing you my top 5 snacks in the World Showcase!
1. Caramel-covered anything- Karamell Kuche
I've definitely got a sweet tooth, which will become evident as you ready through my list of favorite treats. Naturally, my number one recommendation had to be one of the sweetest treats available on property: gooey, buttery caramel. If you're a caramel-lover, you can't miss Karamell Kuche, a small sweet shop in the Germany Pavilion. You'll probably smell Karamell Kuche before you see it, part caramelized sugar, part buttery goodness, part freshly popped popcorn. Head inside to find some of my very favorite treats on property, so good I couldn't pick just one! Some of my highlights include the caramel apple (you can ask to have it sliced up which makes for easier snacking and sharing… if you're feeling generous), the caramel pecan tart, the caramel popcorn, and the classic piece of caramel. I always found caramel apples to be tasty, but too messy to bother with. That was before I found Karamell Kuche; the caramel is so buttery and smooth here that you really barely need a napkin to indulge! I've loved every single item I've tried here, so I'm confident that the "close your eyes and point to something" method would prove successful if you just can't make up your mind!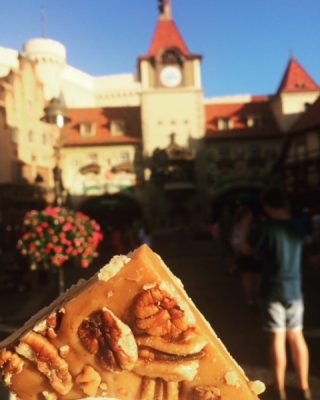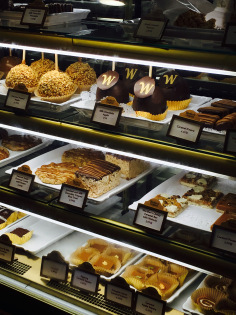 2. School Bread- Kringla Bakeri Og Kafe
The School Bread is a World Showcase classic. Head to the Norway Pavilion for this vanilla custard-filled bun, topped with toasted coconut. What makes the School Bread unique is the cardamom in the bun; some love this curious twist on a classic pastry, while others don't care for its unique flavor. For the custard and cardamom-lover, this treat is a must have; it tastes like the holidays! Other Norway classic pastries include the Troll Horn, Rice Cream, and the Viking Chocolate Mousse.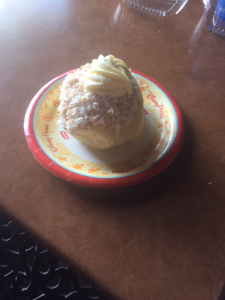 3. Churros- La Cantina de San Angel
Walt Disney World and Disneyland are certainly known for their churros. You can find these long fried pastries anywhere across the theme parks, but the churros at La Cantina de San Angel in Mexico are extra special (trust me… I did a side-by-side comparison during my last Epcot visit!). Unlike the premade churros found throughout the parks, the churros at this Mexico counter service location are made to order. Crispy on the outside and doughy on the inside, these tiny churro bites arrived piping hot. Rolled in cinnamon sugar and served with a caramel dipping sauce, the Mexico Pavilion took the churro to the next level. I don't think I'll ever be able to order a churro from a popcorn and pretzel cart again; it just doesn't compare to the goodness found in the World Showcase!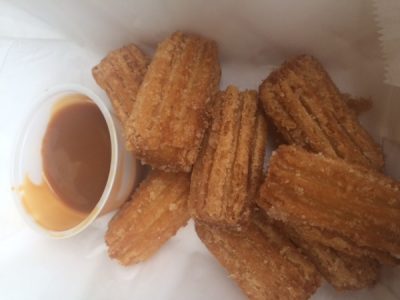 4. Bratwurst- Sommerfest
I had to throw something savory on my list! The bratwurst at Sommerfest in the Germany Pavilion is technically an entrée, but I like to consider it a gigantic snack that I actually don't feel sad sharing! When you're feeling hungry mid-day and need something in your stomach that isn't pure sugar and/or alcohol, this is a great option. Served on a soft roll with (or, in my case, without) sauerkraut and a side of potato chips, this juicy brat is a perfect snack to take on the go. I usually top my bratwurst with some spicy brown mustard! Sommerfest is chock-full of delicious snack options. If you're not a fan of bratwursts, try the nudel gratin (German macaroni and cheese heaven), the apple strudel, or a pretzel the size of a Mickey balloon (probably only a slight exaggeration!).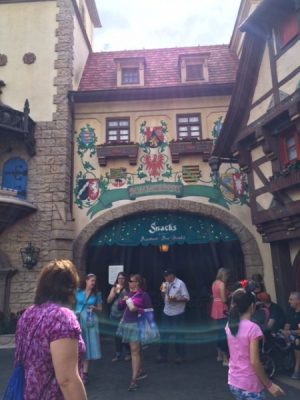 5. Croque Glace- L'Artisan des Glaces
Tucked back into the streets of the France Pavilion is L'Artisan des Glaces, the cutest little ice cream shop on earth. With a variety of delicious ice cream and sorbet flavors, you can choose from something classic or something new and exciting. If you're looking for something unique, try the Croque Glace, a homemade brioche ice cream sandwich. Choose one scoop of ice cream, one sauce (raspberry, chocolate, or caramel), and watch as they press your selection into a warm brioche bun. It doesn't sound like much, but trust me on this one. This treat is outrageously indulgent! If ice cream isn't your thing, fear not. Pastries of all sorts are located next door!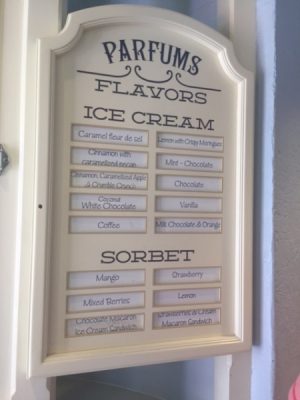 What are you favorites treats in World Showcase? Share them in the comments.
Did you like this article? Make sure to share it with your friends! Check below for easy ways to share!