This post may contains affiliate links for your convenience. If you make a purchase after clicking a link we may earn a small commission but it won't cost you a penny more! Read our full disclosure policy here.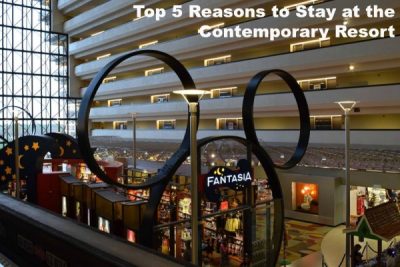 photo ©Tim Rogers
My very first trip to Walt Disney World involved a stay at the Contemporary Resort. It was 1976, and I was a wee lass, so I don't remember a lot about that stay. But certain memories took hold: being thrilled as our monorail swept right into our hotel lobby, my parents waking us up to watch the Electrical Water Pageant from our room, and being able to escape the incredible heat and humidity in the Magic Kingdom by ducking back into our blissfully air conditioned hotel.
The Contemporary Resort has gone through a lot of changes since then, but one thing is constant: it's still a great place to stay. Here are my top 5 reasons for staying at the Contemporary:
THE HISTORY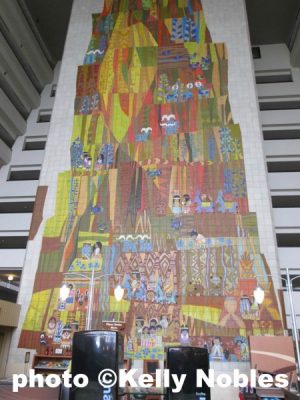 This mural was designed by famed Imagineer Mary Blair
Disney's Contemporary Resort opened with the rest of Walt Disney World in 1971. Back when he built Disneyland, Walt Disney wanted to build a nearby hotel so that his guests had a place to stay while visiting the Happiest Place on Earth. Back then, it simply wasn't in the budget, and he had to work with outside companies to get the Disneyland Hotel built. It wasn't until well after his death that the Disneyland Hotel was purchased by Disney.
When Walt and Roy drew up their plans for Walt Disney World, they had the capital, and the space, to plan for resort hotels. The magnificent A-frame structure looked positively futuristic back then, and the brothers were very proud that the "Florida Project" as it was called during development, would include it. If you are a Disney buff, there is something very cool about staying in the first Disney owned and operated resort.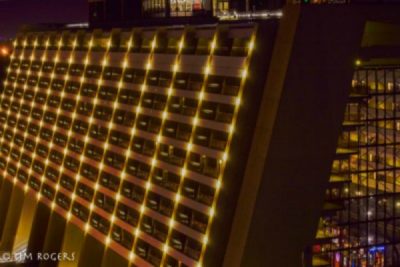 The exterior of the resort at night
THE VIEWS
Because of its tall structure and the fact that so much of the surrounding area has been left green and vibrant, the views from this hotel can be spectacular. Some rooms have lovely views of Bay Lake, and some show you views of lovely gardens. But the real standouts here are the theme park views – glorious views into the Magic Kingdom, complete with Cinderella Castle. Unsurprisingly, these rooms come with a very hefty price tag, so theme park rooms are a super splurge. But if this is a once in a lifetime vacation, it is hard to beat a view of the gorgeous Castle.
Even if your room doesn't include a theme park view, guests of this hotel have access to a fourth floor observation deck, where you can watch the Magic Kingdom's fireworks. (They even pipe in the music for you!)
THE ROOMS
Sometimes, size does matter. The standard rooms at Disney's Contemporary Resort are amongst (along with the Grand Floridian) the largest standard rooms on property. If you've got a large family, if your kids are older, or if you simply want a lot of space to move around, you should definitely look into room size when you book a hotel.
photo ©Kelly Nobles
DINING
If you plan to do a lot of your dining at your resort, know that the Contemporary has some marvelous choices. One of the best restaurants on property is the California Grill, which offers award winning cuisine as well as spectacular views of the Magic Kingdom from its observation deck. Chef Mickey's is an extremely popular character buffet. If you want to eat here, make sure you make your reservations as soon as they become available to you. The Wave is a relatively new restaurant specializing in local, fresh ingredients prepared in interesting and often healthy ways. Even the fast food spot, the Contempo Café, is much more than just fast food. Try the American Wagyu Beef Slider Duo if you don't believe me.
CRAZY CLOSE TO THE MAGIC KINGDOM
Disney's Contemporary Resort was built back when the Magic Kingdom was the only theme park here. (Hard to believe, right?) Because of this, it is extremely close to the park. The monorail that takes you there slides right out of the hotel lobby, which is a memory young kids will keep forever. (Trust me.) But if that isn't enough for you, you can actually walk to the Magic Kingdom from this resort! It's a quick transfer to another monorail to get to Epcot. Boats will take you to the Wilderness Lodge Resort and Fort Wilderness Campground, and buses will take you everywhere else you want to go.
Is Disney's Contemporary Resort one of your favorites? Share your memories in the comments!
Did you like this article? Make sure to share it with your friends! Check below for easy ways to share!
Incoming search terms:
disneys contemporary resort