This post may contains affiliate links for your convenience. If you make a purchase after clicking a link we may earn a small commission but it won't cost you a penny more! Read our full disclosure policy here.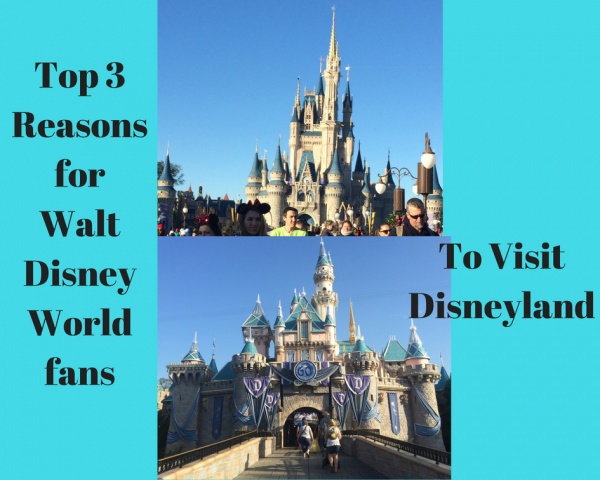 Two of my favorite place
This blog is for you Walt Disney World fanatics who haven't been to Disneyland yet. I know you're out there. Heck, I WAS one of you. I spent the first 25 years of my life obsessively visiting Walt Disney World, without giving Disneyland a second thought. But then I moved to Los Angeles, and I got to visit Walt Disney's original theme park. And I fell in love.
Don't get me wrong – I still love Walt Disney World, and visit there often. I'm not trying to start some kind of an East Coast/West Coast Disney battle. I'm just going to try to convince you to expand your Disney vacation repertoire and take a trip to Disneyland.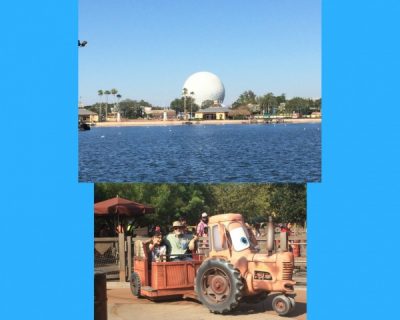 Epcot at Walt Disney World, and California Adventure at Disneyland
Without further ado, here are my top 3 reasons why you should do just that:
THE WEATHER
Orange County, California and Orange County, Florida have a lot in common. Winters are very mild. Snow is unheard of. Summers are blistering hot. But I vastly prefer the weather in Anaheim to the weather in Orlando.
It does rain in Southern California, but far less than it does in Central Florida. Those daily afternoon thunderstorms in the summer? Unheard of in Anaheim. And while summer days in Disneyland can be very, VERY hot, the humidity is much lower than in Walt Disney World. In May and June (and occasionally July) it's not uncommon to have a lovely overcast morning with cool temperatures, and for that cloud cover to dissipate by mid day, giving you glorious sunshine. Even on days when the midday sun bakes everything underneath it, the morning and evening hours are significantly cooler.
IT'S SMALLER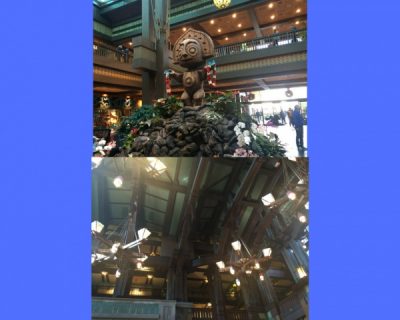 The lobby of the Polynesian and the Grand Californian
I know what you're thinking: "Wait, the fact that it's SMALLER is a good thing?" Well, it can be. Think for a moment about how much time you spend at Walt Disney World in your car, on a monorail, on a boat, or on a bus. That time could be spend riding rides, watching shows or enjoying attractions.
Because Disneyland is so compact, the entire resort is walkable. All three Disneyland owned and operated hotels, Downtown Disney, and both theme parks are connected by walkways. Even some off-property hotels and motels are within walking distance. Consult a map before you book!
Imagine this: you're staying at Disney's Polynesian Village Resort and going to Animal Kingdom. How much time did you spend waiting for that bus? And how long was the bus ride? Repeat this when it's time to return to your hotel.
If you're staying at the Paradise Pier Hotel, which is the farthest Disneyland hotel to the theme parks, you exit the doors of the hotel, walk through Downtown Disney past the remaining two hotels, and come to the entrance plaza of both theme parks. This means way more time spent enjoying your vacation and way less time in transit.
THE HISTORY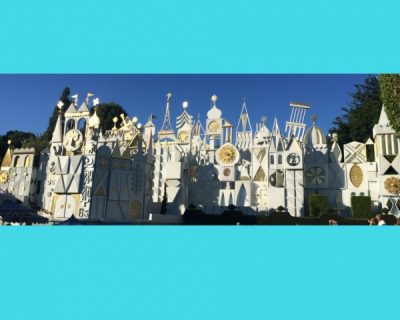 Come see the original it's a small world!
It breaks my heart to think that Walt Disney died before Walt Disney World, a great dream of his, opened. But at Disneyland, you can eat in the restaurant where Walt spent most Sunday mornings. You can pass by his apartment in the Fire Station, where he often spent the night. You can truly walk in Walt's footsteps.
To sum up, visiting Disneyland is not betraying Walt Disney World. If anything, it gives a visitor a richer and deeper understanding of the history of Disney theme parks and resorts, and a greater appreciation for the magic.
What are some of your reasons for visiting Disneyland?  Let us know in the comments, or on Facebook or Twitter.
Did you like this article? Make sure to share it with your friends! Check below for easy ways to share!
Want to visit Disneyland? Contact The Magic for Less Travel for more information and a free, no-obligation quote.