This post may contains affiliate links for your convenience. If you make a purchase after clicking a link we may earn a small commission but it won't cost you a penny more! Read our full disclosure policy here.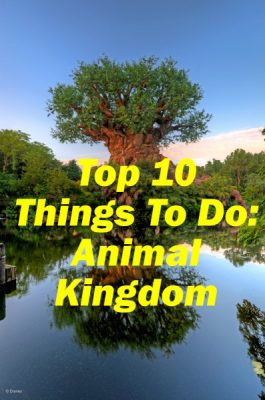 Disney's Animal Kingdom has quickly become a prime destination with the opening of Pandora: the World of Avatar.  With all of the new experiences at Animal Kingdom it can be hard to determine what to do.  Use this top ten list to make sure you don't miss something.
Expedition Everest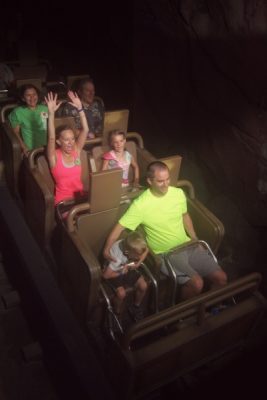 First Experience on Everest
Pandora- The World of Avatar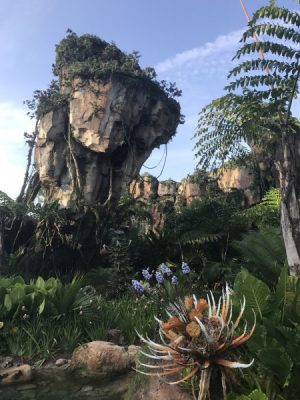 Pandora (photo credit:  Jennifer-Ann Vattes)
Visiting Pandora is a must when you are in Animal Kingdom.  Start by experience the two rides of Avatar, Flight of Passage and Na'vi River Journey.  These two rides will take you away to the world of Pandora as you fly on a banshee and glide down the majestic river.  Once you have rode both rides, take time to walk around and experience the Valley of Mo'ara.  Experience the sight and sounds and the enormous floating mountains.  Don't go hungry while in Pandora.  Make sure to stop by Satul'li Canteen for some unique dining from the Na'vi.  Or grab a quick drink from Pongu Pongu where you can get some refreshments to quench your thirst.
Tree of Life
Animal Kingdom's icon the Tree of Life is a must see.  At 145 feet tall and 50 feet wide this tree is home to over 300 detailed animal carvings.  From lions and elephants to the small scorpion you can discover them all on the Discovery Island Trails around the park.  This is a great way to slow down, grab a snack and just enjoy majestic views.
Kilimanjaro Safari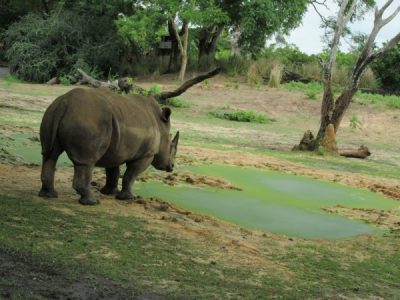 Rhinos on the Safari
Climb aboard your safari ride and get a look at an African savanna.  This is an 18 minute adventure into the Harambe Wildlife Reserve.  From open plains to forest and wetlands, you will experience it all on your open-air safari vehicle.  Over 34 different exotic African wildlife roam free.  Look for the hippopotamus, giraffe, lion and rhinos as you travel along on this adventure.
Nightlife:  Tree Awakens and River of Light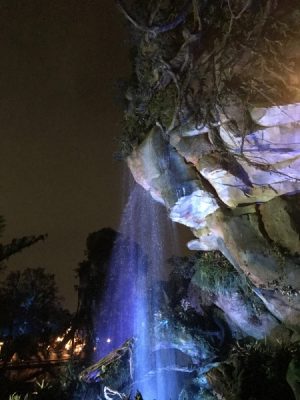 Pandora at Night (Photo Credit:  Jennifer-Ann Vattes)
New to Animal Kingdom is the night time entertainment.  Watch as the Tree of Life comes to life as animals are showcased with color and light on the tree itself.  Around every 10 minutes, fireflies will mysteriously appear and bring the animals that call the tree home to life.  From the small hummingbird to a graceful doe, this show is sure to inspire everyone in the family.
The Rivers of Light is another evening option while in Animal Kingdom.  This show takes place around Discovery River and uses water, sound and light to bring audience members a show like nothing else.  This show celebrates the beauty of nature and all living thing bringing you closer to nature.  You are able to FastPass this show or participate in Rivers of Light Dining Package at select Animal Kingdom restaurants.
See a show:  Finding Nemo:  The Musical or Festival of the Lion King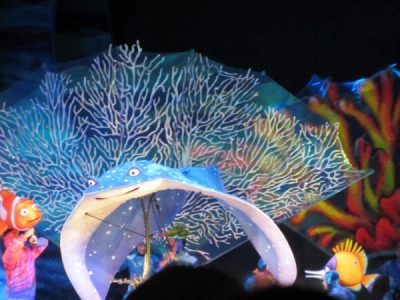 Finding Nemo:  The Musical
Animal Kingdom offers two musical shows for guests.  Finding Nemo: The Musical brings to life the story of Nemo and Dory by using amazing puppets and breathtaking sets.  This 40 minute show uses original songs to bring to life the well known story of Nemo, Marlin, Dory and friends.  The audience will feel part of the story as bubbles and puppets come out into the audience.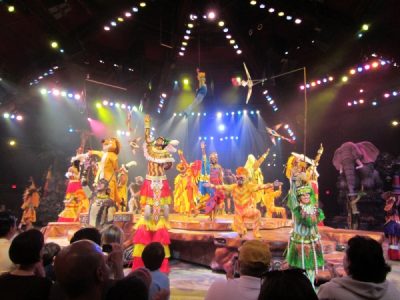 Lion King Show
Festival of the Lion King is the other musical performance found at Animal Kingdom.  This show brings the favorite songs such as "Be Prepared" and "Hakuna Matata" and "Circle of Life" to life while dancers, acrobats entertain the audience members with their outstanding skills.  This is a fast moving show that allows audience members to get involved prior to the show.
Check out the animals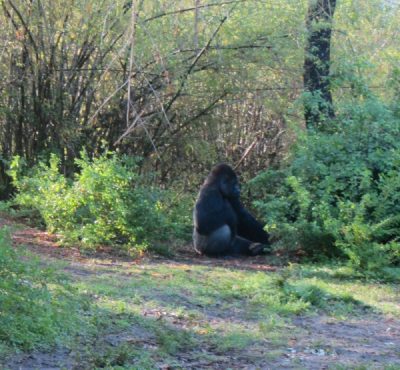 Gorilla Friends Along the Trail
While at Animal Kingdom you will want to take time to see many of the animals and their amazing environments.  Start by seeing the gorillas on the Gorilla Falls Exploration Trail.  Go at your own pace as you walk this trail through a lush and tropical forest.  Head through the Pangani Forest where you can also see hippos and exotic birds as well.
The Maharajah Jungle Trek allows you to take your time as you tour Southeast Asia.  On this trail you will be able to encounter Asian Tigers, gibbons, Komodo dragon, water buffalo and over 50 species of birds.  Make sure you take pictures from numerous observation stations as you learn about the worldwide conservation efforts to keep these animals safe.
As you enter Animal Kingdom, make sure to stop and visit the numerous animals around the Oasis.  Here, as well as around the Tree of Life, you will discover animals hidden away in natural habitats.
Catch the entertainment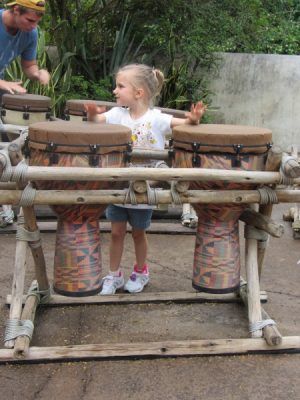 Playing the Drums
As you walk around Animal Kingdom, make sure to stop and enjoy the different musical shows.  You can catch the Tam Tam Drummers of Harambe or the Swotu Waya N'vi Drum Ceremony.  Both of these shows bring an energy that is sure to get you up and moving.
See the Characters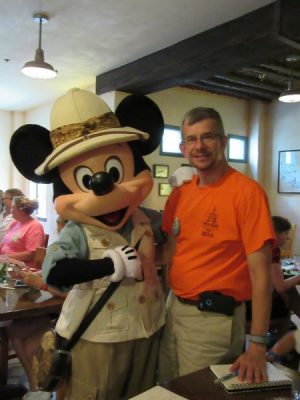 Mickey at Tusker House
Like with all parks, Animal Kingdom has some unique characters you will want to meet.  Russell will help explorers get started where Pocahontas, Rafiki, and Timon will guide guests along on their adventures.  Mickey, Minnie, Donald and Pluto can also be found in their adventure gear either in Tusker House or out in the park.  One of the most unique characters in all four parks is DiVine.  Make sure to keep a look out as she is easy to miss.
Sit and relax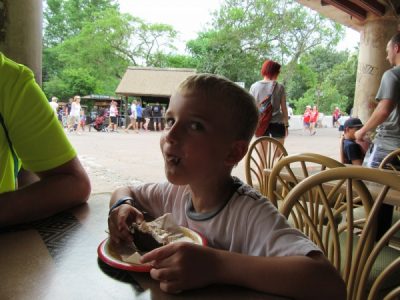 Getting Messy with Ice Cream
Animal Kingdom is a majestic park that it is important to take time to just sit and enjoy the atmosphere itself.  With so many wonderful food options, grab something to eat or drink and take time to just sit.  Take in the Tree of Life, listen to the drums in Africa, the screams of Everest or the animals throughout the park.  You won't want to miss the beautiful scenery of Animal Kingdom.
Animal Kingdom is quickly becoming a top park to visit while in Walt Disney World.  With the opening of Pandora:  A World of Avatar, it can be hard to figure out what to do while in the park.  Hopefully this list will help you determine where to spend your time.
What are your favorite things to do at Disney's Animal Kingdom? Share them in the comments.
Did you like this article? Make sure to share it with your friends! Check below for easy ways to share!
Incoming search terms:
top things to do in animal kingdom
things to do in animal kingdom disney world
Things to do in Disney world animal kingdom
What is there to do at Animal Kingdom Disney world
top thing animal kingdom
best things to do at animal kingdom 2020
things to do in animal kingdom at Disneyworld
things to do at animal kingdom disney
https://www themouseforless com/blog_world/top-10-things-to-do-animal-kingdom/
disney work animal kingdom things to do