This post may contains affiliate links for your convenience. If you make a purchase after clicking a link we may earn a small commission but it won't cost you a penny more! Read our full disclosure policy here.
Touring a Disney Park can be exhausting. As adults after a full day of riding rides and walking up to 15,000 steps the last thing we want to do is run around.The toddlers in our lives however are a different story. Little ones spend most of their days at Disney being pushed around in a stroller or sitting on rides. These kids have energy to burn. In order to let the little ones play and avoid tantrums it is helpful to know of fun play areas in each park. This quick and easy guide to Toddler Play Areas at Walt Disney World will help you find the right play area for your child.
 The Magic Kingdom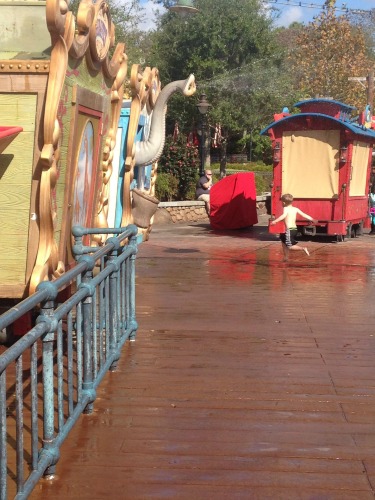 When you think about the Magic Kingdom you think about classic rides such as It's a Small World and Peter Pan, or the park icon Cinderella Castle. Rarely if ever do you think of cool Disney play areas. However there are a few really good options for little ones who need to get their wiggles out during a day at The Magic Kingdom.
Casey's Jr. Splash N Soak   – One of my favorite areas in all of the parks this WET play area features classic circus tents that spray and mist little ones as they run around. The area is large and many many children can play at once.  Casey Junior lets off cool refreshing steam, while the animals spray bursts of water at random intervals. I always keep a change of clothes or bathing suit and small camp towel in my park bag just in case my son wants to play here. It is a great way to cool off during a hot day in the parks.
Dumbo Play Area- Just next door there from the Casey's Junior Splash N Soak is the queue for Dumbo the Flying Elephant. This queue features one of the best play areas in all of Walt Disney World. This air conditioned area has circus style bleacher seats for adults and climbing structures and fun sound effects for kids. This area even has a special play area for tiny kids to play as well as areas for bigger kids as well. Adults are given a pager that will go off when it is time to ride the flying elephant. The only trouble is getting your child to leave the play area when it is time to ride!
Laughing Place Play Area– Underneath one of the best thrill rides at Walt Disney World (Splash Mountain) you will find of the best Disney play areas. The Laughing Place is a small play area with a house to explore with doors that open and close and a slide perfect in size for the preschool and under set. Located in the shade, this can be a great spot to wait while using a rider switch pass on Splash Mountain or Big Thunder Mountain Railroad.
Tom Sawyer's Island Scavage Fort- Just a quick raft ride away from the hustle and bustle of Frontierland is Tom Sawyer Island. While the island offers many tunnels and paths to explore there is also a small fort, just right for the youngest Disney travelers. Kids can run, climb and even slide down a small tube.
 Winnie the Pooh Queue– At the Magic Kingdom even waiting and line can be a blast for little ones.  This area offers a chance for kiddos to play tug o war, pop up veggies in a garden, or visit either Piglet's House or Eeyore's gloomy place. In addition little ones can draw or write on an interactive " Hunny" wall to reveal their favorite characters from the Hundred Acre Wood.
Epcot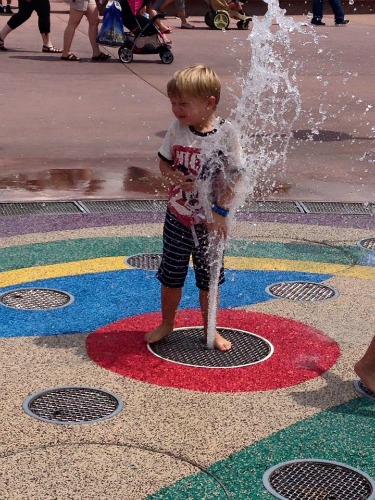 We have all head the tired myth that Epcot isn't a place for kids.  The secret though is that Epcot has a TON of little places to play for kiddos that many people overlook.
Image Works  In Future World inside the Imagination Pavilion you will find Image Works at the exit to the Journey Into Imagination with Figment ride. This fun interactive play area features an opportunity to conduct an orchestra using just your arms, jump on musical stepping stones or create your own Figment character. This area is inside and air conditioned making it an ideal break in your day when it is hot or raining outside
Jumping Fountains just outside of the Imagination Pavilion are whimsical and fun fountains with water that seems to jump from one area to the next. I have spent quite a bit of time in this area as my son has tried to catch the jumping water, or raced it back and forth from one side of the fountains to the other.
Sea Base – located in The Seas with Nemo and Friends Pavilion is a wonderful Disney play area that often goes overlooked as guests rush to Turtle Talk with Crush as soon as they disembark their clam mobile. In addition to a 5.7 million gallon salt water aquarium, kids can have fun playing with interactive exhibits that seek to teach lessons on conservation and sea life. Brave Little Ones can even climb inside Bruce's mouth for a picture!
Test Track Design Studio – After exiting Test Track you will find the Test Track Design Studio. Little ones can design a car, and drive it through an various terrain with no time limit.
Project Tomorrow Nearly everyone who visits Epcot at Walt Disney World remembers the first trip they took back in time and into space inside the park's massive icon Spaceship Earth. Once you complete your journey several interactive video games await. I have spent a nice afternoon break  assembling a digital human body while playing Body Builder with my then 4 year old son. Taking some time in this area to explore and unwind can really pay dividends when it comes to tired kids later in the day.
Mission Space Advanced Training Lab- As you exit Mission Space you will find this wonderful play area full of exciting interactive opportunities for the youngest Disney enthusiast. Featuring several video games, as well as a 2 level play structure with tunnels, this is an area that makes a perfect " waiting spot" when you are using a Rider Switch pass so the adults can ride Mission Space.
Splash Area between Future World and World Showcase My favorite Disney play area in Epcot is the little splash pad between Future World and the World Showcase. My son loves nothing more than to jump and play in water. This area lets him really enjoy and cool off. There are even some benches nearby for the tired parents. This is another reason I always keep a change of clothes and camp towel in my park bag.
Animal Kingdom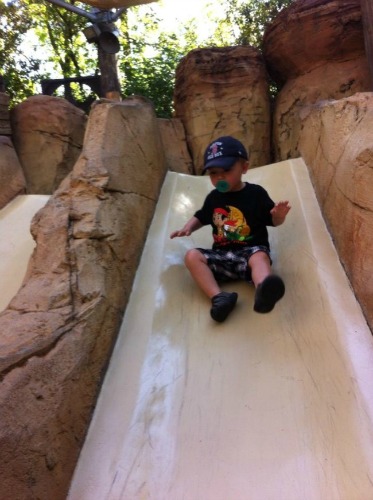 Animal Kingdom has many trails and pathways where anyone can stretch their legs and enjoy the scenery, however for serious play there is one seriously awesome playground to make sure you check out with your kids.
The Boneyard – This is the KING of all Disney play areas. Located in the DinoLand USA section of the park, this sprawling outdoor play area features a giant climbing structure with slides, and nets and bridges for children to explore. In addition,The Dig Site which features pebble like rocks, buckets and pails and allows children to experience digging up dinosaur bones. You can plan to spend at least an hour exploring this area which has features that will interest children ages toddler to preteen.
Where are some of your child's favorite Toddler Play Areas to just run around? Share them in the comments!
Did you like this article? Make sure to share it with your friends! Check below for easy ways to share!