This post may contains affiliate links for your convenience. If you make a purchase after clicking a link we may earn a small commission but it won't cost you a penny more! Read our full disclosure policy here.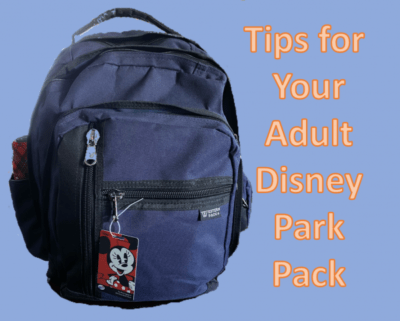 A Disney Park Bag for adults is different than the bag you carry when kids come with you. Unaccompanied adults have different needs. Here is a list of items that will help an adult thrive at Disney in comfort.
Trash Bag/Zip Lock Bags
This is a must for your Disney Park Bag for adults. Zip-Loc bags can be used to keep items dry and organized in your Adult Disney park bag. Cords and chargers can be kept together. Shedding a wet layer? Keep it organized in a bag. Short rain gear? Punch a couple of holes in a trash bag and wear it as a poncho (but then head to a store and get rain gear).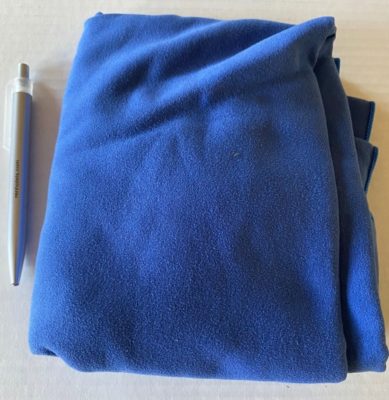 Camping Microfiber Towel
In the parks a microfiber towel can be used to clean and dry seats. Try sitting in a wet seat on Splash Mountain! A full-sized towel can also used as a lap blanket on a cold day. Microfiber is absorbent and compact and perfect for storage. If kids are with you this makes a great emergency superhero cape as well.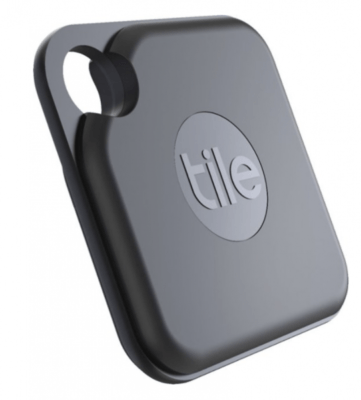 Bluetooth Tile
In Disney your bag comes on and off in attractions and restaurants. Nothing is worse than losing your bags and wasting your time retracing steps to find it. A bluetooth tile is a small device you attach or place into your pack that can be located from an app on your phone. Tiles cost about $50 for two but it can be worth it to save a trip.
Phone Charger
The right cord and portable phone charger is essential. Fuel-rods are available for rent in the parks. We still prefer our reliable charger. Our charger is the size of a phone and has enough power for fifteen full charges. With two USB ports it can recharge two phones at once. It travels in our Disney Park Bag
The Right Phone Cords
We travel with both a two foot and a six-inch phone cord. A six-inch cord is great for when you are holding both phone and charger. A six-Inch cord can also be neatly tucked under a rubber band around your charger for storage. The two foot cord can go from pocket charger to hand held phone or used to plug into a bus, wall or plane port. Larger cords become unwieldy.
Even a Disney Park Bag for Adults Should Have  Snacks
Snacks aren't just for kids. Protein or breakfast bars are an essential. They are a quick pick me up and can help relax and keep you going. Eating a quick snack can also occupy some time while standing in a queue.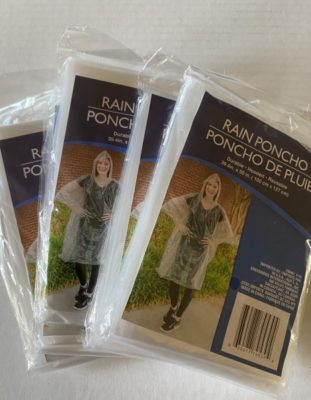 Dollar Store Ponchos
Those cheap dollar store ponchos can be a lifesaver on a wet ride. You need not wear them. On a wet ride you can use them as blankets to key yourself dry. On really wet rides like Kali River Rapids you can wear one and use a second as a lap blanket. Also, if you can get a used dollar store poncho back into it's bag you are a Disney Park hero.
Wet Wipes, Tissues, Hand Sanitizers
There is nothing like inheriting a quick service table after a family full of toddlers leaves it. Wet wipes, tissues and hand sanitizers can make a mouse house a home.   Think of these as attitude adjusters – a cleaner environments helps build a better attitude.
Ibuprofen and Meds
Disney parks involve miles of walking, If you are not normally active this can be stressful on your body. Ibuprofen or other pain analgesics can help with shin splints and other stress plain. If you have regular medications don't forget to bring these. Disney days are long and fun and may encroach into prescription dosage times.
Eyeglass Strap
Flying upside down on the Rock 'n' Roller Coaster is not the time to be worried about your glasses. An eyeglass strap can alleviate that worry. Sure, you could put your glasses in your pack but wouldn't you want to see the ride?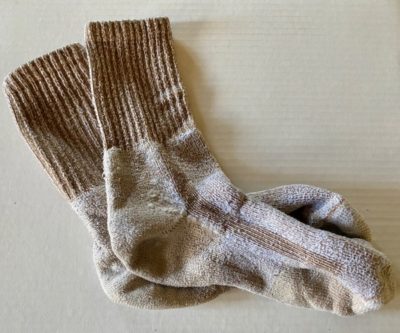 An extra pair of socks belong in your Adult Disney Park Bag
You are on your feet all day. How they feel helps determine how they feel. Pamper your feet. A change of socks can give you hours of extra park time.
Leave Space in your Disney Park Bag
When you leave for the parks in the morning your pack should have space. In the winter that space is needed for discarded clothing layers. At all times a partially full pack is quicker to search through to find needed items.
Other items in your Adult Disney Park Bag
Lots of items were not covered in this list. Items like sunscreen, hats and regular rain gain were not covered. Also omitted were a phone (a Disney essential), water bottles or portable fans. Everybody's Disney Park bag will be different depending upon the weather and personal needs.
We invite you to let us know what you would put in your Disney Parks bag. Let us know in the comments or on Facebook or Twitter!
Did you like this article? Make sure to share it with your friends! Check below for easy ways to share!
Want to visit Walt Disney World? Contact The Magic for Less Travel for more information and a free, no-obligation quote.

Incoming search terms:
https://www themouseforless com/blog_world/tips-on-what-to-put-in-your-disney-park-bag-adults/