This post may contains affiliate links for your convenience. If you make a purchase after clicking a link we may earn a small commission but it won't cost you a penny more! Read our full disclosure policy here.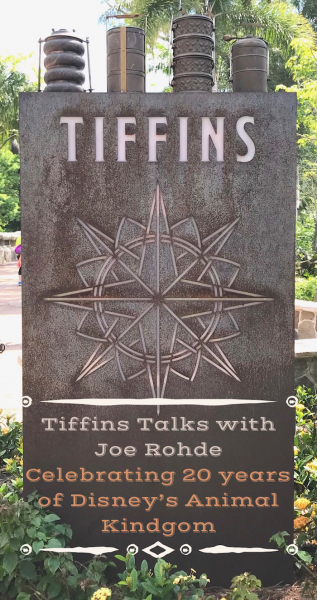 For Animal Kingdom's 20th Anniversary there were many special events taking place during the Party for the Planet from April 22nd to May 5th. The Tiffins Talks dining series were one of the special events. On Sundays, Wednesdays and Fridays different experts from the park gave informative talks during a four course dinner at the signature restaurant, Tiffins.
A meal with a famous Imagineer
One of these guest speakers was Joe Rohde, who helped create and design Disney's Animal Kingdom. Joe Rohde is a very well known Imagineer in the Disney community and his April 25th event sold out very quickly. I was luckily enough to find out about an unadvertised Tiffins Talks lunch with Joe Rohde on the 26th. About 4 days before the event, I was able to reserve a seat.
I showed up right before the reservation time of noon and was the last one to enter the private room, behind Nomad Lounge, called the Trek Gallery. (A character interaction with Dug took a little longer than normal.) I was escorted to a reserved spot that contained a postcard welcoming me and signed by the cast members preparing our meal.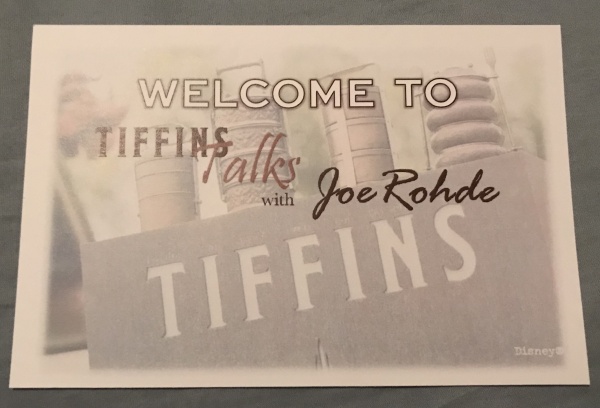 Postcard waiting for me at my seat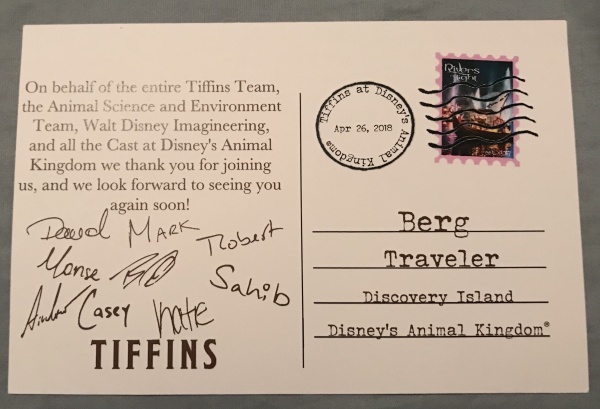 A glass of champagne was handed to me, as well as 2 hors de' oeuvres (I have no idea what they were, but they were delicious). I began introducing myself to my 3 table mates and Joe Rohde walked over to introduced himself to me as he walked to the front to begin his talk. Did I mention I was at the very front!?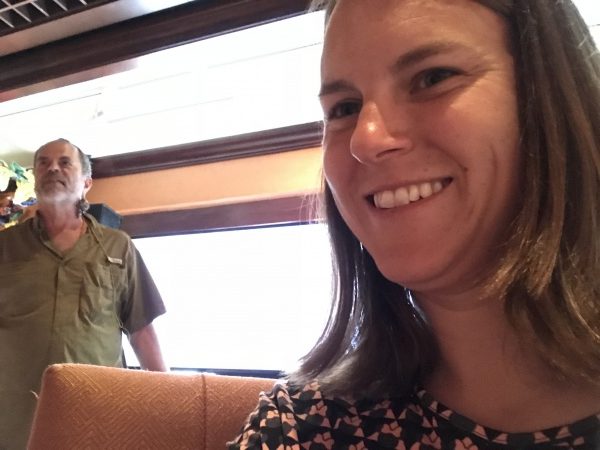 Joe's right behind me! If you read any other blog about this meal (which you should only read this one, but lets just say you accidentally clicked something)  the back of my head is in just about every picture.
Researching for Animal Kingdom
Mr. Rohde began speaking about how the team for Animal Kingdom was very small. They were able to stretch the funding during the research for the creation of this new park. He stated that Animal Kingdom could not be make believe, like Magic Kingdom. It needed to be realistic since the animals in the park are very real. Joe Rohde took his team to many countries to sketch buildings and environments from sun up to sun down. This allowed the team to really remember the type of materials used, the corners, the look to each building, and the rules of design in that region. They could then create environments and buildings in Animal Kingdom that seemed realistic, but aren't exact recreations of the places they visited (this is left to Epcot).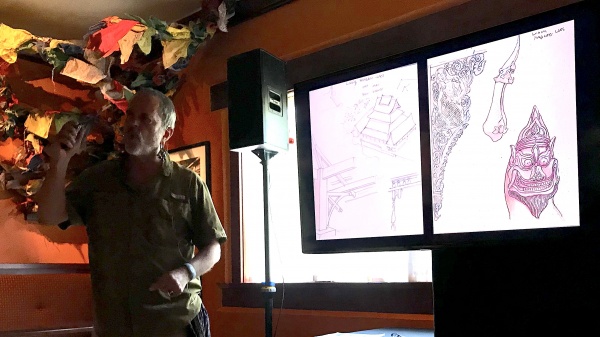 Detailed drawings of buildings by Joe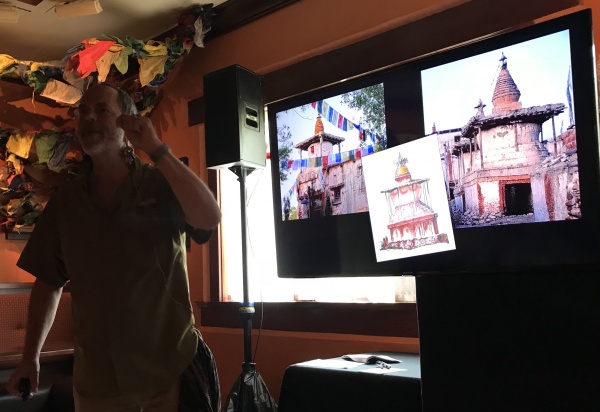 Building in Animal Kingdom versus drawing versus real building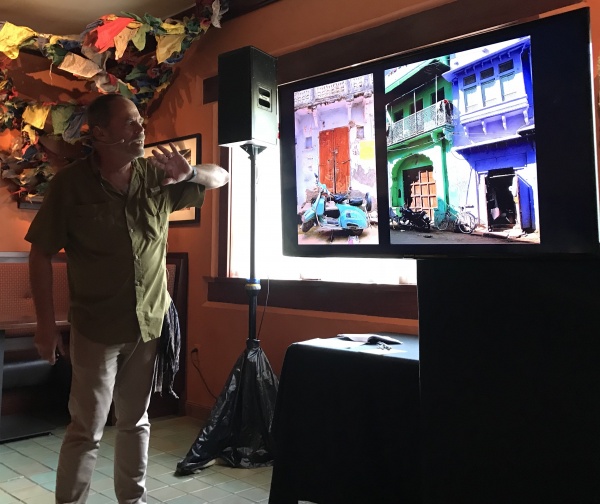 Colorful houses seen during travels
Joe told many stories about his time in each country showing lots of pictures and sketches. He would focus on one region at a time. Then he would break for a food and wine course that coincided with the region the Animal Kingdom creative team traveled. A head chef would come out to describe the food, followed by the wine steward's description of the wine pairing.
The Food!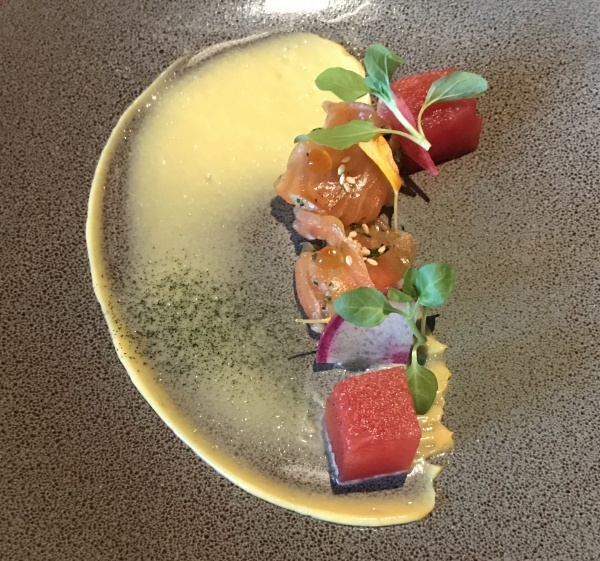 First course – Verlasso King Salmon with Thai chili, seaweed dust, caviar, Kalamansi emulsion, watermelon and radishes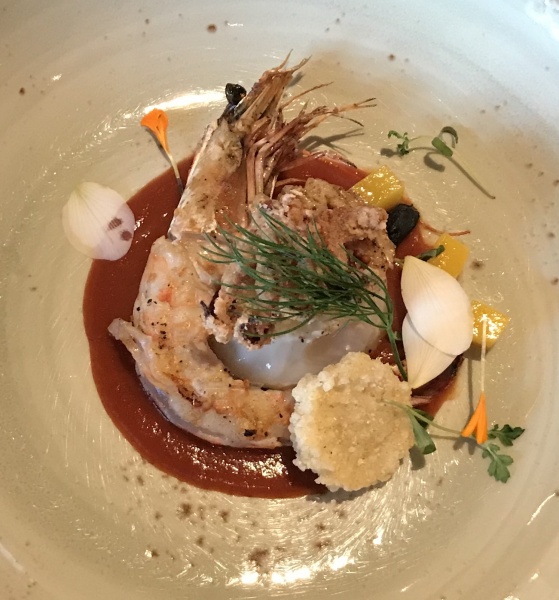 Second course – Vindaloo with scallop, prawn, squid, Jasmine rice, mango and curry leaf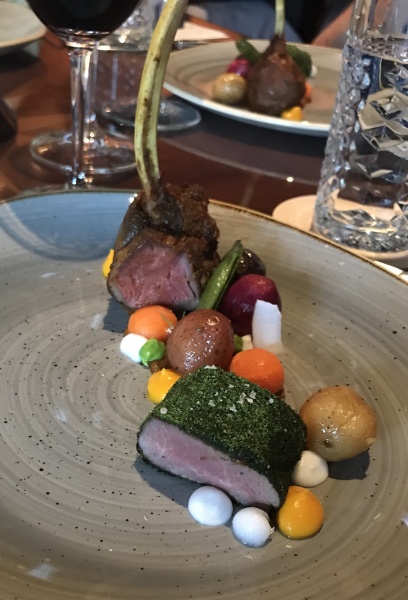 Third course – Gulai Kambing – Spiced-crusted lamb chop, spiced sweet potato silk, pickles, and coconut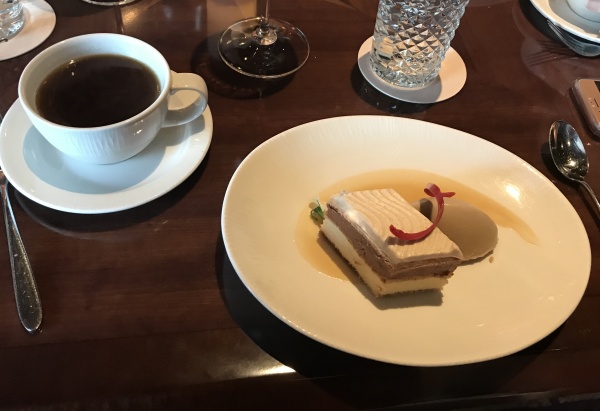 Fourth course – Coffee Cake with cinnamon chiffon, Indonesian coffee ice cream, and Batavia Arrack. Served with Mustang Coffee – coffee, butter, sugar and whisky!
Although the food has a lot of fancy names that I didn't understand, it was all delicious. I don't think you had to be an adventurous eater to like this food.
As people enjoyed their food, Joe would visit a couple of tables to answer any questions. When he visited our table the chef came out to talk, so my table stayed quiet while the chef spoke…unfortunately Joe took this as cue to leave our table, so we didn't have much time with him. But, he was very personable and easy to talk to during the short time we spent with him. Our table used the rest of the time between meals to get to know each other and share Disney stories. I really enjoyed the people at my table (which included another Disney Imagineer that couldn't tell me much about what he was working on) and it never felt awkward sitting with these strangers.
The artists
One of the most interesting tidbits that Joe shared that day was that all of the carved and weaved "statues" through out Pandora and Animal Kingdom are made by people in Indonesia. These artist are not given a blue print, and design documents do not exist. They are just allowed to create.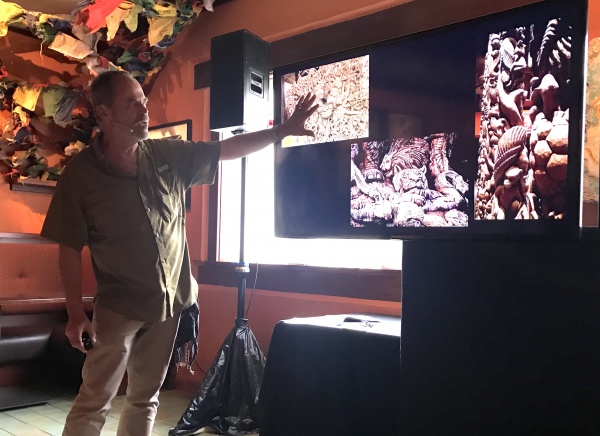 Left picture – carving from Mr. Rohde's trips, Middle picture – Tree of Life at Animal Kingdom. Right picture – totems found in the Grand Gallery room of Tiffins
Joe talking about weaving for Pandora that artists created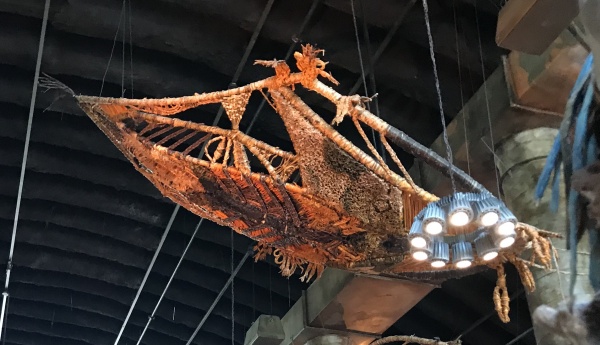 Actual weaving in Satu'li Canteen in Pandora
More weaving in Satu'li Canteen
Mr. Rohde was very down to Earth and told some wonderful stories about his trips. I felt like he was sharing information with his 50 closest friends over lunch. I noticed that even Joe Rohde wears a magic band when visiting Walt Disney World.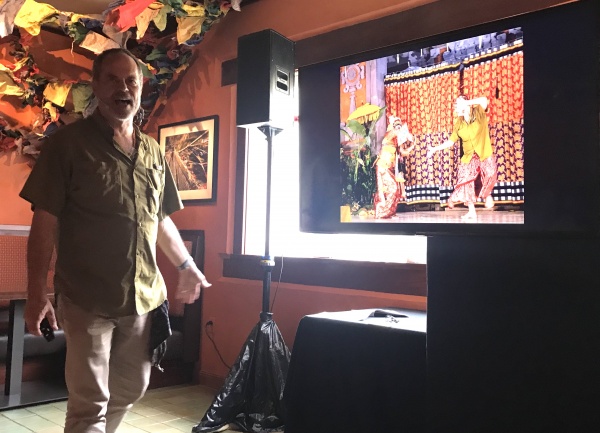 Pictures of Joe participating in a ceremony during travels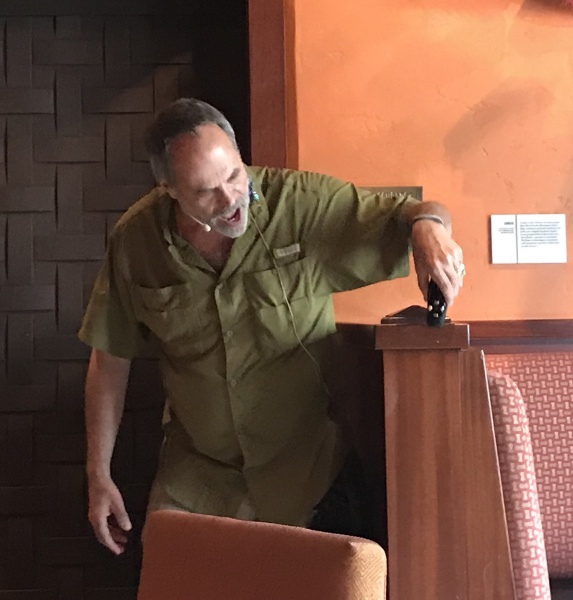 During the Tiffins Talks, Joe was very animated while telling a story about a plane that might not fly
Gifts!
At the end of the meal we were given a gift bag with a copy of the menu, a signed book, signed artwork (Tiffins guests are usually given artwork by Joe at the end of their meal) and a Disney Conservation Fund pin. We were then encouraged to take pictures with Joe and allowed to get other things signed by him before we left.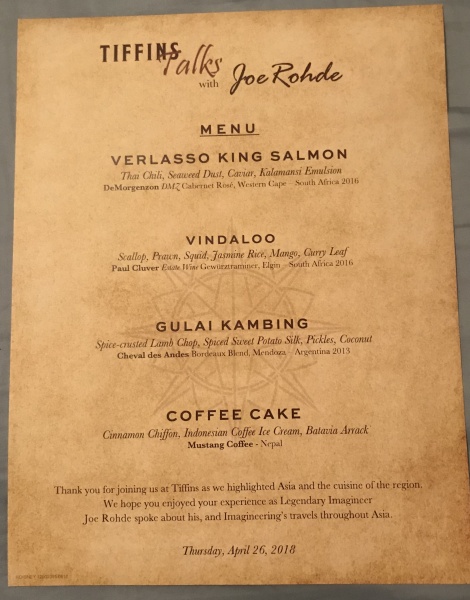 Menu from the Tiffins Talks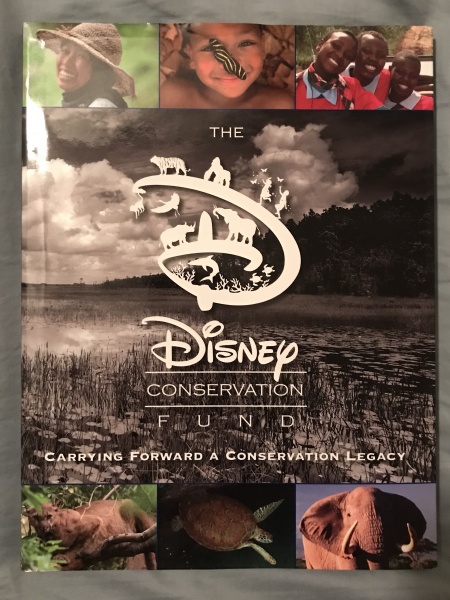 Wonderful book about conservation efforts by Disney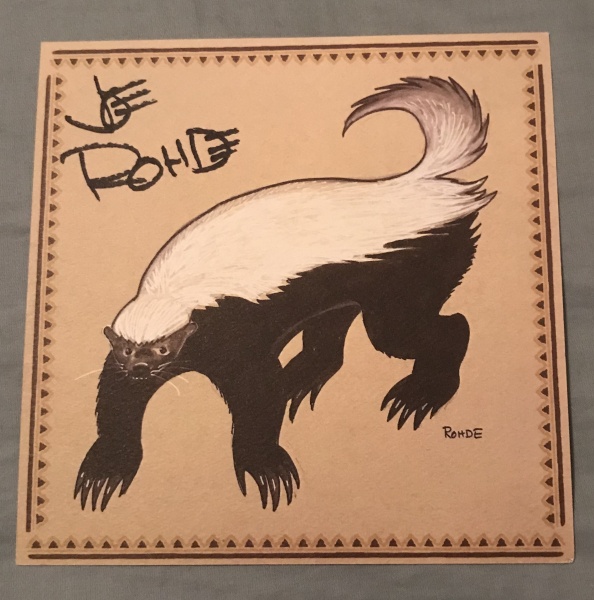 Honey badger artwork by Joe Rohde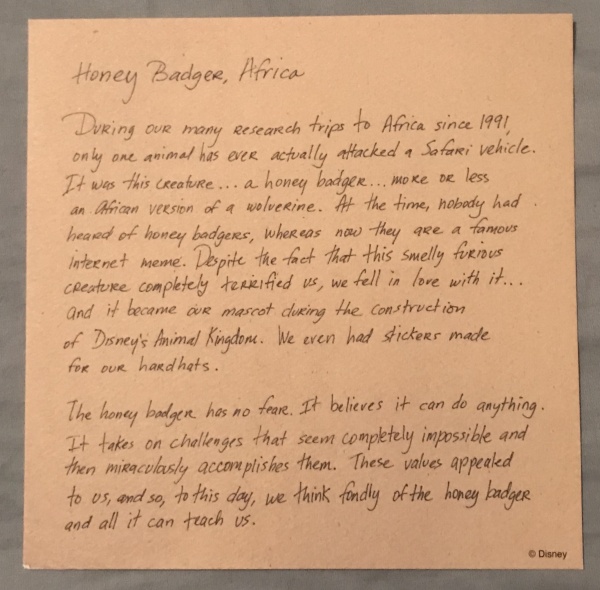 Back of the artwork explaining the significance of the honey badger with the Animal Kingdom creative team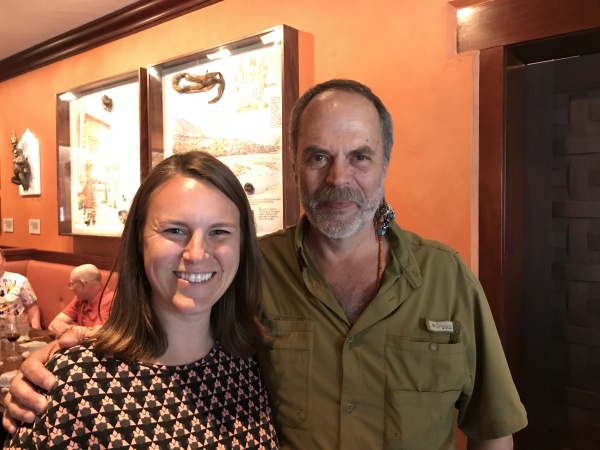 Me and Joe Rohde at the end of the meal and talk
This Tiffins Talks was a great experience with delicious food, informative stories and great company. I would recommend experiences like Tiffins Talks to anyone looking for something "extra" on their trip. Disney also offers Dine with an Imagineer at The Hollywood Brown Derby on most Mondays, Wednesdays and Fridays as well as the first Thursday of every month at Citricos. While every meal will not be with Joe Rohde, you will still be with a Disney Imagineer with lots of insider information and great stories.
Have you ever had an experience like this with an Imagineer? What were your thoughts? Share in the comments, or on Facebook or Twitter.
Did you like this article? Make sure to share it with your friends! Check below for easy ways to share!