This post may contains affiliate links for your convenience. If you make a purchase after clicking a link we may earn a small commission but it won't cost you a penny more! Read our full disclosure policy here.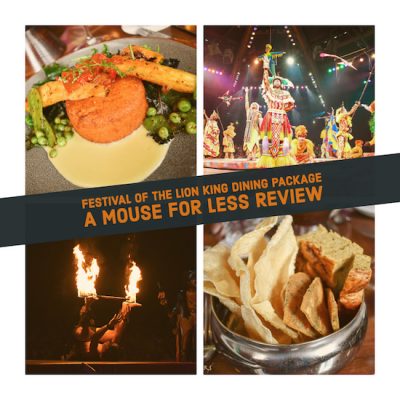 Usually, when Disney announces a new opportunity or experience, I check out the details, check out the price tag, and then quickly wipe it from my memory. However, something about the Festival of the Lion King Dining Package stuck with me after I saw it. At first, it was available for only a short amount of time, but as my trip grew closer, they extended the Festival of the Lion King Dining Package past its initial run, and I was luckily able to get a reservation.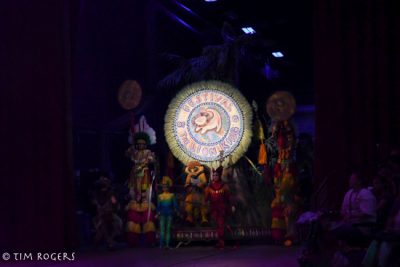 Before I get to my experience, first the basics – The Festival of the Lion King Dining Package pairs a meal at Tiffins with special reserved seating at a performance of Festival of the Lion King and a picture of the cast. If you opt for the top tier, you get upgraded to "VIP" seating at the show and a special ride on Kilimanjaro Safaris immediately after.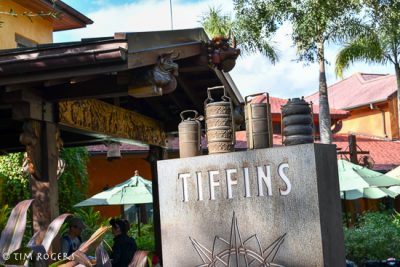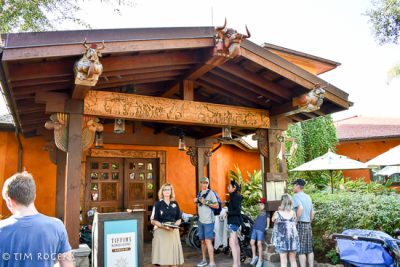 My wife and I had been meaning to try Tiffins, and when looking at the cost of a meal there versus the cost of this package, plus the addition of some new and special experiences, we decided to give it a try.
One quick warning on this – like many of the special dining activities at Walt Disney World, the booking for this is sporadic. I checked in early February and there were only dates through late February. I checked again in late February and there were dates through August. If you are interested in this, and there are not yet dates for your trip, just check back.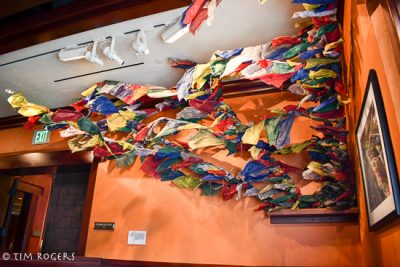 Our reservation for Tiffins was for lunch, so we went there first. Tiffins is the only Signature Restaurant inside of Disney's Animal Kingdom park, and is located on Discovery Island near the entrance to Pandora. The themeing of the restaurant itself is centered on the Imagineers' travels to research world destinations while designing the park. Our host pointed out some of the mementos from those trips as we were seated in the Trek Gallery, including a prayer flag display that inspired the decoration around Expedition Everest.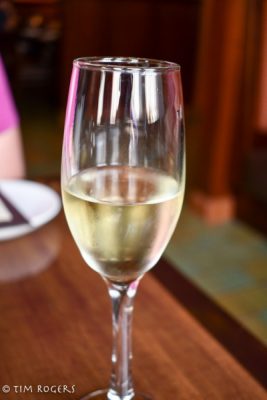 As part of our Festival of the Lion King Dining Package, we were first served a champagne toast as we looked over the menu. After that, the package includes an appetizer, entree, dessert, and beverage (including alcoholic) per person. First to the wine, we both like white wines and selected some based on our taste (and also trying to maximize value, because Disney math), and, showing that you really should always ask, my wife really didn't like her initial selection, so traded it for something else. Both of these were fine, but the main point I would make about wine here is that they have a large list highlighting the same parts of the world that the cuisine does, so feel free to try something new.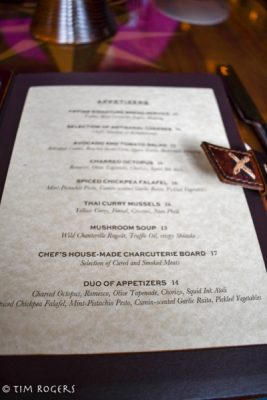 As to the food, we are both vegetarians, so our selections were a little limited. For appetizers, my wife got the avocado and tomato salad, which she said was delicious, and I got the Tiffins Signature Bread Service.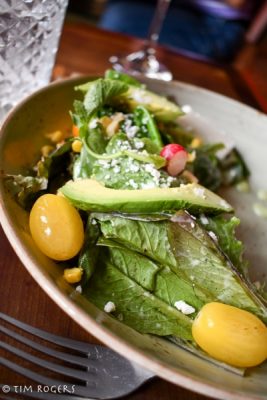 Honestly, I ordered this simply because I always like bread and had recently had falafel (one of the other options), but after having it, I would highly recommend this to anyone visiting. It comes with three types of bread and three dips.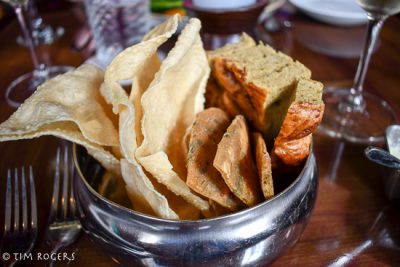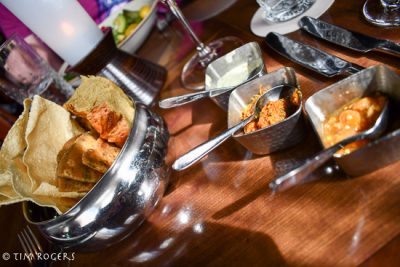 For the breads, it includes the Pomegranate Focaccia Bread, which is also served complimentary with meals, and is delicious and unique. When I got it, the accompaniments were Indian-spiced Tomato Chutney, Spicy Coriander Yogurt, and Apricot Chutney. Really, I enjoyed all of these in nearly every combination and would gladly head back just to have it again. While, of course, I have a place in my heart (and stomach) for the Sanaa Bread Service, which is still the tops when it comes to bread service ratings, as an inside the park experience this was great.
For the entree, the one downside to this meal is that there was only one vegetarian option. One of the major roadblocks for me to try new restaurants in general is a lack of options, but this one sounded like it would be good, and luckily, it was.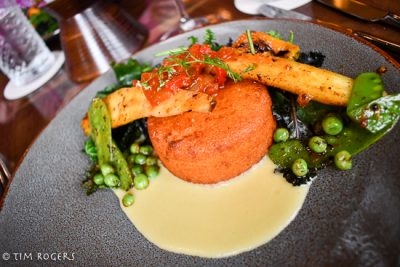 Our option was the "Crispy Sadza," which was described as a Crispy Corn Cake, Chermoula-infused Spring Vegetables, Chakalaka, and Corn Emulsion. This was absolutely delicious and definitely one of the dining highlights of the trip. It was just the right proportions of flavors and textures and we both ate every bite.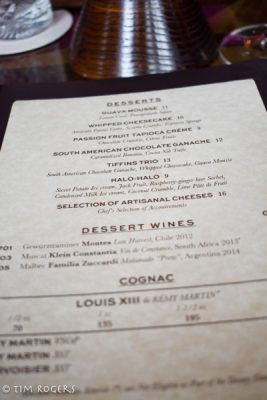 For dessert, I went with the South American Chocolate Ganache with Caramelized Banana, Cocoa Nib Tuile. For me, this was great, but the chocolate flavor was very intense, so if you don't like deep chocolate flavor you might not enjoy it.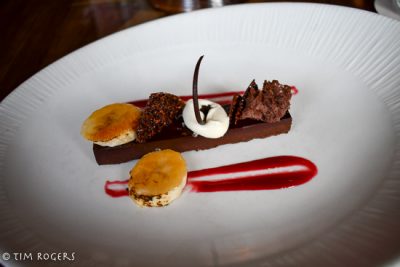 My wife decided on the Tiffins Trio, which contained the South American Chocolate Ganache, Whipped Cheesecake, and Guava Mousse. All of them were tasty and highlighted a whole array of flavors.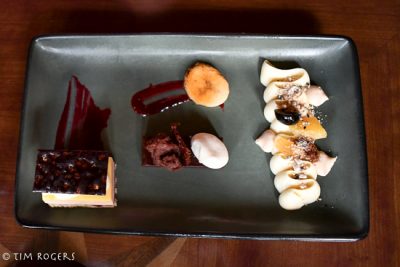 For the meal part of this experience, we both really enjoyed it. On its own, if you have been thinking about giving Tiffins a try, I would say go for it. The one warning is, our dining experience lasted very close to 90 minutes. While we were there, we did see some other tables with kids of varying ages that all seemed to be getting a bit antsy, so just know that going in.
At the end of the meal, we were given lanyards with our VIP seating tickets for the Festival of the Lion King. The showing we needed to attend was not until around 5:00 p.m., so we just needed to arrive at the exit and check in about 30 minutes before the show.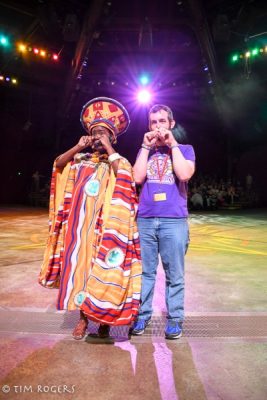 Now, when they said "VIP" seating for the Tier 1 dining package, I had an inkling we would be near the front, I didn't realize that the front would be us by ourselves. In fact, my wife's entire trip was made when I was selected to "teach" the warthog section how to make their sound. Which I…made a sound?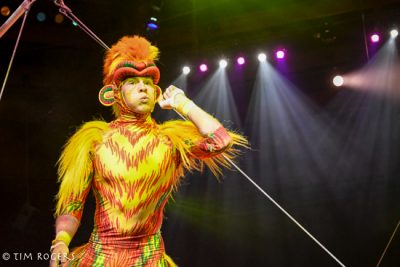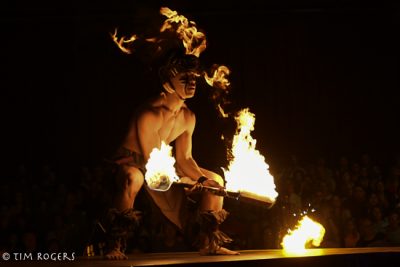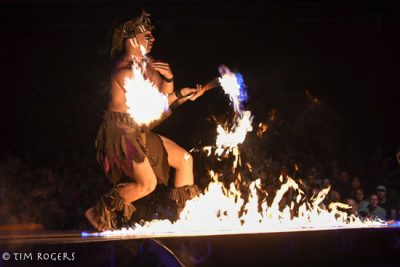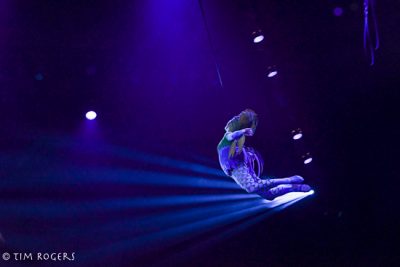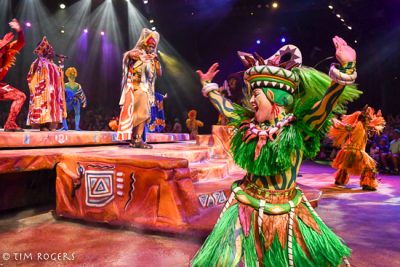 Anyway, I have seen the Festival of the Lion King many times, or so I thought. Being this close was an entirely different experience. When the stilt walkers walked by you could feel the wind coming off their legs, and there are details in the show we had never noticed before.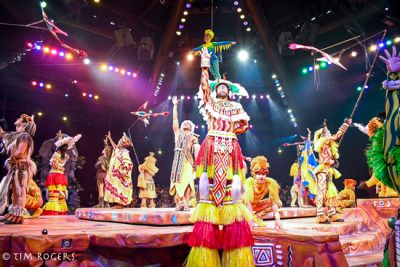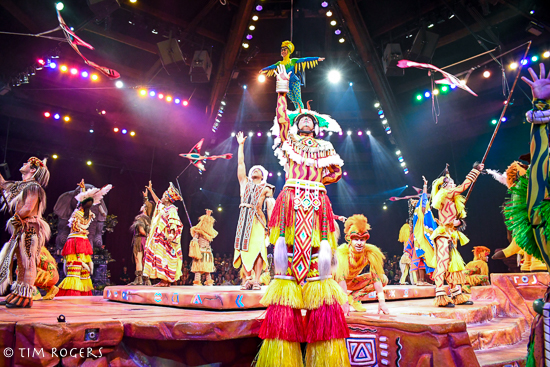 As an indication, this picture was taken at the end of the show, without any zoom at all. You are really right there.
Immediately after the show, we were taken by a Cast Member to meet up with a few other guests and go on a private safari.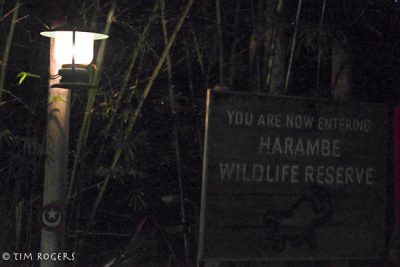 The safari was something we weren't entirely sure how it would work when we signed up, but it was a really cool experience. We had a special truck just for the 7 people in our group and our guide was a Cast Member from the education team, so her focus was talking about the behind the scenes stories and details of the attraction. That was cool in and of itself, but especially since we had never been on a night safari before either.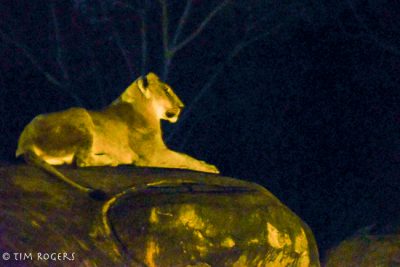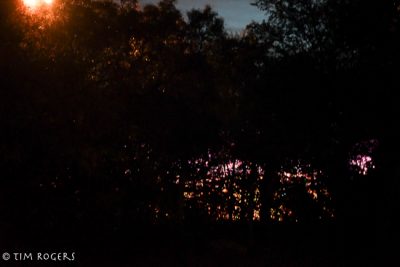 All in all, the Festival of the Lion King dining package is a really unique and exclusive experience. It is pricey, but if you break it down, the Tier 1 package is a signature three course meal with two alcoholic drinks and then the equivalent of two FastPasses, but for experiences you can't get any other way. For what you are getting with the Festival of the Lion King Dining Package, it really isn't a bad value, and for the difference in price between Tier 2 and Tier 1, I would recommend anyone thinking about doing this to just go for it and get the Tier 1. Great food, a great show, and a great experience – it's the magic of Disney World all in one.
Have you participated in the Festival of the Lion King Dining Package? What were your thoughts? Share your thoughts in the comments below or on Facebook or Twitter!
Did you like this article? Make sure to share it with your friends! Check below for easy ways to share!
Want to visit Walt Disney World? Contact The Magic for Less Travel for more information and a free, no-obligation quote.

Incoming search terms:
https://www themouseforless com/blog_world/the-festival-of-the-lion-king-dining-package/