This post may contains affiliate links for your convenience. If you make a purchase after clicking a link we may earn a small commission but it won't cost you a penny more! Read our full disclosure policy here.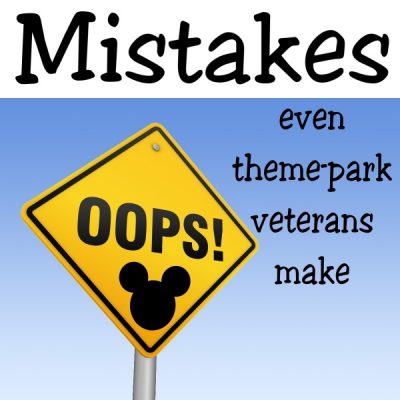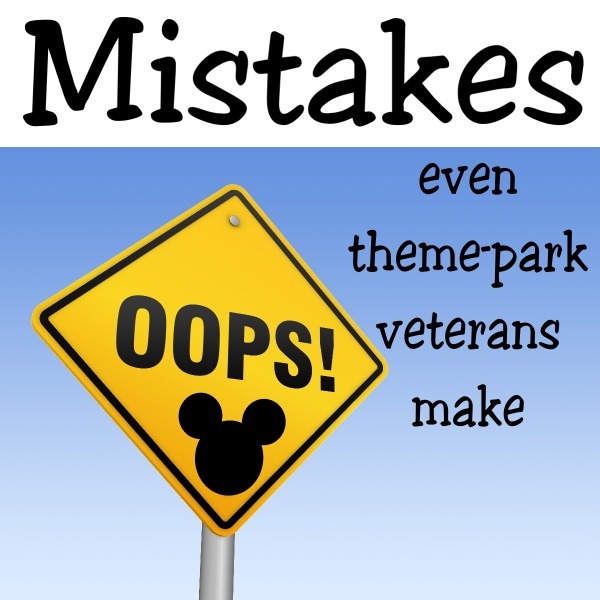 I'm not one to brag, but I have spent a lot of time in theme parks like Disneyland, Disney World, Six Flags, Knott's Berry Farm, etc. over the years. I can repeat the Matterhorn unloading spiel in both languages, detail alternative places to watch the Magic Kingdom fireworks, and explain why I always arrive early.
But mistakes were made. And not just when I was young or less-experienced. Everything I'll point to today happened to me in the past 10 years, after multiple visits to each theme park. These are 10 of the what-was-I-thinking-I-should-know-better mistakes even theme-park veterans make.
1. Didn't check the theme park hours. I was up, showered, out the door, and 10 minutes into my drive from a local relative's house to Disneyland when I felt like something was amiss. I pulled over and quickly checked my notes. Sure enough, I had planned for an 8 AM opening instead of the 9 AM reality. If I had continued, I would have lingered outside the Mickey and Friends parking structure for up to an hour! Instead, I drove back and ate breakfast before trying again.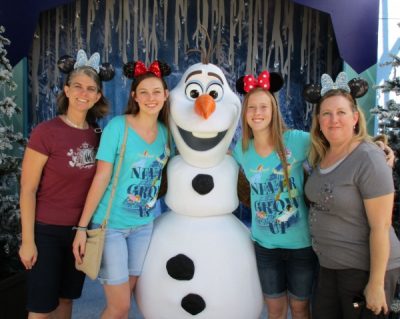 Did we look fab? Yes. Were we on time? No.
2. Imagined four women could get out the door in less than an hour. One hotel bathroom, two teen girls and two adults, all low maintenance — it could happen, right? Spoiler alert: it did not happen. It's just not enough time to shower, dress, collect everything, and walk away. No matter how well you plan, there are minimum rules of time and space that you can't overcome. Give yourself plenty of margin so you're not berating yourself or others.
3. Took a 4-year-old on Mr. Toad's Wild Ride for her first attraction. The line was soooo short compared to what we could see building up at Dumbo, it seemed like a great idea. Maybe great for time, but not for fear. She was scared of the ominous line leading to the ride and practically in tears boarding the ride vehicle. After that opener, it was hard to coax her into any kind of dark queue the rest of the day. Now when introducing young children to theme parks, I'm careful to make their first few rides easy, positive experiences.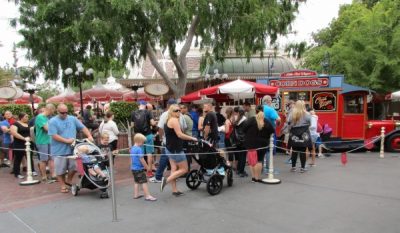 This isn't a line for a ride, it's for a corn dog. And you can't see the end of the line in this photo.
4. Ate at noon. This is probably one of the most common mistakes even theme-park veterans make. Surprise — I get hungry right about the same time as 10,000 other guests. And then we all get in line for food. And wonder why it takes so long. When I'm not hangry and thinking straight, I try to eat a large mid-morning snack and then a very late lunch. Or I snack around Disneyland the whole day! Also, mobile order has helped avoid the line, whatever time I show up.
5. Tried to take the train during the afternoon parade. My longest line one hot day was for the railroad. Why? The parade crosses the train tracks (in both Disneyland and Magic Kingdom), delaying the train's arrival and backing up the queue. Firework crowds and other entertainment have also stranded me on the opposite side of the park from my FastPass. Now I try to pick a slice of the park to occupy during peak entertainment hours and not get stuck.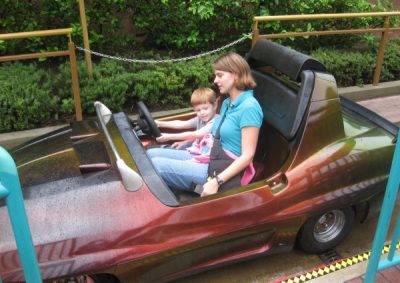 6. Rode Autopia in the rain. Some rides close for inclement weather. Others stay open, but can become a very different experience. Autopia isn't my favorite ride to start with, but letting a 4-year-old careen me around the track while being pelted by raindrops ranks up there on the frustration index. Same with an outdoor rollercoaster in the bitter cold. The ride line may be very short for a reason!
7. Left a child in a gift shop. I was pretty proud of myself for never losing a child in a theme park … until I did. It wasn't for very long and she was old enough that I didn't freak out too much, but parties get separated every day. With ride exits not being obvious, multiple ways to leave a bathroom or gift shop, miscommunication, etc. it's good to have a backup plan for when the inevitable happens. And I still count noses every time we move locations.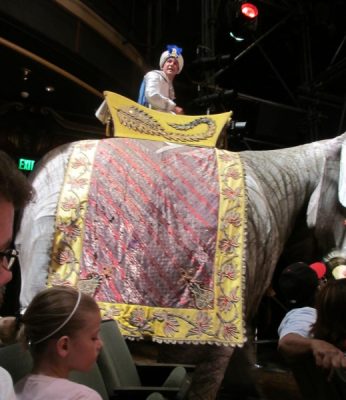 The Aladdin stage show at Disneyland was amazing — if you weren't Frozen during it
8. Shivered in air-conditioning while soaked from a water ride. Sadly, I've done this multiple times. I enjoy the Kali River Rapids, Splash Mountain, etc., then wonder why I'm getting hypothermia indoors at a restaurant or show. It would be better to bring a poncho or plan some outdoor time to dry out after getting wet. And don't do the raft ride right before it gets dark!
9. Sat in the worst seat on a great attraction. I've been on Big Thunder Mountain at least 100 times, so why don't I speak up and ask for a seat in the back when I know that's what I'd prefer? Same with requesting section B1 on Soarin'. It might take an extra cycle, but to me it's worth it to have the best experience. Don't be afraid to ask — the worst the Cast Member can say is no!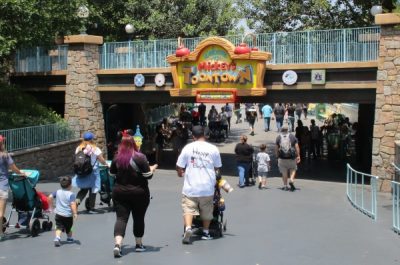 Disneyland's ToonTown closes at dusk. There's a sign, but most guests miss it.
10. Didn't check hours for an attraction. Certain places keep different hours than the rest of the park. They open late (like snack bars, shows, or Epcot's World Showcase) or close early (like Rafiki's Planet at Animal Kingdom, restaurants, and Disneyland's Toontown). They might be unavailable before, during, and after a fireworks display. The apps can help you verify the operating times for any attraction or eatery that day — it's always best to check.
No matter how many times you visit, it's likely you'll also fall victim to mistakes even theme-park veterans make. The trick is to make different mistakes during your next visit and help others avoid those choices!
What are some of the mistakes that you've made during your Walt Disney World or Disneyland vacation? Share with us your thoughts in the comments or on Facebook or Twitter!
Did you like this article? Make sure to share it with your friends! Check below for easy ways to share!  
Want to visit a Disney Destination? Contact The Magic for Less Travel for more information and a free, no-obligation quote.