This post may contains affiliate links for your convenience. If you make a purchase after clicking a link we may earn a small commission but it won't cost you a penny more! Read our full disclosure policy here.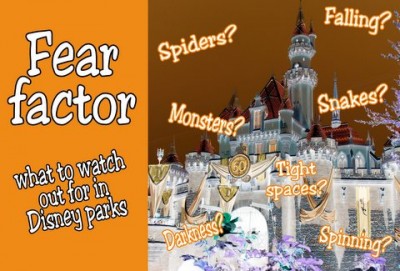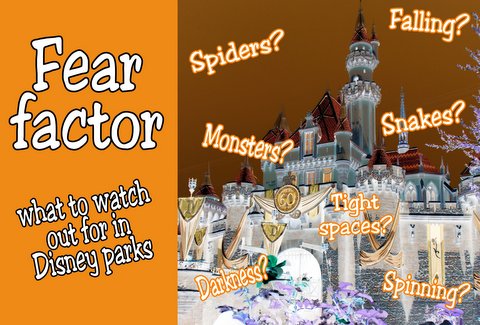 Sweaty palms. Hairs standing on end. The desire to flee. Feeling dizzy. Theme park rides are designed to give us thrills, but what if the fun collides with our fears? When the cold sweat isn't from the weather outside, know when to avoid a ride, and how to prepare traveling companions for what you might run into.
Disclaimer: We'll try to cover some common fears and places at Disneyland you might find them. It's by no means a comprehensive list. The Mouse For Less has no liability of a spider pops up somewhere we didn't warn you about!
Fear of snakes — Ophidiophobia
Attractions may include: Indiana Jones Adventure, Jungle Cruise, Aladdin musical, Big Thunder Mountain. The size/proximity vary greatly — from the rattler you whiz by on Bug Thunder to the menacing snake on Indiana Jones.
Fear of spiders — Arachnophobia
Creepy-crawly attractions: Indiana Jones Adventure, It's Tough to be a Bug. Frankly, all of It's Tough to be a Bug will be difficult if you have insect-related concerns.
Fear of heights — Acrophobia
Worst attractions: Tarzan's Treehouse, Splash Mountain, Flik's Flyers, Tower of Terror, Screamin', Mickey's Fun Wheel, Goofy's Sky School, Jumpin Jellyfish. Soarin' and Peter Pan give the illusion of height but don't get far off the ground. While any attraction that leaves the safety of the earth could scare some, these are the most exposed.
Fear of monsters/skeletons/ghosts (no specific term)
Attractions include: Pirates of the Caribbean, Haunted Mansion, Matterhorn, Tower of Terror, Indiana Jones Adventure, Pirate's Lair on Tom Sawyer Island, Snow White's Scary Adventures, Space Mountain (Ghost Galaxy version), Monsters, Inc. Mike and Sully to the Rescue. This a wide-ranging group of fears that apply to different rides depending on what scares you!
Fear of enclosed spaces — Claustrophobia 
Attractions: Finding Nemo Submarine Voyage, Casey Jr. Circus Train (enclosed cars). Other rides' restraints — like on Screamin' — might also trigger the "trapped" feeling that comes with claustrophobia.
Fear of the dark — Nyctophobia 
Very dark attractions include: Indiana Jones Adventure, Haunted Mansion, Splash Mountain, any of the Fantasyland dark rides, Space Mountain, Tower of Terror, It's Tough to be a Bug. The duration and peril of the darkness varies widely. *Some attractions' queues honestly feel darker than their rides.
Spinning
Attractions that revolve quickly: carousels, Roger Rabbit's Car Toon Spin, Dumbo, Mad Tea Party, Astro Orbiter, Ladybug Boogie, Flik's Flyers, Mater's Junkyard Jamboree, Silly Symphony Swings, Golden Zephyr. While perhaps not a psychological fear, if this motion troubles you, you'll want to know which rides could make you nauseated. Luckily most of these are obviously presented.
Fear of costumed characters — Maskaphobia
Areas to watch out for: character meals, Jedi Training Academy (Darth Vader), parades, Fantasmic. Most up-close character interactions can be easily avoided. Disney character performers are very good about not approaching a child that seems fearful.
Strategies: For these or any other phobias or concerns, research is your best friend. Watch ride-through videos on YouTube. Talk to friends who have been to Disneyland. The Disneyland website attractions page allows you to filter by thrill level to avoid loud, scary, big drops, etc. Consider riding an attraction before taking a fearful friend (big or small). And never force someone to participate if they feel uncomfortable — it's supposed to be fun!
Would you add any Disneyland attractions to this list?
Incoming search terms:
https://www themouseforless com/blog_world/fear-factor-preparing-phobias-disneyland/
https://www themouseforless com/blog_world/fear-factor-preparing-phobias-disneyland/#:~:text=Other rides restraints — like on feeling that comes with claustrophobia &text=Very dark attractions include: Indiana Tough to be a Bug