This post may contains affiliate links for your convenience. If you make a purchase after clicking a link we may earn a small commission but it won't cost you a penny more! Read our full disclosure policy here.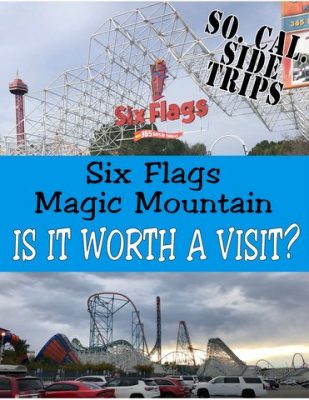 Does your Disneyland trip need more speed? Does the thought of riding a roller coaster standing up, laying down, or spinning leave you breathless, but in a good way? If so, you may want to make Six Flags Magic Mountain part of your Southern California vacation.
Some of you roller coaster junkies have already said, "I'm in!" For the rest, here are some thoughts about whether Six Flags Magic Mountain is right for you, and how to make the most of your visit.
Deciding whether to go
Will you also be visiting attractions in Los Angeles before or after Disneyland? Do you have a car? Answering "yes" to both of these questions puts you a lot closer to a Magic Mountain visit. Do NOT make the mistake of trying to do it as a day trip — that 60-mile distance on Google Maps could easily take you two hours, each way. I would recommend staying in the Magic Mountain area or doing it as a day trip from a Los Angeles or Universal Studios base.
Have you been to other Six Flags theme parks?  Six Flags operates more than a dozen theme parks in North America. If you have one near your home, you know what you're getting. You may even have a pass that would work at both your home park and Six Flags Magic Mountain. But if you have a park nearby — with many of the same cloned rides — you may decide your Southern California vacation time is better spent elsewhere.
What is your thrill tolerance? I'd judge Walt Disney World's most intense attractions to be the level of Six Flags Magic Mountain's least intense rides. If you won't go on Rock 'n' Roller Coaster or Expedition Everest, you aren't going to like very many rides at Magic Mountain. On the other hand, if you have teens or young adults looking for bigger thrills, this may be a great choice.
How tall/brave is your smallest travel partner? If you have a child shorter than 48 inches, they will not be able to ride any of the thrill rides. The Looney Tunes kids' section is simply off-the-shelf carnival rides with a cartoon name. The few rides in between also have 42-inch height requirements. The park has no organized rider swap that I could see. So save yourself from a frustrating trip — consider Legoland in San Diego.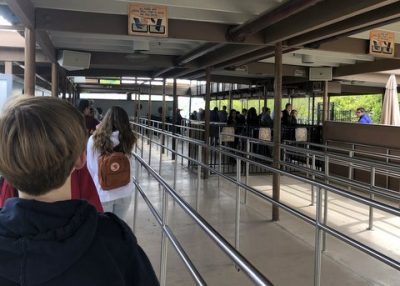 The entire queue for Twisted Colossus, one of the park's newer rides, an hour after park opening
Buying tickets
Can you go on a weekday? The crowd-level swing between a weekday when Southern Californians are in school and a weekend or vacation day is enormous. Even during "uncrowded" times in a Disney park, you'll still wait an hour for headliners. At Six Flags Magic Mountain, that span could range from five minutes on a slow day to two hours on a busy summer day or holiday. Choose wisely.
Buy online. Like many theme parks, Six Flags offers discounts for purchasing online in advance. Buying tickets online even one day ahead nets you a savings of $15-30 under gate price. You can also purchase your $25 parking pass with your tickets online. If you think you would go for more than one day, or to another Six Flags park in the next year, check out annual passes that get you into multiple parks.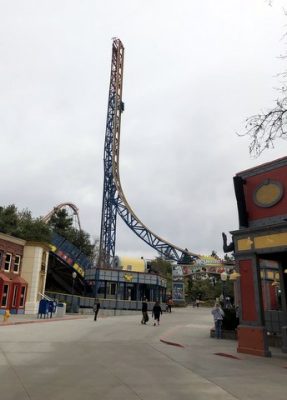 Superman launches you from a horizontal start (right of photo) up to vertical and back again
Check the park hours. If you're used to rope-dropping EMH at 7:00 a.m. in a Disney park, Six Flag's usual 10:30 a.m. opening will either thrill or horrify you! And in the off-season, the park may close as early as 6:00 p.m. Good news: you should be able to do everything your roller coaster heart desires in those short hours.
Watch the weather. While Six Flags Mountain is now open almost every day of the year, it does occasionally close for rain. Know before you go that almost everything is outside — attractions, ride lines, eating areas, etc. Magic Mountain is inland and can be much warmer than Orange County or coastal Los Angeles in the summer. If extreme weather would make you miserable, wait until the short-term weather forecast before buying tickets, or have a plan B.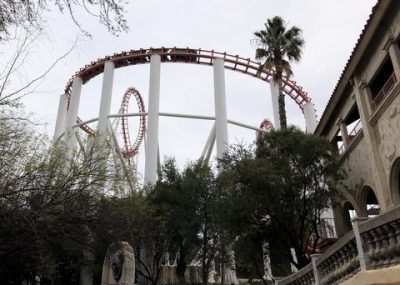 The Viper will rattle your teeth!
During your visit
Arrive early, but not painfully early. On a busy day, try to arrive at the parking lot a half-hour to an hour before opening. For a slower day, a half-hour should be plenty. You will have the usual bag check and metal detectors to go through.
Get a map. We downloaded the official park app but didn't find it much help. It will list wait times in the afternoon but they were usually not very accurate. Ye olde paper copy worked better and didn't use any data.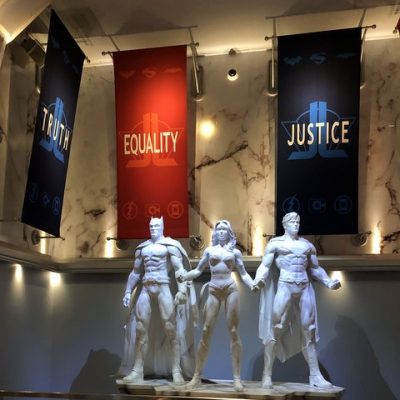 The superheroes in this park are all from DC Comics
Eyes on the coasters. On your way in and while waiting at the gate, see which coasters are running test trains. If they are at that stage before opening, you can probably ride right away. But even with a 10:30 a.m. opening, don't be surprised if several rides aren't quite ready at rope drop — the first two coasters we ran to were still testing. We rode another thrill ride in that area of the park and watched to see when each coaster had people on it.
Don't expect Disney. All of the ride operators and vendors we encountered were pleasant and safety-conscious. But Six Flags isn't maintained and run like the Disney parks. Many rides were only running one train with no explanation. Lines are unthemed and very few had a worker at the entrance of the ride to answer questions or check heights. If you come to Magic Mountain, you come for the roller coasters, not the "happiest place on earth" feeling.
Ride strategies for Six Flags Magic Mountain
Which lines get long? As usual, the culprits for lengthy waits are the newer rides and the slow loaders. We waited longest for Superman (only running one car of 14 people at a time) and X2 (only cycling one train). Most other rides on our cool-weather spring weekday took no longer than three or four ride cycles — we usually walked right on to the loading dock.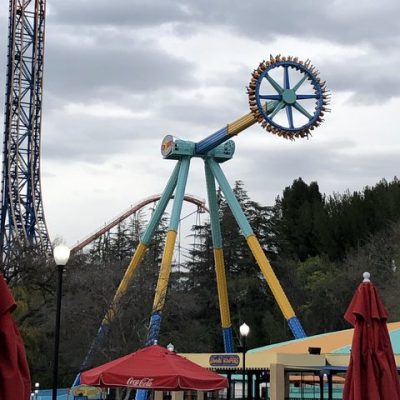 Am I crazy or is this insanity? No, this is Crazanity.
Pace yourself. Unless your day job is "astronaut," most of us don't regularly subject ourselves to the G-forces and extreme rotations found at Six Flags Magic Mountain. There's a temptation with short lines to run around and ride repeatedly. You'll have a happier day overall if you stay hydrated, stop to have a snack (they even have Dole Whip!) and take your time.
No ride locker needed. All of the larger rides have $1 ride lockers at the entrance. You really won't need them. If you're a trusting soul, you can leave your backpack, purse, or hat across the platform instead. (Editor's Note: While I haven't been to Magic Mountain, I have been to our Six Flags here in Georgia. Here, while at some attractions you can leave a bag at the station, at others, you will have to put your bag in a paid locker at the entrance of the attraction. My tip is do not carry a bag with you at all, if possible.) With these ride intensities, phones are really only safe in enclosed pockets.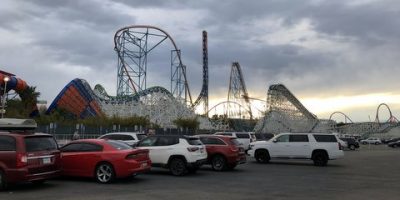 There are FIVE roller coasters (and one waterpark ride) in this picture alone
Best ride, in my opinion. Twisted Colossus wins. They took the Colossus of my nostalgic youth, retracked it, and turned it up to 11. Also awesome: Crazanity, Full Throttle, and Justice League (a shooter ride akin to Toy Story Mania). Tatsu — where you ride laid flat facing downward — scared me but was amazing. West Coast Racers is a new attraction coming later this year.
If you are looking for a day of thrills, Six Flags Magic Mountain will meet your screams-per-hour quota. It is an exhilarating place with enough coasters to satisfy any adrenaline junkie. If all of this sounds like fun, consider making it part of your Southern California vacation.
Have you visited Six Flags Magic Mountain before? What were your thoughts? Share in the comments below or on Facebook or Twitter!
Did you like this article? Make sure to share it with your friends! Check below for easy ways to share!
Want to visit California? Contact The Magic for Less Travel for more information and a free, no-obligation quote.