This post may contains affiliate links for your convenience. If you make a purchase after clicking a link we may earn a small commission but it won't cost you a penny more! Read our full disclosure policy here.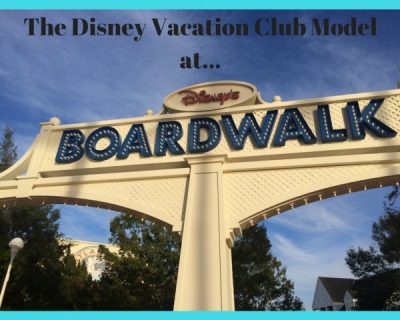 Welcome to the Boardwalk!
My parents are now Disney Vacation Club members, and I've been able to stay at a DVC unit at the Polynesian Village Resort. In addition, I blogged about my parents' DVC unit at the Grand Californian Hotel. I've also taken a tour of the model Aulani unit. And years ago, we rented DVC units at the Beach Club Villas.
On a recent trip to Walt Disney World, my family and I found ourselves on the Boardwalk and decided to stop in to the DVC Center there. We were able to tour a model DVC unit for the Boardwalk.
First of all, can I tell you how much I love the view from here? I love gazing across Crescent Lake and seeing the Beach Club and the Yacht Club in the distance, with Spaceship Earth peeking at us from behind.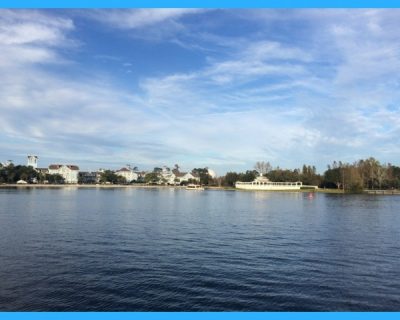 The view across Crescent Lake from the Boardwalk
First, we toured the master bedroom, which includes a king sized bed and features lovely artwork from turn of the century boardwalks. I like the geometric patterns on the bedding.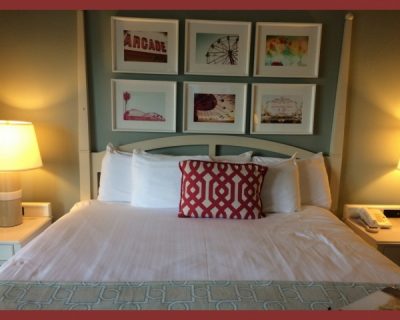 The master bedroom
Next, we visited the master bathroom, which includes a whirlpool tub. Standard Disney toiletries were on display. I'll bet a soak in that tub after a long day of park touring is heavenly!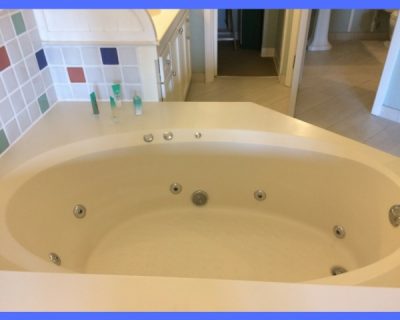 I wanted to get right in and take a bath!
Nearby is the toilet, sink, vanity and shower. It's nice that this isn't in the same area as the tub, since it will allow more than one person to get ready in the morning. The colors on the wall remind me of the exterior of the Beach Club.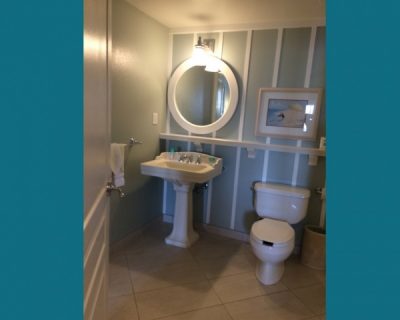 Separate shower, toilet, sink and vanity area
Next is the living area, which features a sleeper sofa. More photographs of seaside amusement parks are on display here. Bright pillows pick up the colors from the photographs.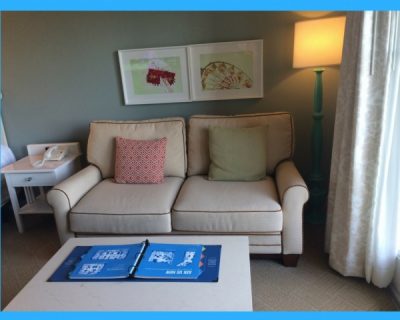 Living room
The kitchenette area looks very similar to those we had in the Studios in both the Grand Californian and the Polynesian, although this appeared to have more counter space. A coffee maker with a small supply of coffee, a microwave, kitchen towel, dish soap and sponge were included.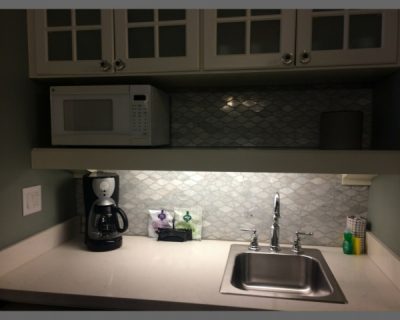 The kitchenette
I appreciated the ability to see what the Villas at the Boardwalk look like, since this is one resort we've never stayed at. The décor is bright and inviting, there is a lot of space, and I'd love to stay in an actual unit someday.
Would you like to stay at the Villas at the Boardwalk? Share your thoughts in the comments or on Facebook or Twitter.
Did you like this article? Make sure to share it with your friends! Check below for easy ways to share!