This post may contains affiliate links for your convenience. If you make a purchase after clicking a link we may earn a small commission but it won't cost you a penny more! Read our full disclosure policy here.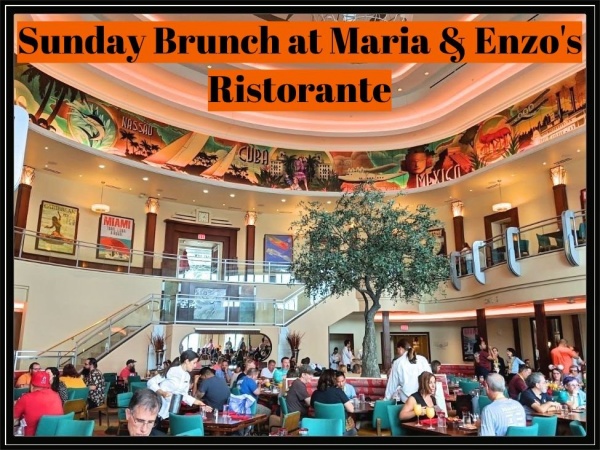 Looking for brunch at the Walt Disney World Resort? I recently made a visit to Disney Springs to check out the Sunday brunch offerings at Maria and Enzo's Ristorante. This was my first time and I was excited to try it!
With so many new restaurants opening at Disney Springs recently, it took me a while to finally make it over to Maria and Enzo's. I always look for good brunch options after a runDisney race, so Wine and Dine weekend seemed like a great time to check it out. They were also offering 25% off for runners that weekend, making the decision a no-brainer.
Pro tip: If you participate in runDisney events, be sure to take a look at your event guide. All kinds of discounts are offered for runners on race weekends. You'll find those in the "virtual goody bag" section of the guide.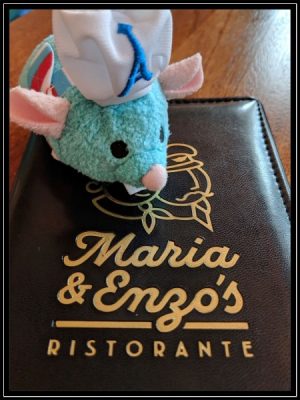 Brunch is available at Maria and Enzo's on Sundays only. I would recommend making an advance dining reservation if you plan to visit. Currently, reservations are available through the Disney website and Open Table. I made a reservation online ahead of time and it was a good thing I did. When we checked in for our reservation, they were turning away everyone who walked up without one.
I expected the place to be packed when we walked in, but only the main dining room was being utilized. I am not sure if this is always the case, but while the main dining room was full, there was a side room that sat completely empty. The upstairs was also empty, but I suspect that this is because the buffet is downstairs. Carrying plates of food up and down stairs would not be fun or practical.
The restaurant has a 1930's airline terminal theme with high ceilings and large windows. The Characters in Flight balloon is right outside the windows, so you can watch it travel up and down while you eat (unless it is a windy day). You also have a nice view of the water. Overall, a very pleasant ambiance.
The restaurant itself is lovely, but we are here to eat! So, let's move on to what matters most, the food! The lunch and dinner entrees are Italian, but of course, brunch is a bit different. I would call this brunch with an Italian twist. The menu seems to have been tweaked some since I visited, but the main menu items that we tried seem to have remained the same.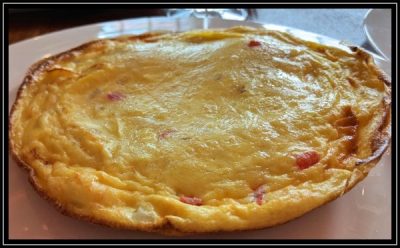 The meal starts with a pastry basket containing croissants and muffins. These were good, but I was more interested in my entrée and what the buffet had to offer, so I only ate a bite or two of these. The buffet had a variety of meats, cheeses, and salads. I started out with a little of everything. I also ordered a bellini, which I enjoyed very much.
For my entrée, I chose the French toast while my friend opted for the frittata. We ended up sharing both items. The French toast, topped with berries and fresh whipped cream, was delicious. I would order this again. The frittata was ok. It was very fluffy, but mostly just eggs with a few veggies mixed in. It was good, but nothing to write home about.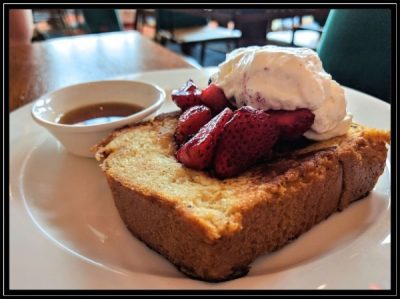 The highlight of the meal was the chocolate fountain. I hadn't seen a chocolate fountain since a wedding I attended about 10 years ago! There were several items available for dipping: strawberries, marshmallows, brownies, cookies, rice krispy treats, and cheesecakes. I liked the mini cheesecakes the best even though I had to drizzle chocolate over them instead of dipping. Dessert was a lot of fun!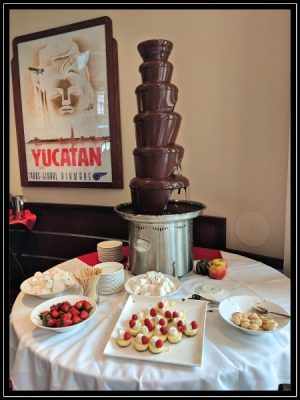 The adult price for brunch is $35. At the time that we visited, they were offering unlimited Bellinis for $10. It seems that this is no longer offered, but a single Bellini or mimosa is $5. Still a great price.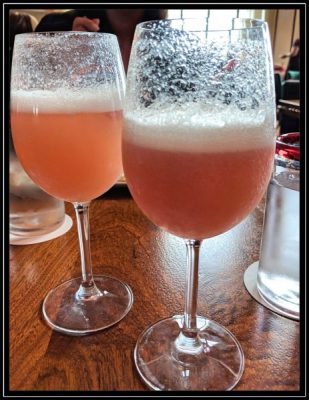 Would I go back to Maria and Enzo's for brunch? If I was specifically looking to eat at Disney Springs, I might. However, I would have a hard time passing by Art Smith's Homecomin' because it still remains my favorite brunch at Disney Springs. Also, with so many great options on Disney property in a similar price range, restaurants like Boma and The Wave are hard to beat. Maria and Enzo's was tasty, but like me, you may find that there are better brunch options available.
Have you tried brunch at Maria & Enzo's? What were your thoughts? Share your experience in the comments, or on Facebook or Twitter!
Did you like this article? Make sure to share it with your friends! Check below for easy ways to share!
Want to visit Walt Disney World? Contact The Magic for Less Travel for more information and a free, no-obligation quote.