This post may contains affiliate links for your convenience. If you make a purchase after clicking a link we may earn a small commission but it won't cost you a penny more! Read our full disclosure policy here.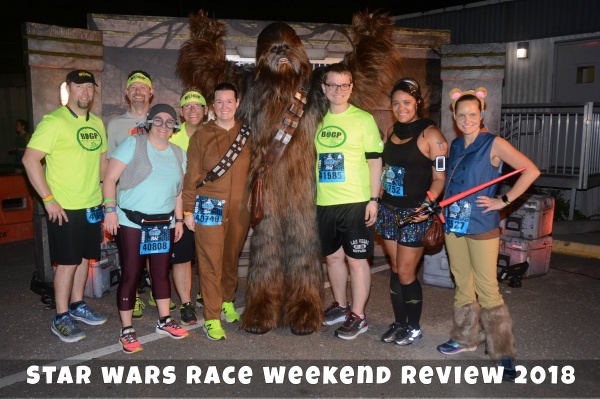 Expo
Every race weekend begins with the race expo at ESPN Wide World of Sports.  This is where participants pick up their race bibs and shirts along with clear gear check bags.  All participants must present a signed race waiver and a photo I.D. to pick up their items.
I arrived late Thursday afternoon and went straight to the expo.  In the HP Field House, I had to visit three different booths to pick up my bibs for the 5k, for the First Order Challenge, and my wristband used for getting my runDisney Kessel Run Challenge which involved running both the Star Wars Virtual Half Marathon and completing the Dark Side Half Marathon.
Afterwards, I ventured to the Visa Athletic Center for my race shirt pick-up where I left with four different shirts (one for each of the races plus an additional shirt as a First Order Challenge participant).  I love that all the runDisney volunteers are helpful about pointing people in the right direction, answering questions, and making sure that you have everything that you need.  As an experienced runDisney participant, I didn't have questions, but there were still plenty of volunteers are the ready to help anyone who needed it.
I also appreciated that change in the setup this year as a person who doesn't buy any of the race merchandise.  runDisney merchandise was located in the Arena and allowed those of us who didn't want to venture into the craziness that can be the runDisney merchandise area to avoid that area.  In past years, you've been funneled through that area to pick up items whereas this year it was in its own area.
One experience that I found different compared to other runDisney weekends was the opportunity for multiple photo ops at the expo.  Throughout the buildings, and even outside there were opportunities for several different Star Wars related photographs.  My personal favorite was the scene from the upcoming movie Solo: A Star Wars Story.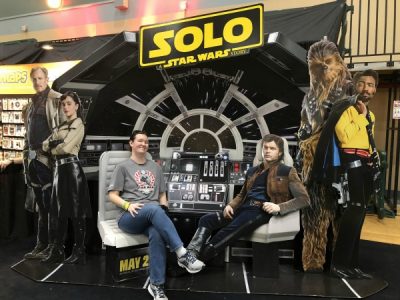 5k Review
Friday morning brought the 5k which was where the smallest number of runners for the weekend compete in this family friendly event.  Arriving on the first bus which departed at 3:30 a.m. from the resort allowed time for pre-race photographs.  Arriving in the EPCOT parking lot this early in the morning allowed for plenty of time to take pre-race pictures with the various characters that were setup there.  Since I knew I had all three race mornings to look forward to for pictures, I wasn't picky about which characters I got pictures with each morning- except for wanting to make sure that I got a picture over the three days with all the characters.
After that, I was able to get pictures with others to fill the time as a party like atmosphere started to take over the pre-race area.  I also had the opportunity to meet up with several of my friends from my running group.  Seeing and then running with friends is one of the best parts of runDisney race weekends.
And before long, we were being sent to our corrals.  We waited a while but eventually were sent off with fireworks on our 3.1 mile journey.  Since around half of this race occurs in EPCOT, the first thing you did was spend a little more than a mile getting there.  But don't worry- it wasn't boring at all!  There were photo opportunities all over the place.  Including my must get photograph with Chewbacca.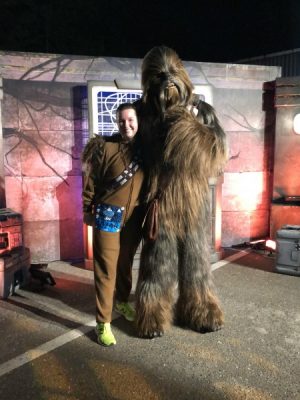 In all, there were 5 character stops plus the 501st Legion which were out in force for photo ops of all kind.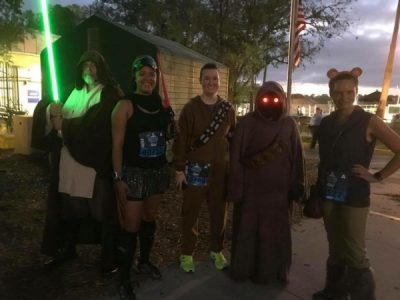 Eventually, you approach the finish line and receive your 5k medal.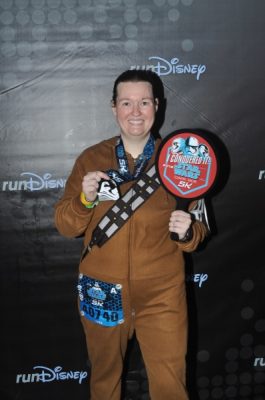 10k Review
Saturday morning brought the middle distance race of the Star Wars The Dark Side race weekend.  Once more, I arrived on the first bus which departed at 3:30 a.m. from the resort.  I took the opportunity that pre-race photographs permitted.  All of the pre-race activities were the same as the 5k, and this time I took the opportunity to have my picture taken with Boba Fett in my Yoda inspired costume.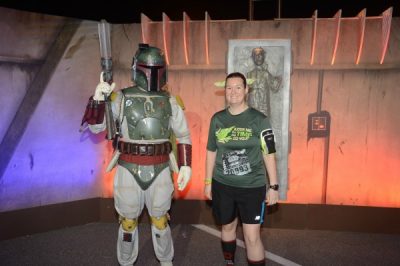 The big difference between the 5k and 10k (besides the doubling of the distance) is that the course starts in the Magic Kingdom parking lot and spends almost 4 miles on Disney roadways before you enter Hollywood Studios the first of 2 parks on this course.  It also allowed time for additional PhotoPass photographers to take pictures during the race.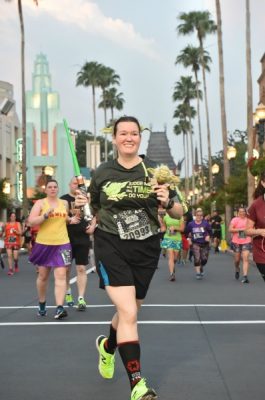 As with the 5k, Disney provided various character stops- including repeating some from the previous day and adding a few new ones of which were different from the previous day as we ventured through Hollywood Studios and EPCOT this time.  A picture in front of the Tower of Terror was a great addition this day.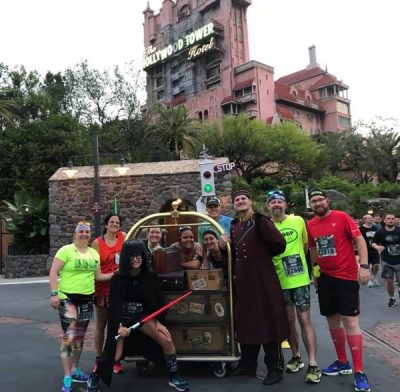 Most importantly, the longer distance allowed for a great finish line photo with it being daylight.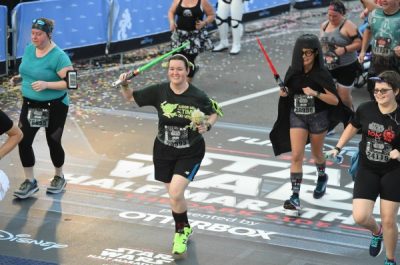 Half Marathon Review
Early Sunday morning brought the start of the longest distance of Star Wars The Dark Side race weekend.  This race had the largest number of participants of the weekend.  As a result the first bus left the resort at 3:00 a.m.  Again, the pre-race festivities were the same, with various characters available for pre-race photos and this time I made sure to get a picture with Darth Vader.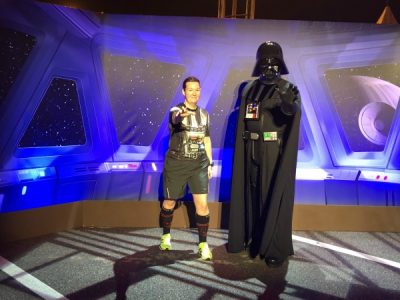 The race started in the Magic Kingdom parking lot before allowing you to spend a little over 4 miles on the road before entering Animal Kingdom where we got to run through Pandora: The Land of Avatar, backstage of Animal Kingdom, and then the Animal Kingdom parking lot.  This area was one of my favorite of the race as there was a great backdrop of the Hoth scene where Luke is using the Force to grab his lightsaber.  A little Disney magic and this group photo turned out amazing.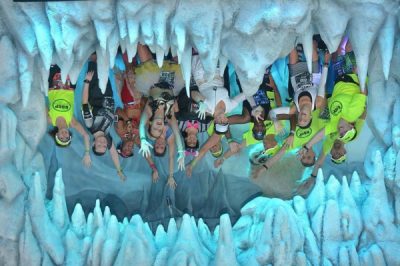 Another 5 miles along Disney roadways led us to the second of three parks of the day- Hollywood Studios.  We only spent a short amount of time in Hollywood Studios.  While there we were treated to another photo opportunity with the 501st, which was one of three on the course.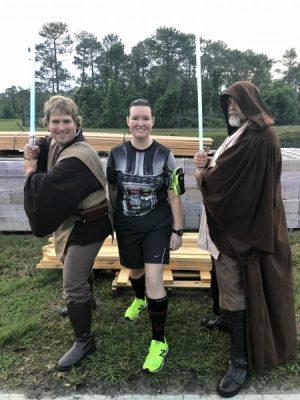 Exiting Hollywood Studios allows us to add a different route to EPCOT compared with the previous days as we ran along the Boardwalk where there was quite a few people out cheering us on.  Entering EPCOT we knew that we were in the homestretch with the mile 12 marker just inside our entrance using the International Gateway.  We were able to time our race just right to sneak a ride on one of the newest rides in all of Walt Disney World- Frozen Ever After.  Timing our arrival just before 9:00 a.m., the doors opened just as we went to join the line. We loaded quickly, and thankfully experienced no ride malfunctions.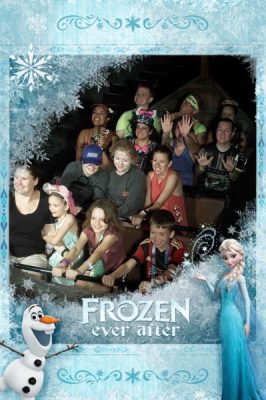 This is just the second time that I had the opportunity to ride an attraction during a race, and the opportunity to cool off just a little from the otherwise hot and humid morning was very welcome.  If you can find the time to fit an attraction into your race plan, it is something that I highly recommend.
Post-Race Park Touring
One of the best parts about running the Star Wars The Dark Side races is that you can celebrate at Disney!  I had collected quite a haul of medals this weekend, I decided ahead of time that I would only wear one of the medals to the parks each day, but after the Star Wars The Dark Side Half Marathon, I wanted to take a picture with all of the medals that I had earned that weekend- including the Star Wars Virtual Half Marathon and Kessel Run Challenge Medals somewhere in Hollywood Studios- since it is the future home of the new Star Wars Land- Galaxy's Edge.  I was able to capture a great one with Chewbacca and all of my medals at Star Wars Launch Bay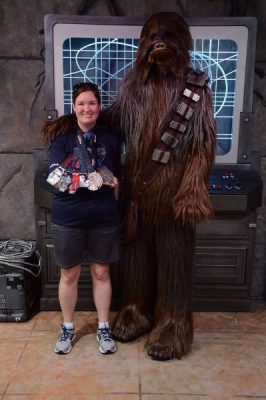 The PhotoPass photographer and Chewie were great at arranging my medals and capturing a great photo.
Overall, this was by far my favorite runDisney Star Wars weekend so far.  The images that the PhotoPass photographers captured, the characters on course, running with friends, and the overall atmosphere made for a great weekend.  If you are a Star Wars fan, this is an event that you will enjoy and should experience at least once.
Next year's Walt Disney World Star Wars race weekend details are trickling out and it's going to be an experience where you can pick if you want to run for the Dark Side or the Light Side. If you're interested in running, find out more info on our Star Wars Rival Run Race Weekend page.
Have you run one of the Star Wars races before? What were your favorite parts? Share in the comments, or on Facebook or Twitter.
Did you like this article? Make sure to share it with your friends! Check below for easy ways to share!