This post may contains affiliate links for your convenience. If you make a purchase after clicking a link we may earn a small commission but it won't cost you a penny more! Read our full disclosure policy here.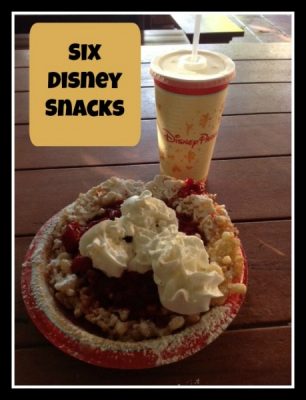 I recently stayed at the Walt Disney World Resort for six nights, and had six snack credits to use during my trip.  These are the six snacks I chose, and each one was a delight!
Meat and Cheese Platter at Writer's Stop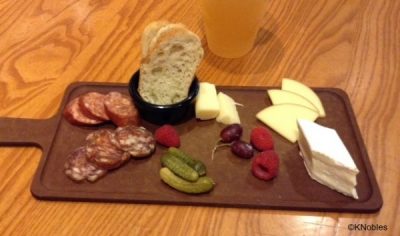 Sadly, Writer's Stop at Disney's Hollywood Studios has closed, so this charcuterie platter is no long an option for a snack credit.  I was thrilled to find a savory option at Writer's Stop, and enjoyed this platter as a light dinner.
Pumpkin Fudge at Big Top Treats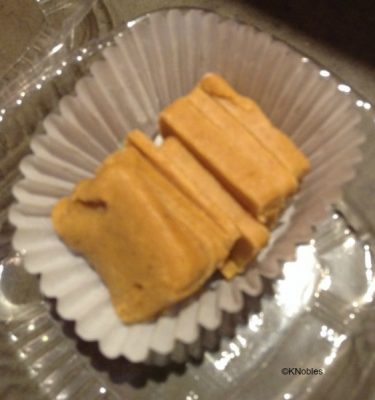 In September the Magic Kingdom is decked out for Halloween and that had me in the mood for a seasonal treat.  I discovered this pumpkin flavored fudge in Big Top Treats located in the Magic Kingdom's Fantasyland.  The Cast Member offered to slice it for me, which was great because I could sample a slice then and save the rest for later.  I put the fudge in the mini-fridge in my resort room and it was a nice snack for the remainder of the trip.  The pumpkin flavor was spot on, but a little strong.  I'm one to completely cover a pumpkin pie slice with whipped cream, and a cream based swirl would have been a welcome addition to this fudge.  I enjoyed the pumpkin, though one small slice at a time was just right.
Chocolate Covered Pineapple at Karamell-Kuche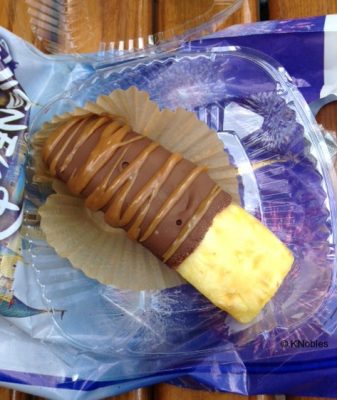 Epcot's Karamell-Kuche is my favorite snack location in all of Walt Disney World!  If I absolutely must have a single snack during a trip, a caramel coated something would be it!  I tried a new to me snack this time, chocolate coated pineapple that was drizzled with caramel.  At first I had my doubts as to how the flavors would blend, but I need not have worried.  This was delicious!  It was messy to eat and I ended up using a napkin to eat it like a candy bar, but it was quite good and fresh.  The pineapple was cold, making this a refreshing choice on a hot day.
Funnel Cake at Sleepy Hollow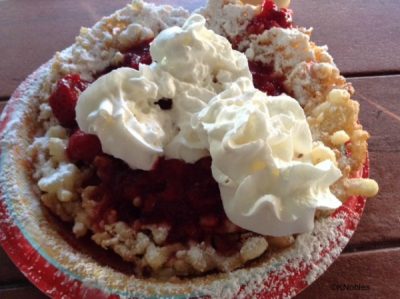 Sleepy Hollow, located in the Magic Kingdom's Liberty Square, offers freshly made waffles and funnel cakes.  I chose a funnel cake with powdered sugar, strawberry sauce, and whipped cream.  It was heavenly!  This would be a good snack to share with a few people as it was huge and filling.  I could not eat all of it, but enjoyed every bite I did have.
Dole Whip at Pineapple Lanai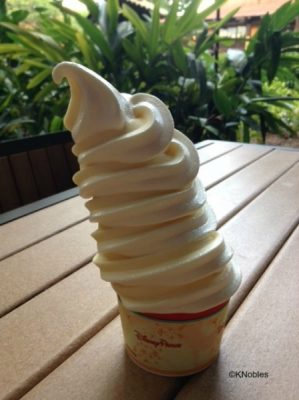 I stopped by the Polynesian Village Resort to enjoy a Dole Whip at  Pineapple Lanai.  A Dole Whip is a soft served pineapple flavored treat, and I opted for a vanilla and pineapple swirl which was perfect!  The Pineapple Lanai was not skimpy with the serving size, and this was practically a meal's worth of a snack.  I find Dole Whips to be flavorful and refreshing.  They are a favorite!
Jelly Beans to Bring Home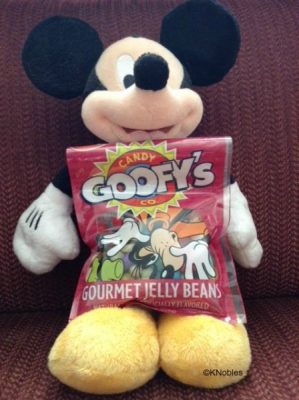 I had one remaining snack credit, and I bought some jelly beans to bring home.  Most gift shops have selections from Goofy's Candy Company, and jelly beans were perfect to select because they would not melt in the Florida heat.  After I was home and my luggage was unpacked, it was nice to have a little treat from Walt Disney World to enjoy.
One omission from this line up is the iconic Mickey ice cream bar, but I did enjoy one for dessert in a resort's food court.  I'm going to give this ice cream an honorable mention here because it's a must have for many, including me.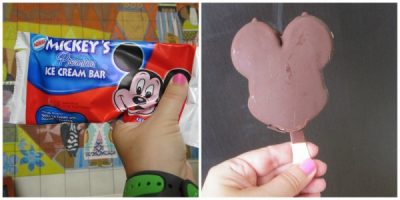 What is your must have Disney snack at Walt Disney World?  Please tell us in a comment below.