This post may contains affiliate links for your convenience. If you make a purchase after clicking a link we may earn a small commission but it won't cost you a penny more! Read our full disclosure policy here.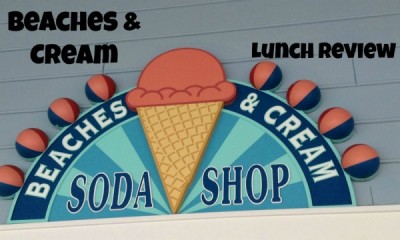 Eating at Beaches & Cream has been on our bucket list for years.  Back when the restaurant did not take reservations, we were hesitant to trek to the Disney's Beach Club Resort area not knowing ahead of time if we could get a table.  Advance Dining Reservations (ADRs) are now available for Beaches & Cream, and we finally gave it a try.  If you're dreaming of a good places for burgers and ice cream, this is the place to go!
We scheduled Beaches & Cream on a day we visited Hollywood Studios, and used the lunch as a break from the park.  We rode the boat from Hollywood Studios to the Beach Club Resort.
Atmosphere
The first thing that struck me when I entered the restaurant was the size of the place.  It is small.  I have always heard of long waits for a seat, and now I understand why the waits were long because there are not a lot of tables.  We saw people without reservations being turned away, so make sure you get your ADR if you want to eat here.   If you want just ice cream, there is a limited take out menu.
We were seated at a round table which was made for a party of four.  We were a party of three, yet we felt quite squished into that space.  I noticed that parties of four were seated at the booths, which were better suited for four people.  What you see in the background of the first photo is the bulk of the restaurant, and there is a counter with seating off to one side and booths are off to the other side.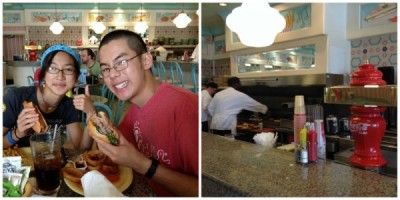 The next thing I noticed was the amazing beach and ice cream theme.   Check out the beach balls on the booths!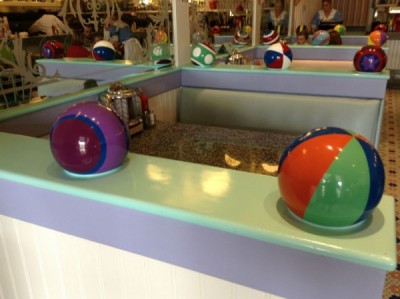 I got a kick out of these ice cream cone lights!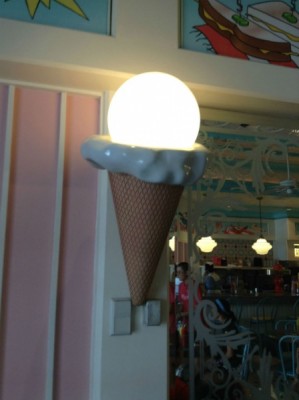 There is even a jukebox that worked!  It did not require money, and my kids had fun selecting Jailhouse Rock for our lunch music.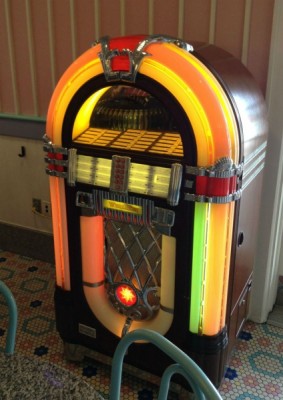 Condiments were on the table, and I liked that because we did not have to ask for anything.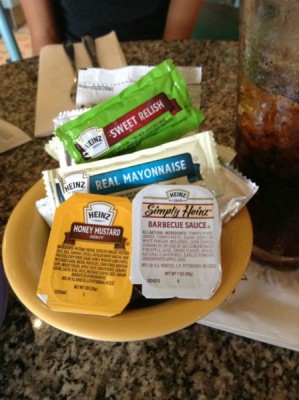 Entrees
I had the Angus Beef Burger with cheddar cheese, lettuce, and tomato on a fresh baked roll with fries as a side dish.  Let's talk about the roll first.  I noticed that the menu said "fresh baked," and indeed the bread was fresh!  This roll was a perfect texture for the burger, and tasted as if it were baked that morning.  The burger itself was flavorful.  Overall, it was an awesome cheeseburger.  My only complaint was that the tomato slice could have been a better quality.  It was a small flaw, but I'm picky about fresh tomatoes.  The fries were very good!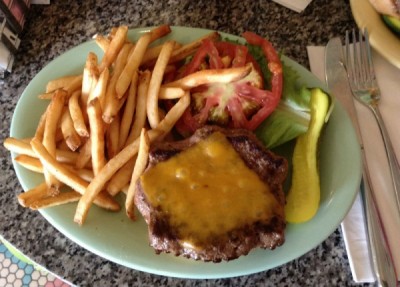 My son ordered the Beaches Angus Burger with ham, Swiss cheese, sauteed onions, horseradish-mustard sauce, lettuce, and tomato on a fresh baked roll.  He liked it.  He selected onion rings as a side, and those were good and crispy.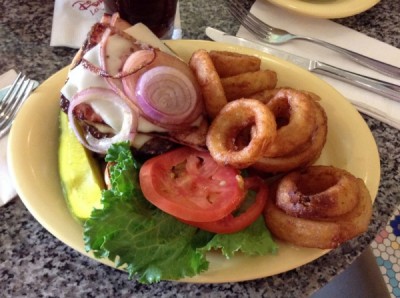 My daughter asked for a plain hot dog, which they were happy to bring to her.  She enjoyed it.  Most Walt Disney World restaurants will gladly simplify a dish if you ask.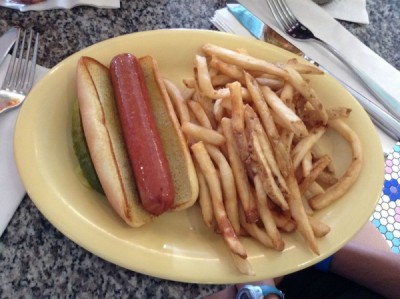 Desserts
I've been dreaming about the classic No Way Jose Sundae for years and assumed that I would order one.  However, once I read the description of the Milky Way Sundae, all bets were off!  They had me at "caramel."  The Milky Way Way Sundae has three scoops of vanilla ice cream, hot fudge, caramel, whipped cream, and a cherry.  It was delicious!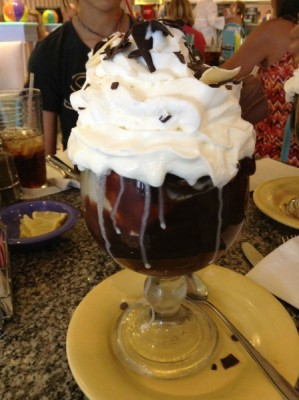 My son did get the No Way Jose Sundae, a winning combination of peanut butter and hot fudge over ice cream with whipped cream and a cherry.  Someday, I will order this too!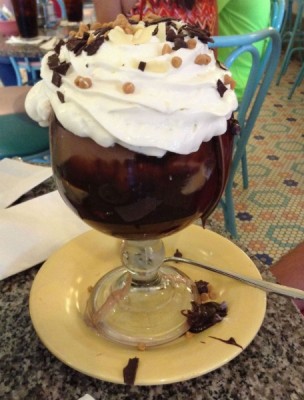 My daughter got an Old Fashioned Sundae with mint chocolate chip ice cream and hot fudge.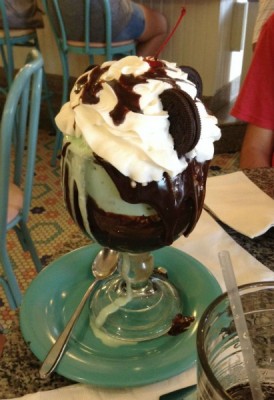 There is a dessert on the menu called The Kitchen Sink which is made of eight scoops of ice cream, all toppings in the house, and a whole can of whipped cream!  We did not see anyone order this, but someday it would be a fun dessert to tackle with a group of people!
Final Thoughts
The entrees and desserts were wonderful, though we found it to be too much food for us.  When we return to Beaches & Cream, we will pay out of pocket instead of using the Disney Dining Plan and will and share some of the meals and/or desserts.  Although the burgers and hot dog were good, this would be an nice place to enjoy desserts in the evening.  I'm looking forward to a return visit because of the fun atmosphere and awesome food!  This is the perfect spot to soak in a casual beach atmosphere while enjoying food, family, and friends.
Have you been to Beaches & Cream? What's your favorite item to enjoy?  Please share your thoughts!