This post may contains affiliate links for your convenience. If you make a purchase after clicking a link we may earn a small commission but it won't cost you a penny more! Read our full disclosure policy here.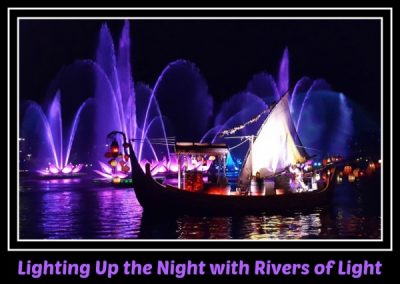 After months of anticipation, the Rivers of Light show finally debuted at Disney's Animal Kingdom. This was an exciting moment because after years of the park closing early, the addition of an evening show has given guests a solid reason to stay around after dark.
The first night that I saw Rivers of Light was also the first time I had been in the Animal Kingdom park after sunset. The park had a completely different feel at night.  I really enjoyed the whole experience and will definitely plan another evening there!
Rivers of Light
So, how do you go about getting the best seat for the Rivers of Light show? You have a few options. If you are interested in making a whole evening of it, there are dining packages available to guests for the show.  If you want to ensure that you will have a seat, this is one way to do it. With a dining package, you will pay a set price for your meal and receive premium seating for the show afterward.
I did not book a dining package, but I was able to get a FastPass for the show. Since it is so new, it is very popular and FastPasses can be a little difficult to get. It pays to keep checking though!  If you can't obtain a FastPass, line up as early as you can to grab a seat.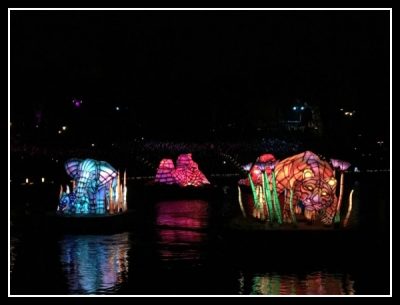 Animal Floats
One thing I noticed is that seating seemed to fill up really early for the show. Guests with and without FastPasses were allowed into the theater more than an hour ahead of time. Wow! We arrived toward the end of the FastPass window of time and were still able to get a good seat though.
All of the theater seats are good, but after seeing the show twice from two different angles, I think the best view is closer to the middle. Whether you have a fastPass or not, I would recommend sitting as close to the center as possible. The projections seemed to be more clear from this view. So, it may be worth it to get in line a bit early.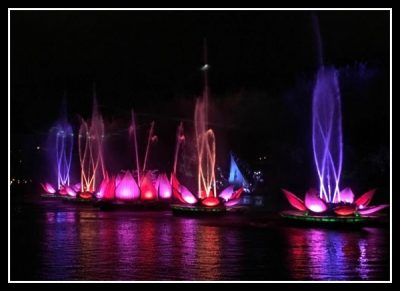 Lotus Flower Fountains
If you arrive early to the theater, you will see a little "pre-show" before the actual production begins. Some of the floats are launched into the water early and there are some shadowy projections cast on the trees.  If you miss this, it isn't a big deal, but it does give you something to look at as you wait. I also felt like this made the anticipation build a little prior to the show.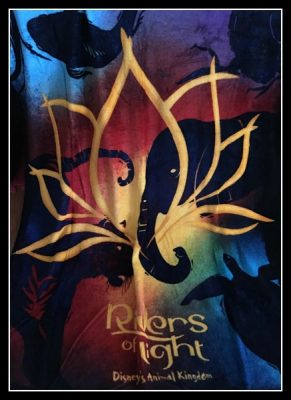 Rivers of Light Blanket
There are usually photographers walking around the theater if you would like to take a family photo as you wait. Like many of the other nighttime shows, you will also find some fun, light up merchandise. I grabbed a drink with an adorable lotus flower glow cube.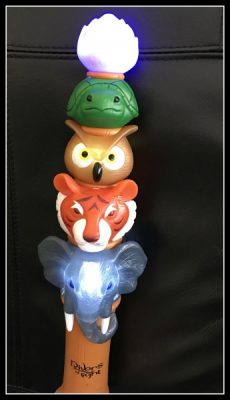 It glows with the show!
Now, on with the show! This production incorporates a lot of different elements: water, light, fire, music, projections, and live performers. As you may expect, there is no fireworks display in this show. With so many animals in the park, I imagine that loud, bright fireworks would be very scary for the animals, so you won't find any here.
Colorful Projections Light Up the Water
What you will find is a show that is quite different from the other nighttime shows. One major difference I noticed is that it is not very "Disney." There are no characters or whimsy music.  No princesses or cartoons.  Rivers of Light is all about nature and harmony.
My favorite aspect of the show is the projections on the water. I find projection technology fascinating and it is truly amazing that water can be used as a screen to show all the different nature and animal scenes. There is constant movement in the show, so your view changes continuously. The light and the colors are stunning and the music really ties everything together.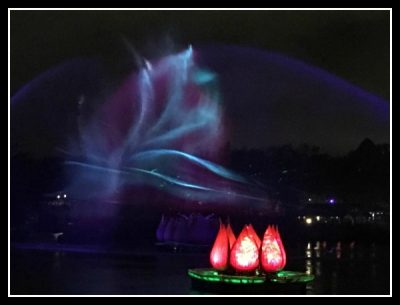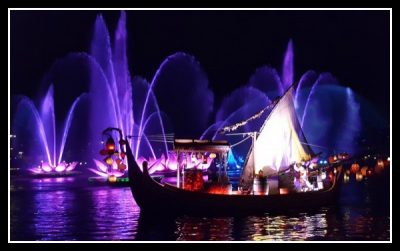 Live Performers Join the Show on Boats
I hate to compare Rivers of Light to any other show because it is so different, but it is more along the lines of Epcot's Illuminations: Reflections of Earth (without the fireworks, of course) than the shows you will find at the Magic Kingdom. If you haven't seen the show and will be visiting Animal Kingdom soon, I recommend waiting to watch the show live rather than watching a video online. It is much better to see it in person the first time around. It is a far more immersive experience when everything is happening right in front of you.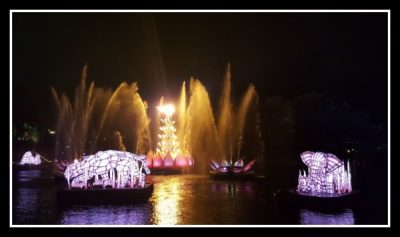 Fire and Water
I really enjoyed this show. I loved the water elements, the music, and the nature theme. Despite the lack of Disney characters, the kids in our party liked it as well. I have heard very mixed opinions on the show though. Everyone has different tastes, so my best advice is to see it and decide for yourself. I hope that you will enjoy it as much as I did!
Have you seen Rivers of Light? What did you enjoy most about the show?  Let us know your thoughts in the comments!
Did you like this article? Make sure to share it with your friends! Check below for easy ways to share!