This post may contains affiliate links for your convenience. If you make a purchase after clicking a link we may earn a small commission but it won't cost you a penny more! Read our full disclosure policy here.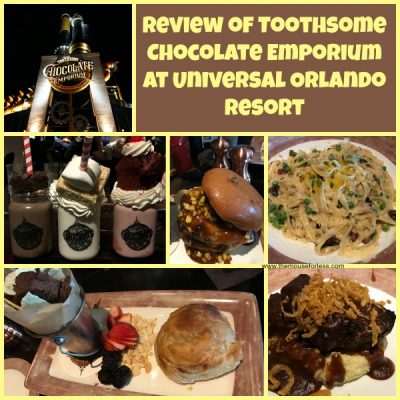 One of Universal Orlando Resort's newest restaurants is arguably one of its tastiest. You all know I have a sweet tooth, so the second I heard that CityWalk was going to be adding a table service restaurant called Toothsome Chocolate Emporium & Savory Kitchen Feast, it quickly jumped to my must try lists. And try I certainly have. I've been to Toothsome Chocolate Emporium a number of times and for the most part, both have been delicious.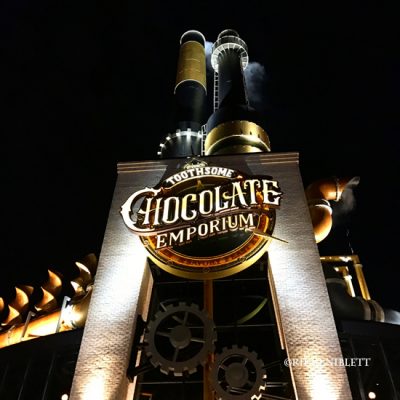 You see, here, Guests can delight in gourmet chocolates, savor artisnal milkshakes, and enjoy one-of-kind desserts, however it isn't just all sweets here….the savory part features a large number of dishes to enjoy for a full meal too.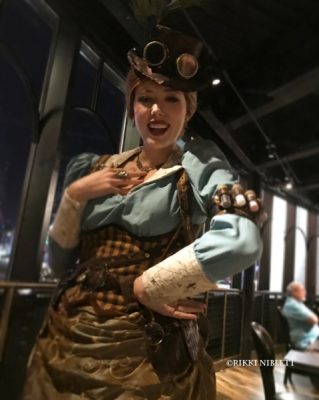 Part of Toothsome's intrigue is the backstory behind it. The restaurant is brought to life by Professor Doctor Penelope Tibeaux-Tinker Toothsome who has learned fascinating ways of infusing chocolate into the most extraordinary recipes. (Trust me on this….more about that in a second.) Penelope was determined to share her love and knowledge of chocolate with the world, so she built The Toothsome Chocolate Emporium & Savory Feast Kitchen in a Steampunk-inspired style. Guests may find both Penelope or one of her creations, Jacques walking around and greeting Guests at the restaurant.
The restaurant, clearly has taken the Steampunk design and ran with it. There are gears and machinery all over! The restaurant is two stories, but due to its popularity, you'll often have to wait for a seat. (Especially if you are visiting after the parks close for the evening….and if you want a shake, you'll definitely need to be prepared to wait in line!)
But, let's get to the food, shall we?

To start with, as was mentioned, the restaurant works chocolate into things you wouldn't expect…so when I heard that as an appetizer was a chocolate almond bread with at salted caramel butter, I was intrigued. The bread itself, had a nice subtle note of chocolate….it did not overpower and was not sweet at all. And the butter was incredible. That did have a subtle sweetness to it that was delicious. The one thing that was a disappointment was that the bread was a little hard. I am curious if it just sat too long….I should have asked for another loaf.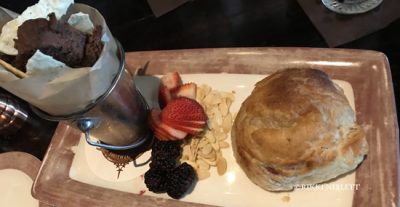 Another time, my party decided to tried the Baked Brie which is served with fresh fruit, toasted almonds, chocolate almond bread and baked oven lavosh. This was good, but not being a huge brie fan, I really could take it or leave it.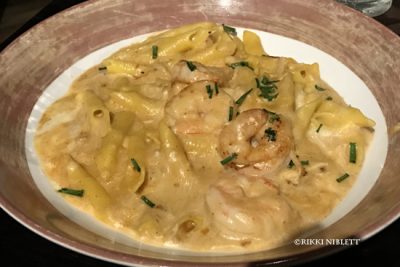 As far as my main dishes have gone, on my first go around, I tried their Shrimp and Lump Crab Macaroni and Cheese. This was definitely cheesy and had a nice number of larger shrimp, as well as plentiful crab mixed in.  The seafood was perfectly cooked, and not chewy at all. A word of warning though with this dish that is NOT included in the description…they use Tabasco in the sauce. Sometimes they are a little more heavy handed with the Tabasco than others. This particular night, they seemed to be heavy handed and I wasn't expecting it. So, needless to say, there was quite a kick to this dish! It was good, overall, but certainly had some surprising heat.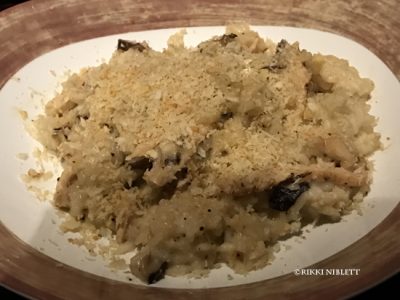 My brother got the Wild Mushroom and Chicken Risotto, which he thought was fantastic.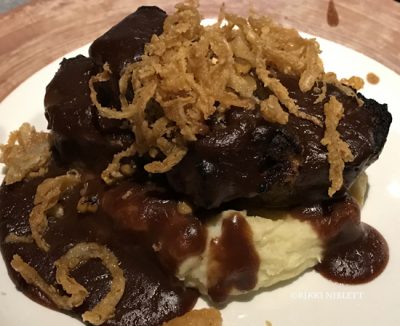 Also fantastic was the Brisket and Wild Mushroom Meatloaf served with Corn, crispy fried onions, Yukon Gold mashed potatoes, and a bordelaise sauce.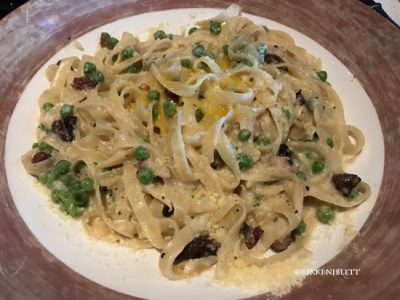 The second time I dined at Toothsome Chocolate Emporium, for my meal, I decided to try the Fettuccine Carbonara served with Pork belly and peas. Holy wow! This was incredible. It was rich and decadent and I didn't want to stop eating. It was super flavorful. It's going to be very hard choosing something else on the menu after trying this.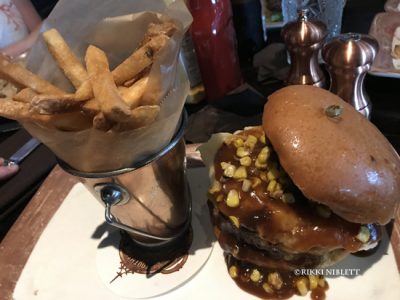 My husband on this trip tried the Blue Plate Burger, which is similar to the meatloaf above as it comes with a half pound housemade burger patty, grilled meatloaf, garlic mashed potatoes, Wisconsin cheddar cheese, sweet corn, toasted brioche, and a bordelaise sauce. He thought this was yummy. So, note to self….anything served with meatloaf at Toothsome is good.
The one thing I'm dying to try is their brunch options! They have crepes, waffles, quiche, and french toast options that all sound amazing. The only problem is that I feel like ordering one of those options AND a shake is overkill…even if I am on vacation.
Speaking of the shakes…Toothsome Chocolate Emporium has a variety of incredible choices to choose from. These shakes really are out of this world bonkers. Seriously….some of these shakes are two desserts in one…you could (and probably should) share, but why would you want to?! (Also, I have been known to order one of these shakes, eat the dessert on top, then save the shake for later in the freezer…just a suggestion.)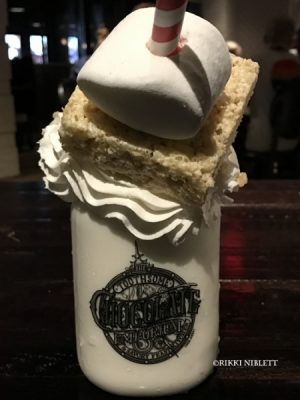 Lets start with the Marshmallow Crisp shake, served with vanilla ice cream, rice crisipies, marshmallow fluff, fresh whipped cream, and a Rice Krispies treat. Woah! This one is a marshmallow lovers dream. I mean look at the size of that marshmallow! So so good.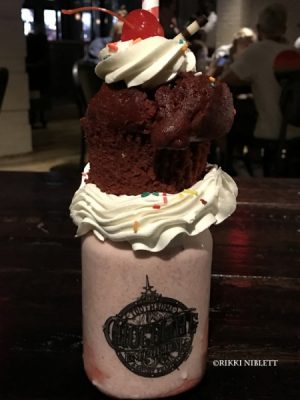 Speaking of getting a bonkers option for a shake, you may want to consider the Red Velvet which is served with vanilla ice cream, raspberry sauce, rainbow sprinkles, fresh whipped cream, cherry, oh and a red velvet cupcake. Yep…a whole cupcake.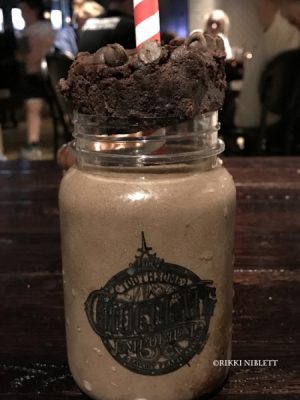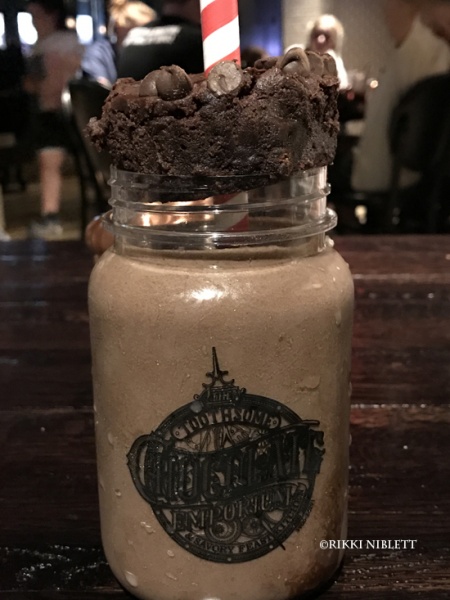 But my favorite shake…and I've already told you that I'm a chocoholic…is the Brownie Shake which is served with Dutch chocolate ice cream, milk chocolate swirl, and yes, a brownie. And this isn't a small brownie either. I went into a chocolate lovers haze. It was so delicious.
Another thing that's difficult is that Toothsome Chocolate Emporium also has some amazing desserts too…but once again…it's so hard not to just want to choose the shake! Sometime I'm going to have to go outside the mold and get the Chocolate Creme Brulee or the Brookies, Cookies, and Cream ice cream sundae.
See…that's my point. There's so many great things on the Toothsome Chocolate Emporium menu that if you don't necessarily love something, there will be something that you do LOVE. But to me, it's kind of like dining at the Cheesecake Factory….the menu is so vast and varied that it's hard to choose just one thing. Why don't I have more than one stomach?!
Have you tried Toothsome Chocolate Emporium yet? What were your thoughts and which dishes have been your favorites? Share with me in the comments! (Also, please….if you've done brunch…tell me what you think. I seriously want to try it sometime…and of course, that means I'll report back to you all how it was!)
Did you like this article? Make sure to share it with your friends! Check below for easy ways to share!
Incoming search terms:
https://www themouseforless com/blog_world/review-toothsome-chocolate-emporium/
the toothsome chocolate emporium
toothsomes review
what to order atvtoothsom