This post may contains affiliate links for your convenience. If you make a purchase after clicking a link we may earn a small commission but it won't cost you a penny more! Read our full disclosure policy here.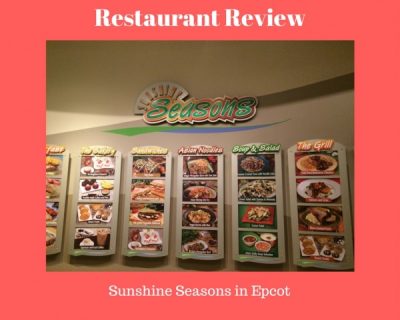 Welcome to Sunshine Seasons, in the Land pavilion!
On a very cold, rainy day in January, my family and I were looking for a place to eat lunch in Epcot. We had just finished hanging out in the Disney Vacation Club lounge in the Imagination pavilion, and we had about an hour before our FastPass + for The Seas with Nemo and Friends. We figured that a logical place to stop for lunch would be directly in between those two pavilions, in The Land.
The quick service location in The Land is called Sunshine Seasons. Here, various stations serve a variety of food, some using ingredients grown right in The Land's greenhouses.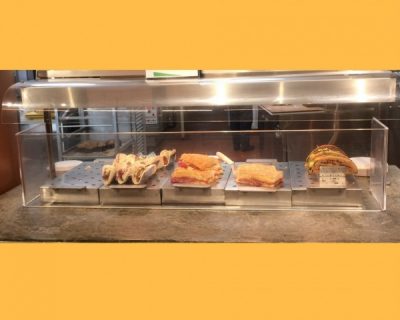 Selections from the Sandwich Shop
The stations include "shops" featuring Asian noodles, grilled items, sandwiches, soups, salads, a kids' zone, a bakery, beverages (alcoholic and non), both bottled and fountain, and a grab and go section.
In addition to all the stations, there is a section for people to pick up their orders if they have used Mobile Order. We did not get the chance to try Mobile Order on this trip.
We arrived at about a quarter past 11:00 a.m., so there were tables available. At peak mealtime, this place can get very crowded. It's located in the same pavilion as the very popular Soarin' attraction, so many people stop for a bite before or after they ride.  As always in Walt Disney World, don't forget to look up!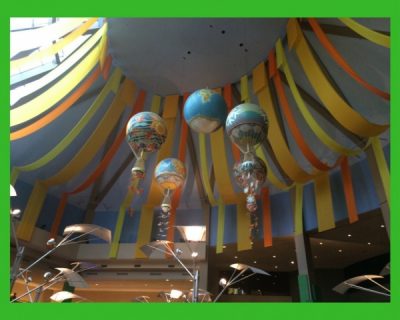 Four hot air balloons, one themed to each season
We ate here on a previous trip, so I knew exactly what I wanted. I ordered the grilled salmon with a spicy Andouille and corn succotash. It came with cheesy grits but I asked them to substitute a side of green beans, which they did at no additional cost.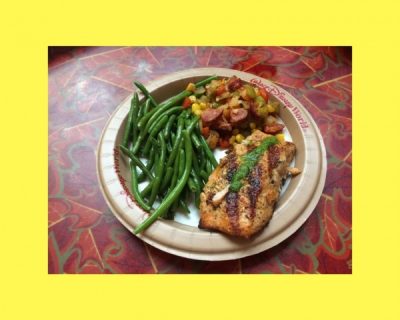 Grilled salmon, succotash and green beans
The salmon was delicious, and the hot entrée hit the spot on this cold, rainy day. The succotash definitely had a kick but wasn't overly spicy. The green beans were prepared simply and tasted fresh.
For dessert, our family shared a brownie from the grab and go section from the company OMG…It's Gluten Free! I found this funny since no one in my family has a sensitivity to gluten. My husband simply saw the brownie and grabbed it without realizing it was a specialty item. It turns out it was also sugar free!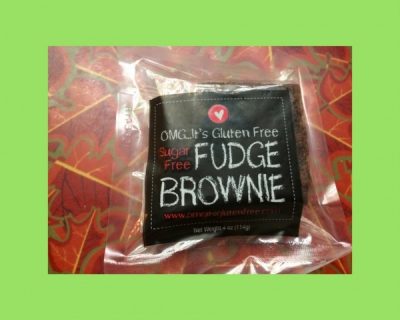 Gluten free and sugar free fudge brownie
The brownie was rich, chocolately and fudgy, which was great for me but might turn off those who prefer a more cake like texture. It was sweet without being cloying. Those who are avoiding gluten and/or sugar will hopefully find it satisfying.
For a good variety fresh, substantial entrees, it's hard to beat Sunshine Seasons.
Have you stopped at Sunshine Seasons? Share your thoughts in the comments.
Did you like this article? Make sure to share it with your friends! Check below for easy ways to share!