This post may contains affiliate links for your convenience. If you make a purchase after clicking a link we may earn a small commission but it won't cost you a penny more! Read our full disclosure policy here.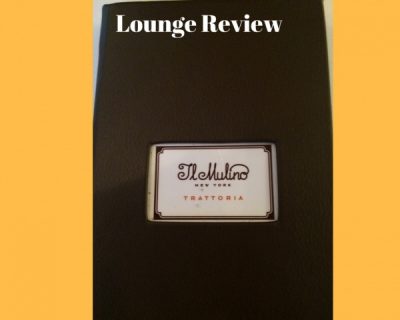 Welcome to the lounge at Il Mulino, at the Swan Hotel!
Il Mulino is a full service restaurant at the Swan Hotel. There is a lounge right outside the restaurant. On a trip in the first week of January, my family had a dinner reservation at Garden Grove, also in the Swan. We arrived early, so my husband and I decided to have a drink at the Il Mulino lounge.
Right away we noticed the relaxing atmosphere here. We had just left a very busy Disney's Hollywood Studios park, but this lounge was quiet and laid back. Rich reds and golds, as well as wood tones, gave the lounge a casual but upscale feel.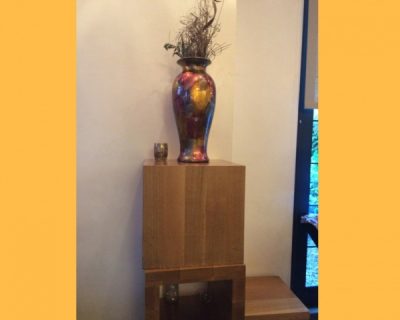 Decor at the lounge
There were seats open at the bar and also small tables at the Il Mulino Lounge. We took a round table for two. A friendly and attentive server came to give us the drinks menu, and left us with a small bowl of Parmesan crisps to enjoy while we perused it. These were addictively good. I had to show remarkable restraint not to wolf them down, since we had dinner reservations soon!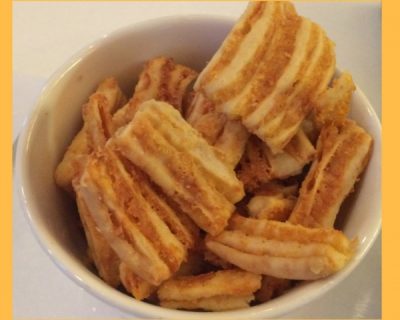 Parmesan crisps
The drinks menu included many Italian cocktails, mixed drinks, and some wines. There were also small plates of food, but we didn't want to ruin our appetite. (Plus, those Parmesan crisps!)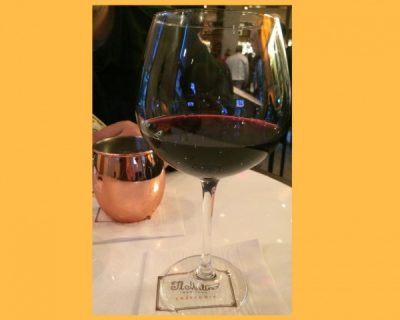 Moscow Mule and California Pinot Noir
My husband ordered a Moscow Mule, and I ordered a glass of California Pinot Noir. The pour was what you would expect from a lounge. My husband loved his drink, which was served in a brass tumbler.
At this point, we got an unexpected phone call from the rest of our party. Garden Grove was seating us early! So far, on this vacation, we had been seated late at every full service restaurant we visited, so this was a surprise to us.
We flagged down our server to pay the bill, and explained to her what had happened. We asked if we could take our drinks down the hall to the Garden Grove. She said that we could, but she would have to transfer them into different glassware.
This surprised me, especially since both drinks were poured into actual glassware and not disposable cups. She did this at the table, and deftly transferred them without losing a drop!
All in all, my husband and I enjoyed our mini date at the Il Mulino lounge, even though it was cut short. We appreciated that our server let us take our drinks to Garden Grove so that we could be seated with our party without delay.
Have you ever made a stop at the at the Il Mulino lounge? Let us know in the comments or on Facebook.
Did you like this article? Make sure to share it with your friends! Check below for easy ways to share!