This post may contains affiliate links for your convenience. If you make a purchase after clicking a link we may earn a small commission but it won't cost you a penny more! Read our full disclosure policy here.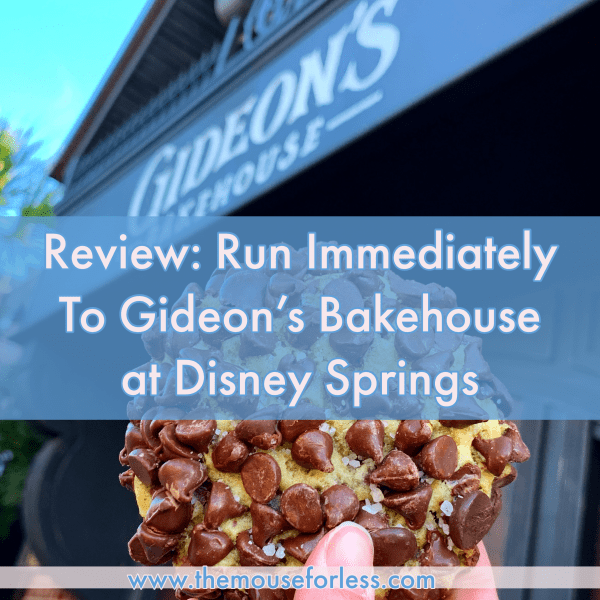 I think I've mentioned, once or twice, how I am a sweets fanatic. And that chocolate is my weapon of choice. So, let me tell my other chocolate fanatics. Run….do not walk….to the new sweet shop, Gideon's Bakehouse at Disney Springs.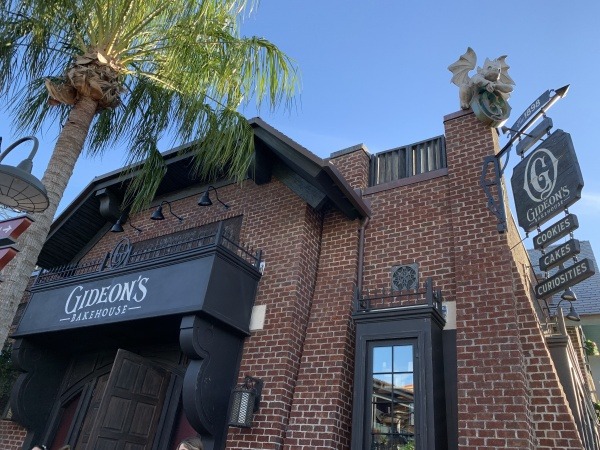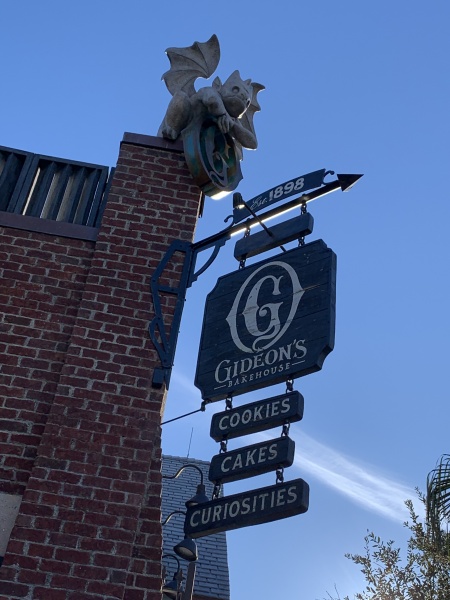 Gideon's Bakehouse is located in The Landing Section of the shopping and dining district, sort of near The BOATHOUSE. It is so popular, that the first thing we did was head there, so that we could be added to their waitlist. Overall, we didn't wait the full time that they said we would; actually we were called back in WAY quicker than I thought we would be. In addition, I very much like the waitlist program that they use because it allows you to see where you are on the list, how many people are ahead of you, and the "estimated" time for you to return. (Other places should take a lesson….this waitlist program worked perfectly.)
Once we were called, we did have a little bit of a wait before we could actually go inside. That's because this establishment has a very tiny queuing area inside and only a few Guests at a time are allowed inside.
So…..what was it like walking inside Gideon's? It was, to me, a mix between The Haunted Mansion and Steampunk. The shop is incredibly dark, with dark colors and low lighting throughout. It is incredibly well themed though. I mean, the artwork on the wall is gorgeous. And the other knick-knacks the line the walls just give it a really cool vibe.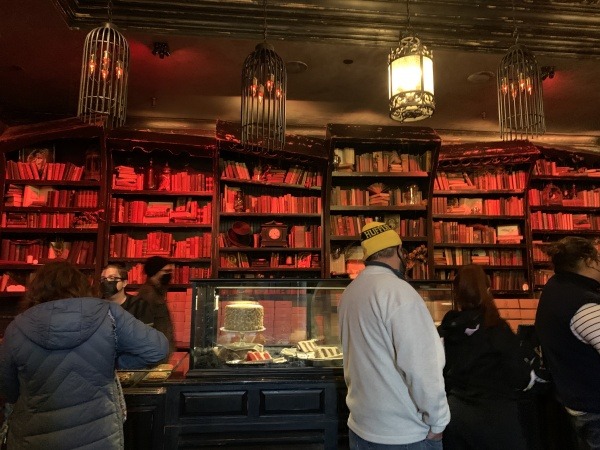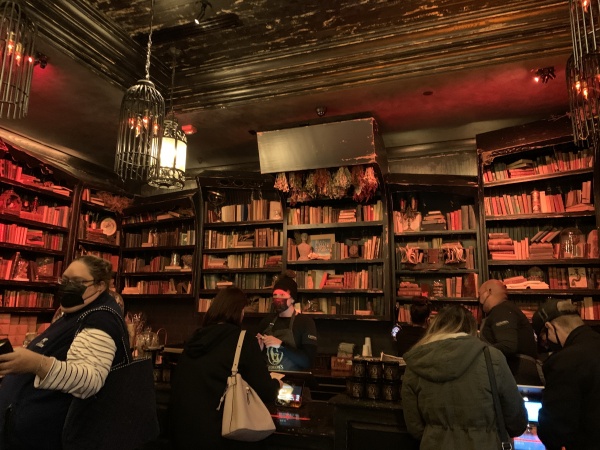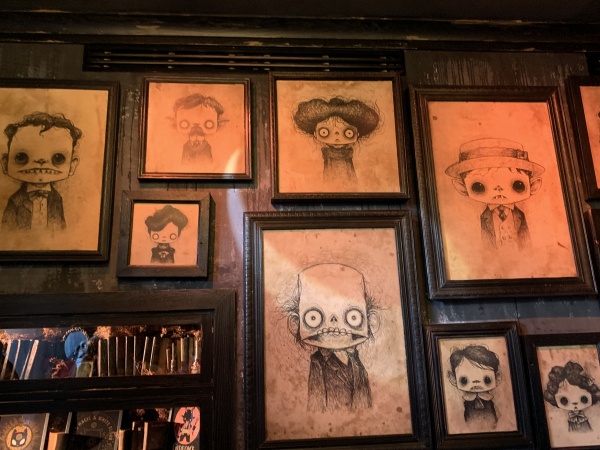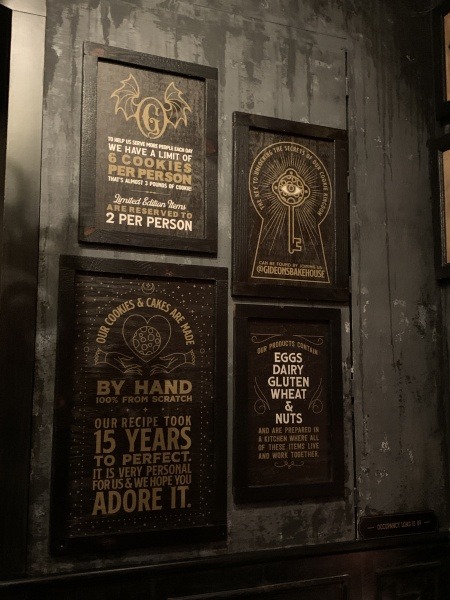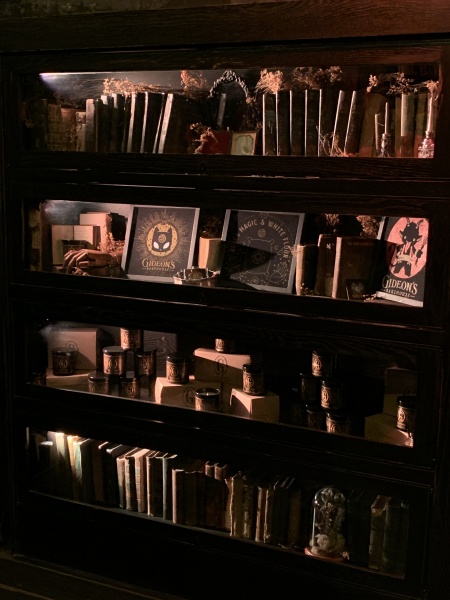 As Guests wait, the will walk past displays of the most decadent looking cookies you will ever see. In addition, you'll walk past the most gorgeous and humongous cakes!
Gideon's Bakehouse offers its traditional everyday cookies (including one that is exclusive to Disney Springs, the Coffee Cake Cookie). There are also Monthly Limited options. As you can see, their cookies are LITERALLY PACKED with chips or cookies.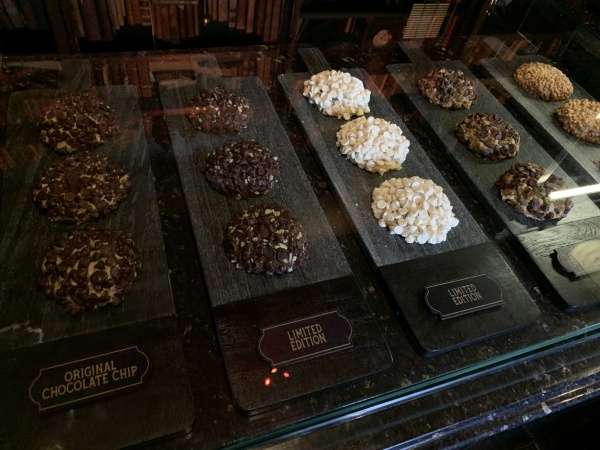 As far as the cake options are concerned, they seem to change a little more often than the cookies do. There's even a Secret Slice for those that follow them on Instagram or Facebook.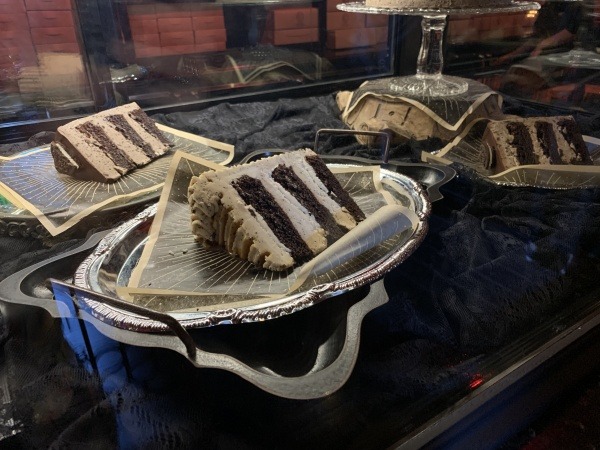 When you check out, there's a really cool smoke/fire effect at the registers that help to enhance the creepy cool vibe.
View this post on Instagram
Another thing that Gideon's Bakehouse is famous for is their cold brew. Particularly their Peanut Butter Cold Brew. Now….I am a true coffee drinker. (It comes from years of working at one of the most famous coffee places and learning that I really don't like a lot of stuff in my coffee.) This coffee is really perfect for those who prefer to not really taste the coffee part of their drink. The peanut butter flavor was absolutely overpoweringly prevalent. It's certainly not a bad thing! It was a good drink! But it doesn't taste overtly taste like coffee. (Again, this could be a good option for you part time coffee drinkers.)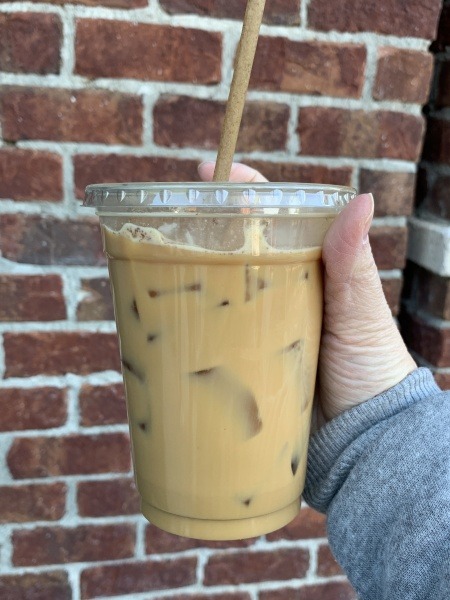 Ok….so let's get into the cookies! I did the very hard research of trying a number of options for you.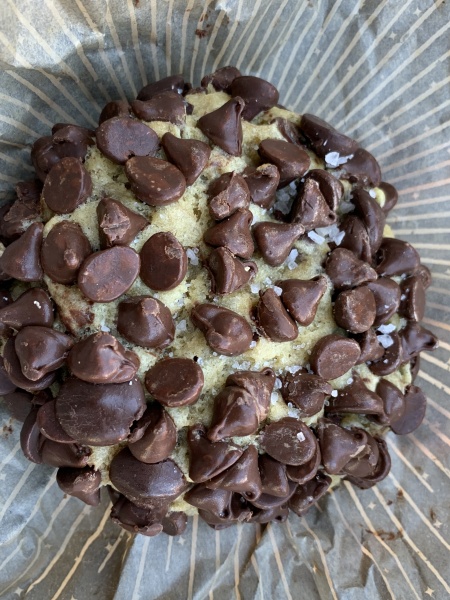 The first one I tried was the regular Chocolate Chip Cookie. I have heard tell of this cookie. That it's amazing. Let me tell you…..this was not a lie. Everything was true. This cookie was AMAZING. It really is loaded with chocolate chips and the inside is almost like cookie dough still, but it's definitely cooked.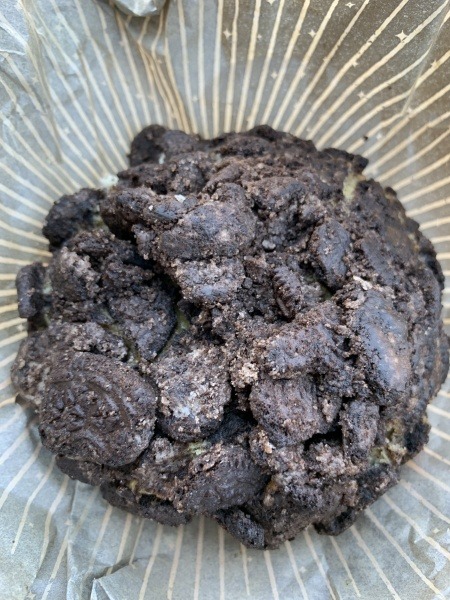 Next, I went with the Cookies and Cream. It's a vanilla bean cookie that is filled with chunks of Oreos. It is then topped with even more crushed cookies. This was probably my least favorite option. Now, I'm definitely not saying it's bad, it wasn't. Let's just say that the sweetness factor wasn't as intense with this one. So, for those of you looking for one of their less intense sweet cookies, this might be a good choice.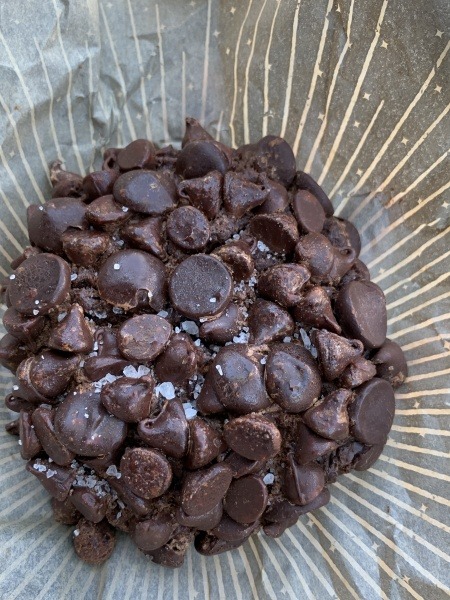 I also tried the Triple Chocolate Chip. This cookie is made Callebaut and Ghirardelli chocolates and to make it extra velvety, a chocolate ganache is poured straight into the cookie dough. This cookie was so good. And for a chocoholic, it was right up my alley!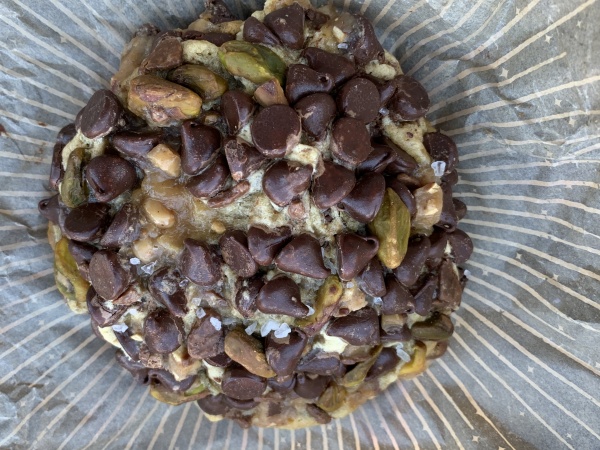 Finally, I tried the Pistachio Toffee Chocolate Chip. This cookie mixes chocolate chips with toffee pieces and then includes lightly salted pistachios on top. Now, I'm gonna be honest. I didn't order this cookie. This cookie was given to me by mistake, instead of the Cookies and Cream. With that being said, I like the use of the pistachio in this cookie! It did give it a nice salty crunch. I didn't really taste any toffee though and it wasn't until I was researching this article that I even realized there was toffee in this cookie.
Now, we also got a few other cookies among our group.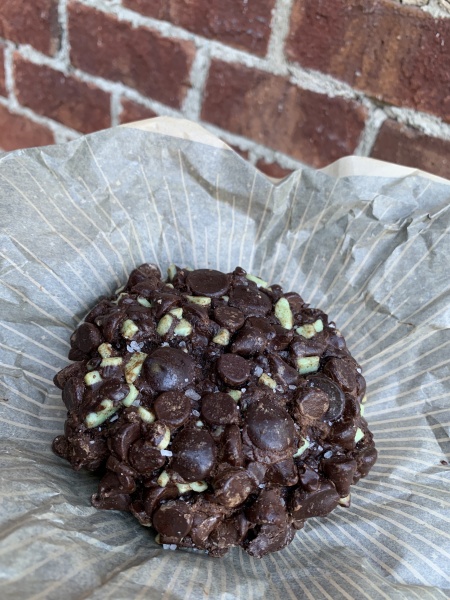 There was the Cookie Von Krampus cookie, which was a special cookie for the season. This one was chocolate with Andes mints.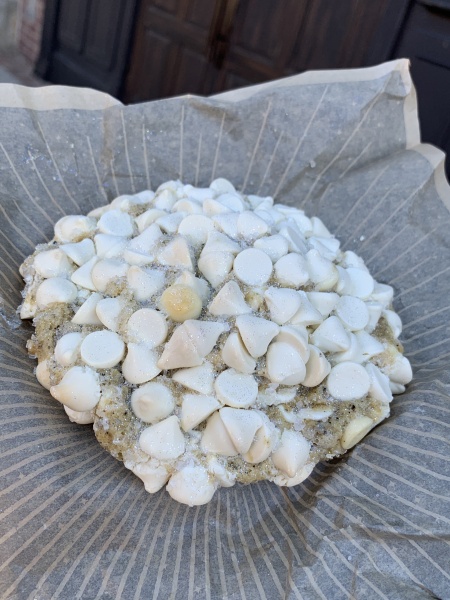 Then there was the Santa's White Christmas, which was also a limited time option. It was loaded with white chocolate chips.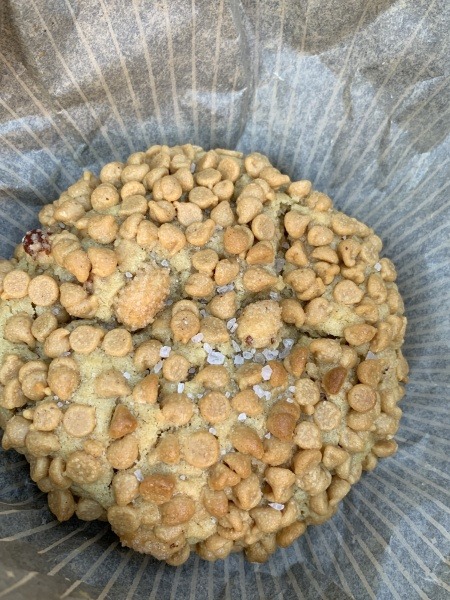 Finally, there was the Peanut Butter Crunch, which of course, is perfect for the peanut butter lovers! Extremely peanut buttery in flavor.
My favorite cookie, overall though, would have to be the original chocolate chip! My best advice would be to choose the cookie that sounds most appealing to you though! I honestly don't think you'll be disappointed with any of them.
Now….here's my warning. These cookies are not for the faint of heart. Meaning, they are HUGE, dense, and trust me when I say you don't want to see the calorie content. I would very much either suggest sharing one cookie between members of your family, or if you are like me and intent on eating all of your cookie options, take your time with them and don't eat them in one sitting. (If you go with that route, bring a ziplock bag or something to keep these as fresh as possible – as they don't have the longest of shelf lives.)
Now, I did not get to try the cakes, because that would have given me a stomach ache at that point! So I guess I just need to go back!
So, next time you are at Disney Springs, head to Gideon's Bakehouse and get your name on their waitlist, first thing. I promise, you won't regret it.
Which cookie do you plan on trying first? Share with us your thoughts in the comments or on Facebook or Twitter!
Did you like this article? Make sure to share it with your friends! Check below for easy ways to share!  
Want to visit a Disney Destination? Contact The Magic for Less Travel for more information and a free, no-obligation quote.

Incoming search terms:
https://www themouseforless com/blog_world/review-gideons-bakehouse-disney-springs/
gideons bakehouse