This post may contains affiliate links for your convenience. If you make a purchase after clicking a link we may earn a small commission but it won't cost you a penny more! Read our full disclosure policy here.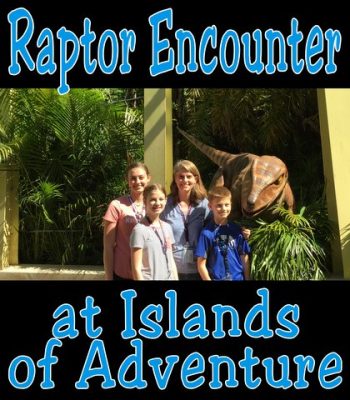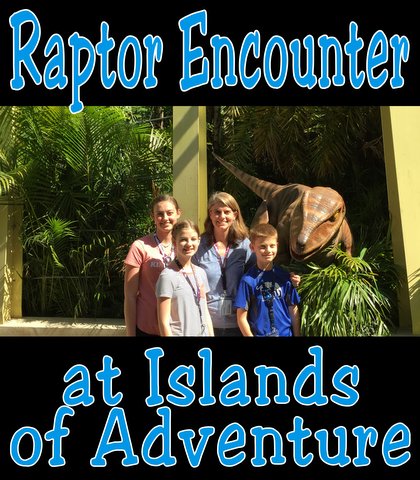 Most character meet-and-greets are sweet, even cuddly. This one comes with a few more teeth! If your family wants to meet a dinosaur, the place to do it is the Raptor Encounter at Islands of Adventure at Universal Orlando Resort.
Unsurprisingly, the raptors reside in the Jurassic Park area of Islands of Adventure. Look for their home across the path from Pizza Predattoria. It will be on your left if you walk from the Wizarding World of Harry Potter, or on your right if you are coming from Jurassic River Adventure or Reign of Kong.
The encounter is hidden in the land's lush foliage and not visible from the path, other than the sign. You can also hear dinosaur noises. The most common question I heard guests asking Universal employees at the line entrance: "Is this a ride?"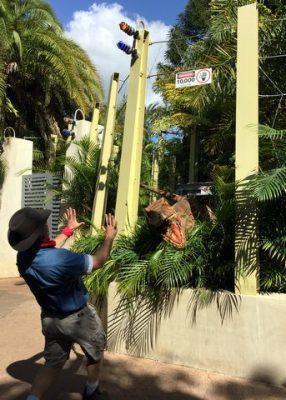 It's not a ride, but you'll still get a thrill. First, you'll wait in a holding area with 10-12 families until a raptor wrangler brings out a 9-foot-tall velociraptor to meet. Your family can join you in line if they want to look around the nearby Jurassic Park Discovery Center while you wait. Then, each family gets a turn to get close to the raptor, one group at a time.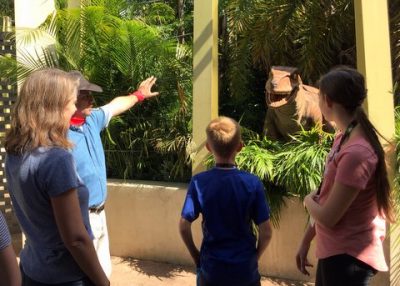 You'll be able to see what is happening before you approach the raptor. This may reassure (or scare) your children. Your wrangler will introduce you and invite you for a picture together. I wouldn't recommend trying to pet the dinosaur, but he will come close for photos.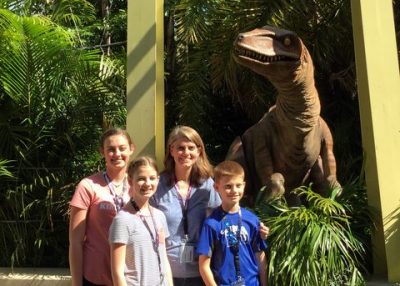 Kilo the raptor knows how to strike a pose. Clever girl.
The raptor is realistic enough to make you momentarily forget that (spoiler alert) dinosaurs are extinct. I won't give away any secrets, but it's not an animatronic. The raptor moves convincingly, and growls and snarls.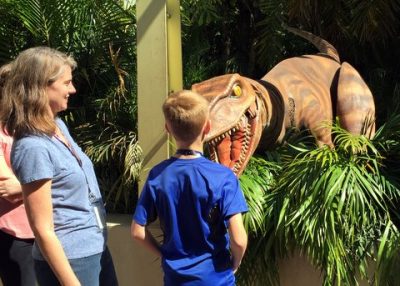 Check out his toothy grin!
Tips:
Don't be scared off by the size of the line. Some groups will leave when they get closer to the meet and discover it's "a picture with a dinosaur."
Have your camera ready to hand to an employee.
Video captures the meet even better than still photos. (Editor's note: If you ask, the Team Member may be able to do both video and photos.)
Raptors meet during daylight hours starting about an hour after the park opens to all guests.
Take a look at our video of the Raptor Encounter.
Have you had had your closeup with a dinosaur at the Raptor Encounter at Islands of Adventure? Share your experience in the comments.

Did you like this article? Make sure to share it with your friends! Check below for easy ways to share!